The Most Impressive People to Follow on LinkedIn in the US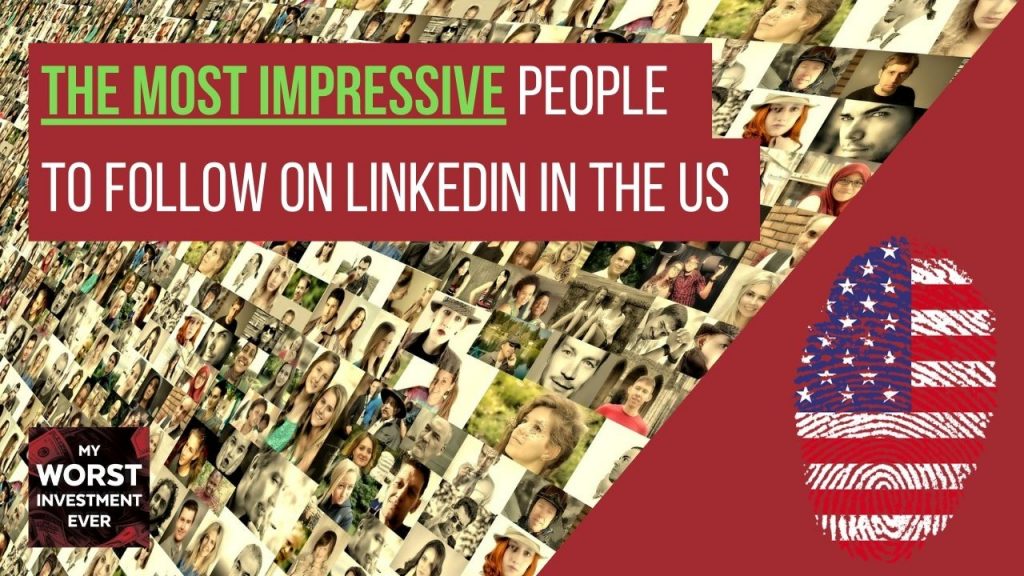 Bill Gates is the co-founder of Microsoft, the world's largest computer software company. Before going on philanthropic endeavors through his Bill and Melinda Gates Foundation, he also founded many companies, including a holding business, energy business, and entertainment business. His latest book is, How to Prevent the Next Pandemic.
Arianna Huffington is the founder and CEO of Thrive Global, a wellness technology company. She is also the founder of The Huffington Post and is an international best-selling author of health & lifestyle books, Thrive: The Third Metric to Redefining Success and Creating a Life of Well-Being, Wisdom, and Wonder. Originally from Greece, Arianna moved to England when she was 16 and graduated from Cambridge University with an M.A. in economics. She has been named to Time Magazine's list of the World's 100 Most Influential People and the Forbes Most Powerful Women list.
Satya Nadella has been the CEO of Microsoft since 2014 and tripled its stock price in 4 years. Having developed cloud-based services for Microsoft, increasing the company's revenues by over $4 billion in 2 years, he was named Barron's World 30 Best CEOs and person of the year 2019 by Financial Times. When he first arrived in the US from India, Satya studied at the University of Wisconsin–Milwaukee and then got his MBA at the University of Chicago. He started his business career at Sun Microsystems before joining Microsoft in 1992 (the year I moved to Thailand)
Tony Robbins is one of the world's most famous inspirational speakers, international best-selling authors, and entrepreneurs. As a life coach, Robbins specializes in self-awareness, improvement, and overcoming fear. Holding over 50 private companies, Robbins reported a net worth of $600 million. His first books came out in the 80s and 90s and provided tons of motivation for me and others like me. Some of his earliest books were: Unlimited Power, Notes from a Friend, Awaken the Giant Within, Giant Steps, and Unleash the Power Within.
Simon Sinek is a motivational speaker and the author of Start With Why, an international best-selling book. Sinek has specialized in coaching entrepreneurs to improve leadership and transform their organizations. His WHY concepts in TED talks have had over 37 million views. He is also the author of Leaders Eat Last, Together Is Better, Find Your Why, and The Infinite Game.
Gary Vaynerchuk is a co-founder of the restaurant reservation software company Resy and Empathy. He is now more famed for his digital marketing and social media work as the chairman of VaynerX, a communications company based in New York. He is also the CEO of VaynerX's subsidiary VaynerMedia. He is also a 5-Time NYT Bestselling Author. Some of his books are Twelve and a Half: Leveraging the Emotional Ingredients Necessary for Business Success, Crushing It!: How Great Entrepreneurs Build Their Business and Influence—and How You Can, Too, Jab, Jab, Jab, Right Hook: How to Tell Your Story in a Noisy Social World, and Crush It!: Why NOW Is the Time to Cash In on Your Passion.
Liz Ryan is the CEO and co-founder of Human Workplace, a publishing, coaching, and consulting firm. Ryan writes for more than 30 million readers. However, she is mainly known for her work in Human Resources management and innovation with her team teaching courses from Team Mojo™ and Put a Human Voice in your Business™ as well as Interviewing with a Human Voice™. She is the host of The Truth about Work Podcast with Liz Ryan! Her
books include: REINVENTION ROADMAP: Break the Rules to Get the Job You Want and Career You Deserve (2016), RIGHTEOUS RECRUITING: Essays on Reinventing Talent Acquisition for People (2020), and RED-BLOODED HR: Essays on Human Resources as a Force for Good (2020).
Gretchen Rubin is a writer on habits, happiness, and human nature. She is the author of the New York Times bestsellers Better Than Before, Happier at Home, and The Happiness Project. On her daily blog GretchenRubin.com, she reports on her adventures in pursuit of habits and happiness. Her podcast Happier with Gretchen Rubin won the 2016 Academy of Podcasters Award for best health and fitness podcast. She developed the "Four Tendencies" personality framework which divides people into Upholders, Questioners, Obligers, and Rebels.
Sallie L. Krawcheck, the most powerful woman on Wall Street, is the former head of Bank of America's Global Wealth and Investment Management Division. She is now the CEO and co-founder of Ellevest, a digital financial advisory firm for women launched in 2016. She started her career as an equity analyst at Sanford C. Bernstein, eventually becoming Director of Research and then chairman and CEO of sell-side research firm Sanford C. Bernstein & Co. She later moved to be CEO of Citigroup's Smith Barney. After that, she was appointed Chief Financial Officer for Citigroup Inc. (I remember her as CFO during my stint as Head of Research at Citigroup in Thailand) and eventually became CEO of Citi's wealth management business.
Jessica Alba is an actress turned entrepreneur who cofounded the Nontoxic-Household-Goods startup The Honest Company in 2011. She rose to fame in 2000, starring in the sci-fi television series Dark Angel and received a Golden Globe nomination for her performance.
Tim Ferriss has been listed as one of Fast Company's "Most Innovative Business People." He is an angel investor/advisor and author of five #1 NYT/WSJ bestsellers. I bought The 4-Hour Workweek, when it first came out but wasn't inspired. About six months later I picked it up and started implementing what he taught. Since then, I have spent more than half a million dollars on outsourcing from the site that he talked about in that book. His The Tim Ferriss Show podcast was the first business-interview podcast to pass 100M downloads. Tim started his business life by co-founding BrainQUICKEN LLC, a neurological and sports nutrition development firm that he sold to a private equity firm. His other books are The 4-Hour Body, The 4-Hour Chef, Tools of Titans, and Tribe of Mentors. And he is a relentless blogger at Tim dot blog.
Dr. Marshall Goldsmith is the only two-time winner of the Thinkers 50 Award for #1 Leadership Thinker in the World. He is the author or editor of 36 books, including three New York Times bestsellers, that have sold over 2.5 million copies and been listed bestsellers in 12 countries. Three noted books are The Earned Life, Triggers, and What Got You Here Won't Get You There. He is also ranked as one of the five most-respected executive coaches by Forbes, one of the top ten executive educators by The Wall Street Journal, and one of the 15 Greatest Business Thinkers in the World by The Times.
Indra Nooyi was instrumental in the lucrative restructuring and diversification of soft-drink manufacturer PepsiCo, Inc.'s brands. She was a former chair and chief executive officer of PepsiCo. She got an MBA from Yale before becoming one of corporate America's few female CEOs in 2006. She is the author of the book, Indra's Memoir, which is a New York Times bestseller offering insight from one of the world's most-admired business leaders.
Katya Andresen was the Senior Vice President of Card Customer Experience at Capital One, a Fortune 500 company serving more than 65 million customer accounts worldwide. Katya has trained thousands of organizations in effective marketing and online engagement, having won national and international awards. She is the author of Robin Hood Marketing: Stealing Corporate Savvy to Sell Just Causes.
James Altucher is an entrepreneur and angel investor who has founded or co-founded over 20 companies. He has achieved the rank of a chess master and is the author of the Wall Street Journal bestselling book "Choose Yourself." He is a frequent contributor to publications including The Financial Times, TheStreet.com, TechCrunch, Seeking Alpha, Thought Catalog, and The Huffington Post.
Oprah Winfrey is the host of the daily talk show, The Oprah Winfrey Show, one of the most popular in the genre, making her one of the wealthiest and most influential women in the United States. In addition, she engaged in various philanthropic activities and created Oprah's Angel Network, which sponsors charitable initiatives worldwide. She also campaigns against child abuse and has achieved many honors and awards.
John Maxwell was a pastor of a small church in Ohio before turning into a leadership expert and a No.1 New York Times bestselling author, with over 24 million copies sold in over 50 languages. In 2014, he was identified as the #1 leader in Business by The American Management Association and the most influential leadership expert globally by Business Insider and Inc. magazine. He has trained over 6 million leaders through programs such as The John Maxwell Company, The John Maxwell Team, EQUIP, and the John Maxwell Leadership Foundation.
David Sable is one of the most recognized names in the creative industry. He is the former global CEO of Young & Rubicam, one of the world's leading global marketing communications companies. He is the thought leader at WPP and specializes in content expansion. David was named one of the Top 10 Most Generous Marketing Geniuses by Fast Company and is a board member of Special Olympics, UNICEF, and American Eagle Outfitters.
Hunter Walk is a partner at Homebrew VC, a seed-stage investment fund based in San Francisco, and the founding member of Second Life, an online multimedia platform. Hunter has led the consumer product management at YouTube and worked at Google.
Beth Comstock is a former vice-chair of General Electric. She oversaw GE's business innovations to accelerate new growth, develop digital and clean-energy futures, seed new businesses, and enhance the brand value. In addition, she was involved with the early development of hulu.com as President of Integrated Media at NBC Universal. Here book, Imagine It Forward, is about summoning courage and creativity in the face of change.
Ilya Pozin is the founder of Pluto TV, Open Me and Coplex. In 2012, he was named a '30 Under 30 Entrepreneur' by Inc. Magazine and in 2013, he was named one of 100 Top Influencers by LinkedIn. He founded his first company, Coplex, at the age of 17, which is a multi-million-dollar interactive agency. Ilya founded Open Me, a consumer-focused social greeting and gifting company, after stepping down as CEO of Coplex. In 2013, he cofounded Pluto TV, an OTT television platform.
Jill Schlesinger is the Emmy and Gracie Award-Winning Business Analyst for CBS News. She simply explains complicated economic news for everyday viewers and listeners. She appears on CBS radio and television stations covering economics, markets, investing and many more. She is the author of the book 'The Dumb Things Smart People Do With Their Money: Thirteen Ways To Right Your Financial Wrongs', published in 2019.
Dave is the co-founder and co-CEO of Apprentice, a platform that connects entrepreneurs with the brightest college students. He is also the co-founder and CEO of Remembering.Live / Celebrating. Live, which provides memorial services and corporate celebrations. He is the NY Times best-selling author with four books so far, two being, The Art of People and Likeable Social Media. He was named one of Entrepreneur Magazine's top 10 up-and-coming leaders.
Jeff Selingo is a New York Times bestselling author of three books. He has written about higher education for more than two decades. He is a special advisor for innovation and a professor at Arizona State University. He is the author of Who Gets In and Why: A Year Inside College Admissions. He worked at The Chronicle in a variety of reporting and editing roles.
Clara is the CEO and founder of Hearsay Social, which is a social media marketing management platform whose predictive analytics technology helps salespeople reach out to clients at the right time with the right message. She was named a Young Global Leader by the World Economic Forum. She was also named as "40 Under 40" by Fortune and Advertising Age.
Rita J. King is the Executive Vice President for Business Development at Science House and co-founder of Model Meetings. She is an author, and her work has been published in Fast Company Inc. and Entrepreneur. Rita served as a futurist at the Science and Entertainment Exchange of the National Academy of Sciences and the National Institute for Aerospace. In addition, she has worked and advised Fortune 100 and 500 companies.
Henry Blodget is an American businessman, investor, journalist, and CEO of Business Insider. He is notable for his former career as an equity research analyst. He was a senior Internet analyst for CIBC Oppenheimer and the head of the global Internet research team at Merrill Lynch during the Dot-Com Era. Due to his violations of securities laws and subsequent civil trial conviction, Blodget was permanently banned from involvement in the securities industry.
Jeffrey Robert Immelt previously served as the CEO of General Electric and GE's Medical Systems division. He is currently working as a venture partner at New Enterprise Associates. Being a huge football fan, Jeffrey announced a GE investment of $40 million to develop diagnostic equipment for head trauma injuries and GE's participation in a separate $20 million effort to create safer helmets and other equipment. He was also a top candidate to become CEO of Uber.
Lisa Gates is a consultant and professional coach who works with high-potential women to design and negotiate robust livelihoods. She also designs training that helps businesses and organizations empower women through negotiation, conflict resolution, and coaching techniques to manage and develop people in the workplace. She has been a frequent contributor to Forbes Woman, and her work with She Negotiates has been featured on NPR and CNN, New York Times, The Wall Street Journal, and online magazines such as Huffington Post and Daily Worth.
Grant Cardone is an American entrepreneur, motivational speaker, author, real estate investor, and sales coach. He is known for launching the 10X Growth Conference, the world's largest business and entrepreneur conference. He is the author of many books, including The 10X Rule: The Only Difference Between Success and Failure, Sell to Survive, and The Millionaire Booklet: How to Get Super Rich. He was named the number one sales trainer in the world by Forbes.
Cory Warfield is an American entrepreneur, influencer, speaker, and LinkedIn Kingmaker. He has advised businesses growing into metaverse with Coryconnects, entrepreneur in residence of Founder Institution, and served as global general manager at Inf4mation. Additionally, he uses his knowledge of data, gaining over 400,000 followers on LinkedIn with over 100 million views.
Nancy Lublin is the founder, co-founder, and CEO of many non-profit global organizations: Crisis Text Line, Dress for Success, and Do Something. Lublin was ranked as one of the World's 50 Greatest Leaders by Fortune and 20 Women Changing the World by Marie Claire in 2014. Under her management, Do Something became one of the largest youth organizations globally, with more than 6 million members.
Brian Solis is an innovation evangelist, digital analyst, best-selling author, and international keynote speaker. His latest best-selling books include Lifescale: How to Live a More Creative, Productive and Happy Life. With over 20 years of studying disruptive technologies and innovation, Solis was ranked as one of the Top 10 people to know in Silicon Valley by Huffington Post, 25 Keynote speakers you need to know by Inc, and blogger of the year by PRNews.
Hannah Morgan is the founder of Career sherpa, a job search website, an author, speaker, and job search strategist. She was ranked in Linkedin Top Voices in Job search and career, helping people with the strategies and tools to market themselves by sharing them on social media. Morgan is also the speaker and trainer for career search strategies.
Jennifer Hyman is the co-founder and CEO of Rent the Runway, a clothing-rental company. Time Magazine recognized her as one of the 100 most influential people globally, the 12th most disruptive name in the business by Forbes, and many more. Since 2009, her company has gained over $525 million in capital and IPO'ed on Nasdaq in 2021, with over 11 million members.
Chip Bergh is the president and CEO of Levi Strauss & Co and an ex-management leader of various global corporations. He was brand manager for Procter and Gamble, has served as a lead independent director of HP Inc, and led Gillette Fusion to over 80 markets outside the country. Chip was named one of the World's Greatest Leaders by Fortune Magazine in 2019.
Daniel Pink is the author of 5x New York Times bestselling books in business, productivity, creativity, and behavior. His books have been translated into 42 languages and have sold millions of copies worldwide. Some of his books include The Power of Regret: How Looking Backward Moves Us Forward, When: The Scientific Secrets of Perfect Timing, and To Sell is Human: The Surprising Truth About Moving Others.
Marcelo Claure is the chairman and CEO of Claure Capital, a billion-dollar investment firm. Claure was the CEO and COO of SoftBank Group, where he led the best financial results in its history. He specializes in turning around companies and mergers and acquisitions.
Ben Horowitz is the co-founder and general partner of venture capital firm Andreesen Horowitz. He co-founded Opsware, which was sold to HP for $1.6 billion. Horowitz is also the author of two New York Times bestselling books: "The Hard Thing About Hard Things" and "What You Do Is Who You Are".
Alison Doyle is a career search and recruitment expert in human resources for The Balance Careers. She is the founder of CareerToolBelt.com, a platform for job search and career advice. Doyle is the author of "Alison Doyle's Job Search Guidebook" and a columnist for the New York Times, Forbes, BBC, CNN, and many more. CareerToolBelt.com was ranked a top 100 website for your career by Forbes.
Lewis Howes was ranked as one of the top 100 entrepreneurs in American Under 30 by The White House. He is an entrepreneur, business consultant, bestselling author, and keynote speaker. As a former professional football player, Howes began to give inspiration to others as a life coach. He has hosted the top 100 iTunes podcast, The School of Greatness, with over 1,000 episodes and 300 million downloads.
Jim Clifton is the chairman and CEO of Gallup, global public opinion research and advanced analytics. Clifton created the Gallup Path, an economic model used in performance management systems in over 500 international companies. Under his management, Clifton led Gallup to operate in over 20 countries. He is also the author and co-author of bestselling books, It's the Manager, The Coming Jobs War, and Born to Build.
Brian Tracy is a keynote speaker and seminar leader who has helped many billion-dollar companies with strategic planning and organizational development. He has consulted more than 5 million people from more than 75 countries and has produced hundreds of audio and video courses for professionals with successful careers in sales and marketing, investments, real estate development, etc. He is also the author of 80 books that have been translated into languages all over the globe.
Philippe Borries is an entrepreneur and co-founder of Refinery29, leading the company to become a global media brand. Philippe was awarded Entrepreneur of the Year by Ernst & Young. Philippe led Refinery29 to be acquired by Vice Media Group in 2019. He is now an Entrepreneur-in-Residence leading Lonely Planet at Red Ventures.
As a Chairman and Chief Executive Officer (CEO) of PepsiCo, a global beverage company, Ramon Laguarta leads 23 brands under PepsiCo. Since 2018, Ramon has positioned the company to be Faster, Stronger, and Better to achieve his new corporate mission to Create More Smiles with Every Sip and Every Bite. Before being a leading part of PepsiCo, he worked in international roles in Chupa Chups, another leading global brand initially from Spain.
Scott Belsky currently serves as Adobe's Chief Product Officer and Executive Vice President of Creative Cloud. Scott is a co-founder of Behance, acquired by Adobe later in 2012 and was an advisor and investor in Pinterest, Uber, Sweetgreen, Carta, Cheddar, Flexport, Airtable, OpenSea, Ramp, Ro, and Periscope (part of Twitter), etc. He is also the author of the international bestselling books Making Ideas Happen and The Messy Middle.
Ndubuisi Ekekwe is an engineering professor, entrepreneur, and blogger. He is the founder of Atlantic Semiconductors & Microelectronics company. He was named one of 60 Nigerians in 60 years, making Nigerian lives matter by The Guardian, Technology connoisseur of the year from Nation Builders Achievers Award, and many more. Ekekwe is also a regular blogger at Harvard Business Review, specializing in technology management and competitiveness. His work on Nanotechnology and Microelectronics received the Book of the Year Award by IGI Global.
Matt Higgins is the CEO and co-founder of RSE Ventures, a company focused on lifestyle, entertainment, sports, marketing, media, and technology. Rags to riches, Higgins dropped out of high school to fully support himself throughout college. After getting his law degree, Higgins' career snowballed after he helped in managing the global press response to 9/11, being New York City's youngest press secretary of all time. His career highlight was when he was a guest shark on the popular TV show Shark Tank. Today, Higgins is an executive fellow at Harvard, where he continues to expand and develop his knowledge as an executive.
Kenneth Blanchard is an author known for one of his bestselling book One Minute Manager, which teaches effective management techniques. He is the Chief Spiritual Officer and founder of The Ken Blanchard Companies, an international training and consulting firm. One of Blanchard's career highlights was his induction into Amazon's Hall of Fame as one of the top 25 bestselling authors of all time.
Blake Mycoskie is the founder, CEO of TOMS shoes, and co-founder of Madefor. As a philanthropist, Blake created a one-for-one business model where every shoe sold; one shoe will be donated. He was awarded Next Generation Award from Harvard's School of Public Health and the Lion Heart Award by Cannes Lion. He is also the author of Start Something That Matters, No. 1 New York Times best-selling in the advice category.
Ryan Holiday is the writer, media strategist, and host of The Daily Stoic podcast. He has authored 10 books, including The Obstacle Is the Way, Ego is the Enemy, and Conspiracy, which have sold more than 3 million copies in 30 languages worldwide. Ryan is also the founder and partner of Brass Check, a creative advisory firm that advises Google, TEASER, and Complex.
Stephanie Ruhle is the senior business analyst at NBC and anchors many NBC News and MSNBC platforms, including The 11th Hour and MSNBC Live with Ruhle. Ruhle has interviewed many famous names in politics, business, entertainment, and sports, including Donald Trump, Kanye West, and Michael Bloomberg. Along with her co-worker, Stephanie was the first reporter to break the story of the London Whale in 2012. She also founded Corporate Investment Bank Women's Network and co-chaired Women on Wall Street.
Andrew Sorkin is a financial columnist for the New York Times and the founder of DealBook, an online daily financial report. He is also the co-anchor of CNBC's Squawk Box, a television news program. Sorkin has written the best business book, Too Big to Fail, awarded by Gerald Loeb. He also co-produced Billions, a TV series by Showtime.
Jason Fried is a columnist at Inc. magazine, co-founder, and CEO of Basecamp, a web software development company. His company invented Ruby on Rails, an app platform for many big names such as Twitch, Airbnb, Kickstarter, etc., with millions of users. Fried is also the co-author of 2x New York Times bestseller, Rework and Remote.
Dara Treseder is the global head of marketing and communication at Peloton, the world's largest interactive fitness platform. She is also a keynote speaker, lecturer, and advisor on marketing, innovation, and growth in several conferences hosted by Cannes Lions, Harvard, Stanford, and London School of Economics. Dara was recognized as one of the most influential chief marketing officers globally by Forbes, Silicon Valley's top 40 leaders under 40, Top 25 most innovative chief marketing officers by Business Insider, and many more.
Hubert Joly is a senior lecturer at Harvard Business School and BestBuy's former chairman and CEO. Joly is also a member of the board of directors of Johnson & Johnson and Ralph Lauren. He has been recognized as one of the top 100 CEOs globally by Harvard Business Review, top 30 CEOs by Barron's, and top 10 CEOs in the US by Glassdoor. Joly is the author of the bestselling book named The Heart of Business
Parth Detroja is a product manager at Facebook, speaker, and technology influencer. He is the 2x bestselling author of Amazon's bestseller books Swipe to Unlock and Bubble or Revolution showing his interests in technology and blockchain. Also, he has held several conferences and been a speaker on leading technology, product management and blockchain, and business strategies.
Houston Golden is the co-founder of BAMF Media, a growth marketing agency. He is known for marketing on Linkedin and is a mastermind for Linkedin influencers. He has been working with some of Linkedin's top influencers and entrepreneurs, such as Russell Brunson, Prince Ea, Mark Manson, etc. He was recognized as one of the top 12 Innovators by Forbes. Golden is also the author of The Linkedin Bible.
Justin Wu is the founder of DCENTRAL Conference, the largest iteration of the World Wide Web-based on blockchain technology, also called Web3. Based on his experience since 2015 in the Web3 industry, he has built communities & growth marketers, events, and marketing alongside Polygon, Immutable, Airswap, and many more.
Alejandro Cremades is the founder of Rock the Post, a business crowdfunding platform, co-founder of Panthera Advisors, an investment bank, and the author of The Art of Startup Fundraising,' entrepreneurs' best books in 2016 and was ranked no.1 on Vanity Fair's 30 under 30. He is also a Forbes column writer and active speaker for podcasts and university guests.
Dr. Ganapathi Pulipaka is the CEO, Chief data scientist, SAP technical lead at DeepSingularity, a data consulting company, and author of the No.1 Amazon bestseller book, Big Data Appliances. Pulipaka is an expert in computer science and data analytics who has worked with over 27 corporations over the past 21 years and 100+ SAP projects.
John Spence is a CEO, business strategist, author, and speaker. He was ranked in the top 100 small business influencers, top 50 small business experts in America, top 100 global list thought leaders, Richard Branson, and among America's top leaders and Jeff Bezos.
Kent Gustavson is a business advisor, writer, entrepreneur, and musician. He is the founder of Blooming Twig, an independent book publisher, and an author of award-winning books. Through his experiences as a business strategist, music composition, and speaker, he gained over 100 million views and 100,000 followers on his social media platforms.
Danielle Bernstein is the founder of WeWoreWhat, an American clothing brand and blog. Growing her fashion blogs as a sophomore in school, she has over 2.8 million followers on Instagram and a net worth of over $2.5 million as an entrepreneur and collaboration with many global brands.
Scott Galloway is the author of The Four: The Hidden DNA of Amazon, Apple, Facebook, and Google. After his first book in 2017, he successfully published two more books in 2019 and 2020. He is the founder of L2; a research firm focused on brand management and digital marketing. He is also a Clinical Professor at the NYU Stern School of Business, where he teaches brand strategy and digital marketing.
Brandon Bornancin is a sales genius, serial entrepreneur, author, and the CEO and founder of Seamless.ai, one of the fastest-growing SaaS companies in the US. He helps 100,000 (and counting) companies flood their calendars and generate millions in sales using artificial intelligence to find anyone's emails and phone numbers.
Donald Cohen is the founder of doncohenconsulting.com. He is collaboratively empowering LinkedIn proficiency, performance, and success. He was a two-time Internet Retailer Of The Year, a two-time Top 50 Website Of The Year, and a three-time INC 500 CEO. He was also the top Amazon and Walmart Marketplace partner, generating $200,000,000 in sales, beginning with $4 on e-Bay.
David is the owner and founder of AltoAdvance, an individual coaching, and business consultancy company. His company provides resumes, LinkedIn, and interview coaching. He specializes in empowering and promoting the talents and experiences of those looking to accomplish their career goals and excel in their profession. In 2021, he published his book, "The Fear of Confidence."
Judi started her career as a chemical engineer in 1999. But when the 2008 economic crisis hit, she realized the importance of networking on LinkedIn which led her to successfully launch her own Environmental Consulting business and her LinkedIn Job Search Coaching and Resume business. In 2018, 4 years after she decided to go back into a full-time corporate position when a family crisis hit, she launched the "LinkedIn Business Accelerator" strategy which helps you network effectively on LinkedIn.
Michael is the author of seven books which between them have sold over a million copies. He's best known for The Coaching Habit, the best-selling coaching book of the century and already recognized as a classic. His new book, How to Begin, helps people be more ambitious for themselves and for the world. Michael was a Rhodes Scholar and plays the ukulele badly. He's Australian, and lives in Toronto, Canada.
Ram is a world-renowned business advisor, author, and speaker who has spent the past 40 years working with many top companies, CEOs, and boards of our time. Fortune magazine has called him "the most influential consultant alive." He shares his business insights through writing and teaching. He has written over 30 books that have sold more than 4 million copies in more than a dozen languages.
Dorie is a strategy consultant, executive coach, and keynote speaker (with deep experience in virtual presentations) who has worked with clients including Google, Microsoft, Morgan Stanley, Fidelity, Yale University, the IMF, and the World Bank. She's the author of several books, including the WSJ bestseller "The Long Game" (Harvard Business Review Press, 2021), as well as "Entrepreneurial You," which was named "one of the most important business books of the year" by Inc. magazine and one of the Top 5 Books of the Year by Forbes. She also wrote "Reinventing You" and "Stand Out," which Inc. magazine declared the #1 Leadership Book of the Year and Forbes named one of the Top 10 Business Books of the Year.
Jim is the Chairman of Gallup, a global analytics and advisory firm. He is the creator of The Gallup Path, a metric-based economic model that establishes the linkages between human nature in the workplace, customer engagement, and business outcomes. Another of his innovations, the Gallup World Poll, gives the world's 7 billion citizens a voice on virtually all key global issues. Jim authored several books, including Wellbeing at Work, It's the Manager, Born to Build, and The Coming Jobs War.
Gautam is the Fund Manager and Managing Partner at Stellar Wealth Partners India Fund, a Delaware-based investment partnership modeled after the original Buffett Partnership fee structure. He is the Founder of Stellar Wealth Partners Private Limited, a SEBI-registered Research Analyst firm that offers stock ideas on the small case platform for investors in the Indian stock market. He is also the author of The Joys of Compounding: The Passionate Pursuit of Lifelong Learning.
Jeb is an internationally renowned speaker who helps companies improve their sales- fast. He trains tens of thousands through his global company, Sales Gravy, and is the host of the world's #1 downloaded Sales podcast. He is also a bestselling author of 13 books and among the world's most respected thought leaders on sales, leadership, and customer experience.
Anthony is a highly respected international speaker, bestselling author, entrepreneur, and sales leader specializing in complex business-to-business (B2B) sales. He is also a founder and managing partner of two closely held, family-owned businesses in the staffing industry, leading both entities in strategic planning while growing sales. Anthony is best known for his work at The Sales Blog, which has helped him gain recognition as a top thought leader in sales strategy. He is also the designer of Level 4 Value Creation™ and Building Consensus, methodologies that help sales organizations achieve transformational, breakthrough results.
Mark helps individuals and companies identify better prospects and build more profitable customer relationships. He is an award-winning sales blogger and in-demand speaker, and his clients include Samsung, Coca-Cola, American Express, and Sony. He is the author of High-Profit Selling.
Donald is the founder of The Sales Evangelist. He oversees business development strategies for small to mid-size organizations. He also conducts workshops and keynote presentations, designs sales processes, offers sales team training, and coaches sales individuals and executives. In addition, he is the host of The Sales Evangelist podcast, which can be heard in over 155 countries.
Annie is an author, speaker, and consultant in decision-making and Special Partner focused on Decision Science at First Round Capital Partners, a seed-stage venture fund. Her latest book, Quit: The Power of Knowing When to Walk Away, is set to be released this October 4, 2022. Her previous book, Thinking in Bets, is a national bestseller.
A global macro investor for more than 50 years, Ray founded Bridgewater Associates out of his two-bedroom apartment in NYC and ran it for most of its 47 years, building it into the largest hedge fund in the world. Ray remains an investor and mentor at Bridgewater and serves on its board. He is also the #1 New York Times bestselling author of Principles: Life and Work, Principles for Dealing with the Changing World Order, and Principles for Navigating Big Debt Crises.
Marcelo is an entrepreneur and investor who has founded and led some of the world's most iconic businesses. He is currently the Founder & CEO of Claure Capital, a newly founded multi-billion-dollar global investment firm focused on public and private companies in technology, media, telecommunications, crypto, sports, real estate, and other high growth sectors.
Joel is the chairman of JetBlue Airways and the founding partner of Peterson Partners, a Salt Lake City-based investment management firm. He currently teaches Entrepreneurial Management at Stanford's Graduate School of Business. Joel is the author of The 10 Laws of Trust: Building the Bonds that Make a Business Great.
Max founded or co-founded the companies Slide.com, HVF, and Affirm. In 1998, he co-founded the company that eventually became PayPal. He was also an early investor in Yelp and was the Chairman for 11 years.
J.T. is the founder and CEO of Work It Daily, an online platform dedicated to helping people solve their biggest career problems. She has more than 15 years of experience in HR, recruiting and career coaching.
Diana is an Emmy Award-winning journalist, currently serving as CNBC's senior climate and real estate correspondent. She also contributes her climate and real estate expertise to NBC News NOW, MSNBC, NBC's "Today," and "NBC Nightly News." She is a regular guest speaker and does guest segments on NPR and C-SPAN. Her work on CNBC.com won the Gracie Award for "Outstanding Blog" in 2015.
Michael is the managing director and founder of Heroic Ventures and the executive chairman and founder of Reputation.com. He has also been the founder and CEO of b4.ai, WaveShift, and Sightglass Vision, among others. A futurist with more than ten patents, Michael is credited with pioneering the field of online reputation management (ORM) and is lauded as the world's leading cyberthinker in digital privacy and reputation.
Whitney is the CEO of the tech-enabled talent development company Disruption Advisors, an Inc. 5000 2020 honoree and one of the fastest-growing private companies in America. Thinkers50 ranked her as one of the top ten management thinkers in the world in 2021, and in 2020 she was a Top Voice on LinkedIn, with 1.8 million followers.
Ankur is a serial entrepreneur, a bestselling author, an online educator, a content creator, and the founder of Nearbuy. In 2021, he published his first book – Do Epic Shit, and hit #1 in India on the Nielsen bestsellers list.
Steve is an expert in strategic risk and business growth. Drawing on decades of experience in the insurance industry, he wrote The Bezos Letters: 14 Principles to Grow Your Business Like Amazon, which has become a Wall Street Journal, USA Today, and international bestseller. With hundreds of thousands of followers, Steve has been handpicked by LinkedIn as one of the world's most influential thought leaders.
Jeff is an advisor to Fortune 500 companies, a top innovation speaker, a business professor at the Ross School of Business at the University of Michigan, and a bestselling author. He earned his nickname, the "Dean of Innovation," while working as an executive for Domino's Pizza in his youth. He accelerated Domino's growth from a regional success story to an international franchise phenomenon. He wrote several books on how teams innovate, the most recent being The Innovation Code: The Creative Power of Constructive Conflict.
Isabelle is the former CEO of ENGIE and is currently the president of the Talks of Excellence. She is also a Member of Corps des Mines and Manager for Sequaris SNC and on the board of 7 other companies. In the past, Isabelle occupied the position of Chief Executive Officer & Director at ENGIE SA and Vice Chairman of Electrabel SA (a subsidiary of ENGIE SA), Chairman & Chief Executive Officer for Eau et Force SA, and Chief Executive Officer at Lyonnaise des Eaux SA.
Frida is the co-founder and CEO of pymetrics (now Harver), a company using neuroscience and AI to improve the efficiency and diversity of hiring. With global clients, including Unilever and Accenture, pymetrics has matched hundreds of thousands of people with their ideal jobs while removing bias from the hiring process. Previously, Frida was a neuroscientist at Harvard and MIT, where her work on cognitive and emotional brain function won numerous awards from the NIH, Harvard, MIT, and private philanthropies.
Phil served as CEO of the Silicon Valley-based software company Evernote from 2007 to 2015, then became Executive Chairman of Evernote's board. In September 2015, Libin joined General Catalyst Partners as its fourth general partner in Silicon Valley. In September 2016, Libin stepped down as Executive Chairman of Evernote's board of directors to focus on his role at General Catalyst Partners. Currently, Libin runs the Startup "mmhmm" and the startup studio All Turtles.