My Worst Investment Ever Guests' Podcasts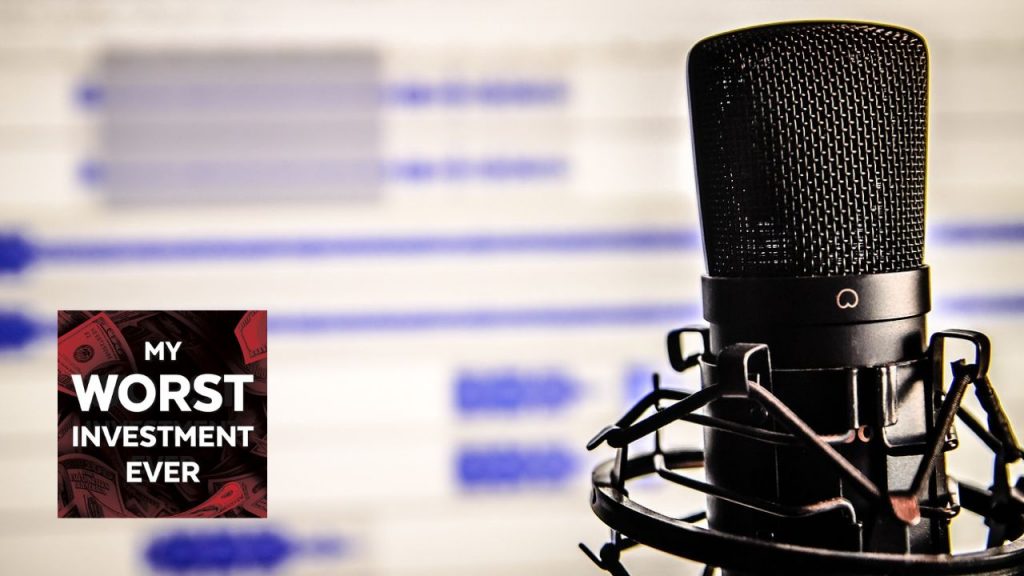 With over 100 million listens of his 3000+ episodes, John Lee Dumas has turned Entrepreneurs On Fire into a media empire that generates over a million listens every month and 7-figures of NET annual revenue 8-years in a row.
Listen to Entrepreneurs On Fire

Understand the complex world of finance, business and the global economy with real in-depth analysis from real experts. This podcast unlocks access to the leading financial minds in the world to provide unbiased, in-depth analysis from real experts.
Listen to Real Vision Daily Briefing: Finance & Investing
Animal spirits is a show about markets, life, and investing. Join Michael Batnick and Ben Carlson as they talk about what they're reading, writing, listening to and watching.
Listen to Animal Spirits Podcast

Investing in Real Estate is a show hosted by Clayton Morris with a laser focus on buy and hold rental properties in order to create passive income. Clayton shares tried and true methods for acquiring rental real estate, building net worth, and accelerating your financial freedom.
Listen to Investing In Real Estate

The Note Closers Show Podcast covers everything you don't know about real estate investing today. Scott Carson, CEO of We Close Notes, interviews experts in the note investing field, including vendors he works with, and students he has trained.
Listen to The Note Closers Show Podcast

Hosted by J. David Stein, Money For The Rest of Us is a personal finance and investing podcast on money, how it works, how to invest it and how to live without worrying about it.
Listen to Money For The Rest of Us

Allocator and asset management expert, Ted Seides, conducts in-depth interviews with leaders in the institutional investing industry. His mission is to learn, share, and help implement the process of premier investors.
Listen to Capital Allocators
Todd Tresidder from the FinancialMentor.com blog reveals unconventional wealth building advice and advanced investment strategy tips. Discover the next step in retirement planning and personal finance from a former professional hedge fund manager turned financial coach and author.
Listen to The Financial Mentor Podcast
Discover how you can create your own real estate investing business from scratch so you can live the dream life and do what you love. Dustin Heiner teaches his business as well as will interview successful passive income investors like himself.
Listen to Master Passive Income Real Estate Investing
In this podcast, Nick Bradley will show you how to scale up your business and your life! So you can achieve greater freedom, wealth and impact, and live life on your terms.
Listen to Scale Up With Nick Bradley
 Since 2015, the fitness business podcast has produced a weekly show to help fitness business owners, managers, career individuals and entrepreneurs lead, manage and run their businesses. Each week the show invites leading business experts, coaches, authors, and owners from around the world to share their expert advice.
Listen to The Fitness Business Podcast
 From Main Street to Wall Street, global business celebrity and former Fortune 100 C-Suite executive, Jeffrey Hayzlett, brings you insights from today's biggest headline makers. Listen in as Hayzlett, goes inside the good, bad and ugly of recent business results.
Listen to All Business with Jeffrey Hayzlett
 This is a podcast about finding undervalued stocks, deep value investing, hedge funds, shareholder activism, buyouts, and special situations. Tobias Carlisle uncovers the tactics and strategies for finding good investments, managing risk, dealing with bad luck, and maximizing success.
Listen to The Acquirers Podcast
 Hala Taha interviews some of the brightest minds in the world―turning their wisdom into actionable advice you can use in your life no matter your age, profession, or industry. The podcast episodes range from enhancing productivity, how to gain influence, the art of side hustles and more.
Listen to Young and Profiting with Hala Taha
Hosts, Jim O'Shaughnessy and Jamie Catherwood, hope to offer you a fresh perspective on a variety of issues and look at them through a multi-faceted lens. Including history, philosophy, art, science, linguistics, and quantitative analysis. And help you become a better investor and also a more nuanced thinker.
Listen to Infinite Loops
 Gillian Perkins brings more than a decade of experience as an entrepreneur and educator to help you design a business that's not only flexible and fulfilling, but highly profitable. She shares strategies that are working in her own business to save time and maximize profits. She also features interviews with successful business owners on how they're achieving big things in their businesses with crazy-little time investment.
Listen to Work Less, Earn More
 Flirting with Models with Corey Hoffstein is the show that aims to pull back the curtain and meet the investors who research, design, develop, and manage quantitative investment strategies.
Listen to Flirting with Models
 Each week, award-winning personal finance author, international speaker, media personality and your BFF in your head, Patrice Washington, shares solo insights or enlightening guest interviews that influence the masses to live their life's purpose, find fulfillment and earn more without chasing money.
Listen to Redefining Wealth with Patrice Washington
 LinkedIn Ads Show with AJ Wilcox is about LinkedIn advertising. Every week he'll dive deep into some aspect of LinkedIn Ads, and share his high-performance strategies, tips, platform news, and anything else that he thinks a LinkedIn Ads pro would want.
Listen to LinkedIn Ads Show
 Neil Patel and Eric Siu bring you daily ACTIONABLE digital marketing lessons that they've learned through years of being in the trenches. Whether you have a new website or an established business, learn the latest SEO, content marketing, social media, email marketing, conversion optimization and general online marketing tactics that work today.
Listen to Marketing School – Digital Marketing and Online Marketing Tips
 Featuring some of the top investment professionals in the world as his guests, Meb Faber will help you interpret global equity, bond, and commodity markets just like the pros. Whether it's smart beta, trend following, value investing, or any other timely market topic, each week you'll hear real market wisdom from the smartest minds in investing today. Better investing starts here.
Listen to The Meb Faber Show
 If you're an ambitious gym owner, fitness manager, investor in the wellness industry or a coach that wants to get into the business side of fitness, Fitness Business Asia Podcast with Jack Thomas will help you raise your game.
Listen to Fitness Business Asia Podcast
 Technologists and crypto-enthusiasts Joel Comm and Travis Wright attempt to demystify the world of bitcoin, blockchain, litecoin, ethereum, alt-coins, token generation events, and ICOs in this podcast for cryptocurrency newbies.
Listen to The Bad Crypto Podcast