The Most Impressive People to Follow on LinkedIn in Indonesia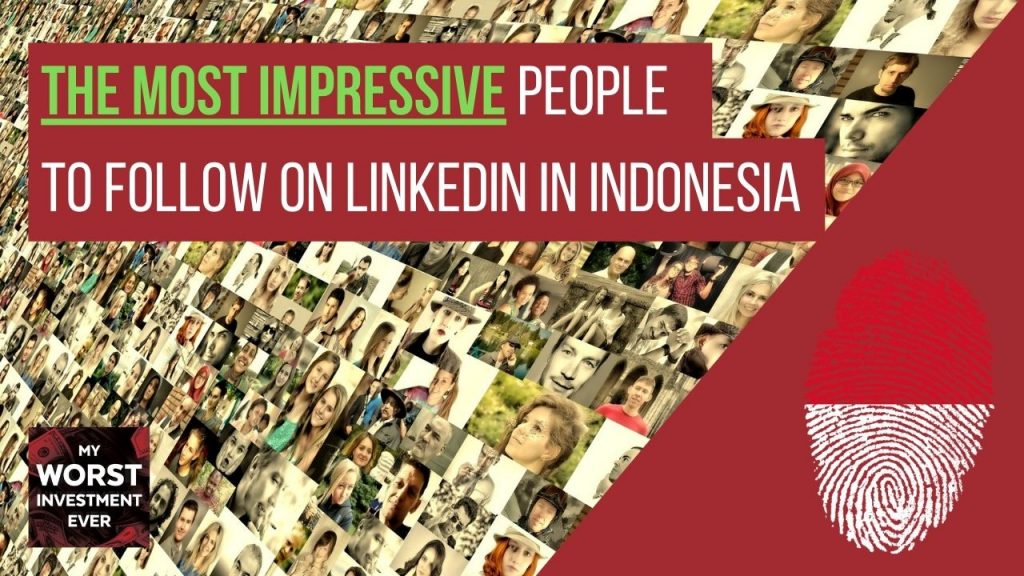 Achmad is the founder of Init 6, a venture capital that invests in early-stage startups to build a new way of life after Covid-19. He was also the founder and former CEO of Bukalapak, one of the largest e-commerce platforms in Indonesia. In 2016, Achmad received the Satyalancana Wira Karya badge of honor for his exemplary contribution to the country.
Patrick is the group president of GoTo Group, the largest technology group in Indonesia, formed by merging Gojek, an Indonesian on-demand multi-service platform, and Tokopedia, one of Indonesia's largest marketplace platforms. Before GoTo, he was the President and CFO of Tokopedia, leading the company's financial technology businesses and global partnerships.
Rudolf is the CEO and President of PT Sasa Inti, a leading and fastest-growing food and seasoning FMCG company in Indonesia. With decades of experience, he is known to bring success and transform companies into market leaders.
Eka is the CEO of Lorena Group, one of Indonesia's leading logistics and public transportation companies. Recently, the group's transportation subsidiary is the first inter-city/inter-state bus service provider in Indonesia to go public.
Johnny is the CEO in an automotive startup space with over 16 years of experience across multiple industries and geographies. He is active as a global speaker, advisory board member, and mentor in various organizations. He is also a co-author of 2 books and has published his biography. In his free time, he is passionate about weightlifting and hosts the J-Talk Podcast.
Anindya is an Indonesian business figure, Telco-Media-Technology (TMT) investor, and philanthropist. He is the CEO and president director of PT Bakrie & Brothers Tbk (BNBR), the successor to the Bakrie Group, one of the oldest conglomerates in Indonesia. He is also the founder of VIVA Group, a leading publicly listed Indonesian media, entertainment, sports, and technology company in Southeast Asia.
Sigit is the founder & CEO of Lister, a leading online platform to teach Indonesians foreign languages. He is an expert digital marketer, and he's bringing into the team a proven track record of successful digital marketing campaigns, social media branding, and his experience in developing apps and webs for businesses.
Irfan is the President and CEO of Garuda Indonesia, the national airline of Indonesia. Before his appointment, he served as INTI President Director, was also the CEO of PT Titan Mining Indonesia, COO of PT ABM Investama Tbk, President Director of PT Cipta Kridatama, President Director of PT Reswara Minergi Hartama, and CEO of Sigfox Indonesia.
Handry is the President of General Electric Indonesia (GE) Indonesia. He joined GE in 1997 as Business Development Manager in GE International, after several years working on local companies. Over the past 15 years of working at GE, he had several roles in the business and was responsible for the company's development and growth in Indonesia.
Harneet has been the CEO of Domino's Pizza Indonesia since 2017. He turned around the struggling Domino's Pizza business in Indonesia, from one of the worst-performing markets for Domino's globally to one of the top-performing markets and a profitable business. Under his leadership, Domino's Pizza Indonesia won gold Franny awards, given by Domino's Pizza International to the best-performing markets across the globe.
Martyn is the founder and member of the board at Bhumi Varta Technology, the leading location, and business intelligence software provider in Indonesia. After setting up his own boutique Venture Capital business in Singapore in late 2016, Martyn moved to Indonesia in 2018 to focus on his primary investment Bhumi Varta Technology.
Edward is the co-founder and CEO of Kopi Kenangan, a non-franchise tech-enabled grab-and-go coffee chain with more than 500 stores across 32 cities in Indonesia. He is also the Founder of Lewis & Carroll Tea, one of the market leaders for premium tea houses.
Ongki is the country head of Stripe Indonesia, a global tech company that builds economic infrastructure for the internet. Before joining Stripe, he was also the executive director of Grab Indonesia, and before that, he was the managing director of LINE Indonesia.
Arief is the President Director of PT. Rajawali Nusantara Indonesia (RNI). The company helps the government's food sector to achieve national food security. Prior to his appointment, he was the president director of PT. Food Station Tjipinang Jaya. In 2020 he was awarded as the "Top Leader on CSR Commitment," "The Best CEO BUMD," and "CMO of the Year."
William is the co-founder and CEO of Tokopedia, a leading Indonesian tech company with the largest e-Commerce platform. With the newly merged GoTo Group, he is now one of Indonesia's most valuable tech company leaders. In 2019, he received a Medal of Honor from the President of the Republic of Indonesia for his contribution to Indonesia's technology and economic growth.
Rama is the founder and CEO of Qlue Smart City, a comprehensive smart city provider company in Indonesia. Through Qlue's app, people can relay their public complaints and comments about daily problems or inconveniences in the city. This helps the government to be more effective and efficient in its operations.
Hadi is the group CEO of PowerCommerce.Asia, an e-commerce omnichannel enabler and supply chain tech solution-services company. He has more than 20 years of experience in startup and scale-up companies, both local and multinational companies. Before PowerCommerce.Asia, he was the Senior Advisor Staff of Economic Sector of Road Map E-commerce in the Coordinating Ministry for Economic Affairs.
Irzan is the co-founder and CEO of Kata.ai, the first and leading artificial intelligence startup in Indonesia. The company offers an artificial intelligence-powered conversational platform to connect brands and businesses with millions of their audiences through the commonly-used messaging apps.
Nathanael is the CEO of Alodokter, the leading healthcare super app in Indonesia. Before founding Alodokter, he previously worked as the country head and global head of data management at Sanisphere and worked at Lazada Southeast Asia as the regional head of production and user experience.