The Most Impressive People to Follow on LinkedIn in India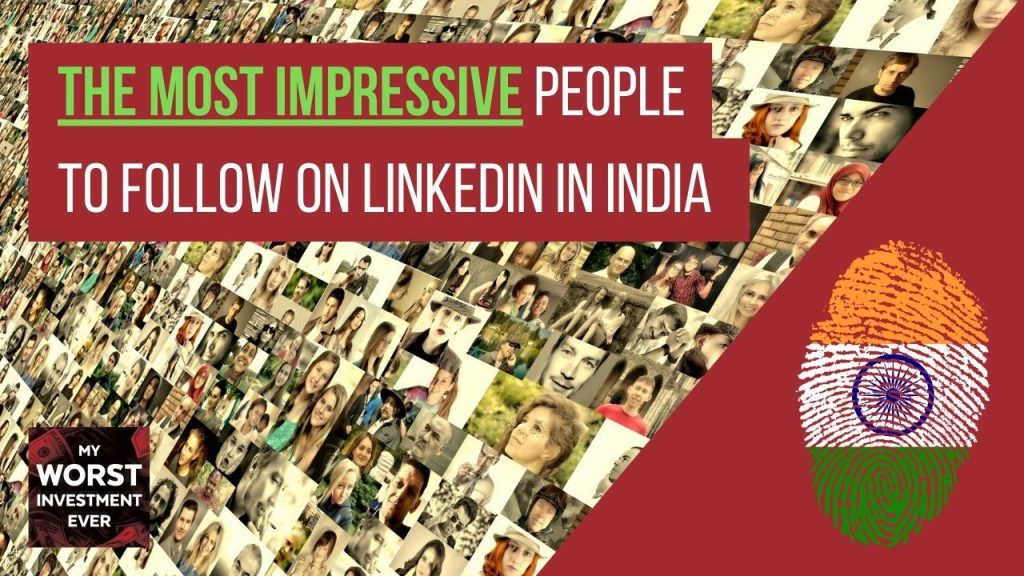 Haresh is the Chief Founder of Tema India Ltd. An engineering graduate with close to 40 years of experience in Shell & Tube Heat Exchangers, he pioneered the technology of rolling Titanium tubes at the invitation of BAPCO, a large size refinery in Bahrain.
Vikram is the Founder and CEO of Mirage Vialista. He has 11 years of experience as a Web Content Writer, Digital Marketer, Technical Writer, Copywriter, and Blogger.
Hemraj is a highly driven, focused and committed top C-suite healthcare professional with more than three decades of frontline global healthcare industry leadership experience with substantial P&L accountabilities.
Vivek is presently the founder of HopeQure, a HealthTech platform for Corporate Employee Wellness Program, helping the advancement in Mental Wellness by deploying advancement in Psychology along with AI & Deep Learning Models. He founded EMVANTAGE Payments in 2012 that Amazon acquired in 2016, and helped create Amazon Pay, a customer-centric payments process transforming the digital payment experience by launching a trusted and convenient way to pay.
Smriti is the founder and CEO of Stack Finance, an advisory firm to help make financial planning accessible and affordable in India. In five years, she has gained vast experiences from working as a financial advisor, data analyst, and business development associate. Her strength revolves around Investment consultant, marketing, product management, public speaking, and content creation.
Arpita is the founder of Let the Data Confess, which aims to bridge the gap between research and industry domains in India's AI field. She has three years of experience as a research scientist, data mining, data modeling, product development, and AI deep learning. With her vast understanding of technology, her goal is to make AI education simple and interesting that anyone can apply not only in their career but to ameliorate society.
Dr. Sudhir is the founding vice-chancellor of Mahatma Gandhi Mission University, an establishment built to foster dynamic, proactive, and passionate leaders who strive to make a difference in India. He published over 1,000 media articles and books throughout 40 years of working.
Tanya is the director of India Blockchain Alliance. A marketing graduate with close to 10 years of experience, she oversees all liaison, marketing, advertising, positioning, and promotional activities to revolutionize India's digital transformation through STEM Education and Blockchain.
Jitendra is the founder of Jupiter and Citrus Payment Solution. Prior to Citrus, he worked with ICICI bank for 7 years, wherein he was part of the founding team of the Retail cross-sell and Investment banking division in the bank. In 4 years, he had grown Citrus into a 300 member+ strong team and raised over USD 25 million.
Gurnani is the chief executive officer and managing director of Tech Mahindra. He led Tech Mahindra's transformation journey and one of the biggest turnarounds of Indian Corporate History – the acquisition and merger of Satyam. He has been awarded the 'Best CEO of the year' three years in a row by Business Today.
Abhay is the chairman and managing director of Virtual Voyage – an institution that serves as a platform for students to enhance the overall educational experience of young minds through a range of extracurricular programs, facilities, services and activities. Through his institution, he yearns to modernize the educational system to allow for new thoughts that would contribute to society.
Narayanan is the vice chairman of the Centre for Innovation in Education and Empowerment. He is a performance hacker for problems across the spectrum, from individual leaders to corporations. His mission is to bring economic prosperity through collaboration and innovation in education and technology that transforms.
Chris is the area vice president for Hyatt Hotels and general manager for the Grand Hyatt Mumbai Hotel & Residences. He is passionate about delivering above-and-beyond moments for the guests and colleagues in a luxury environment. He believes in service excellence and in being passionate about everything he does as the key to success.
Bharani is the director of Innodatatics and has more than 15 years of experience working in various capacities with companies including HSBC, ITC Infotech, Infosys, Deloitte.
Harshil is the CEO and co-founder of Razorpay and the company's mission to simplify payments. They started in early 2014 and are now one of the fastest-growing neobanking companies.
Rajiv is the CEO and founder of RD&X Network. An influential guru that offers companies holistic deep tech products and solutions for creative, media, data, and business transformation to help achieve exponential growth.
Ashish is the founder of INDmoney and Super Money Application. He is also the founder and X-CEO of ibibo (Goibibo & redBus) – India's leading online travel group. He founded ibibo-Pay/ PayU – leading FinTech payments player. He was featured in the 2015 Economic Times and was in the top 100 powerful digital Mavens of India in 2012 and 2013.
Kunal is the Founder and CEO of Cred. An MBA dropout from Mumbai's Narsee Monjee Institute of Management Studies, Kunal had later launched several successful ventures such as PaisaBack.
Shilpa is the marketing director for Samsung Electronics. She has 21 years of digital marketing and strategy experience spanning multiple industries. Recognized by many, she has been invited to speak at various technology and digital forums across the country.
Anuj is the CEO at RentSher India. He is an experienced corporate head with over 20+ working experience in big MNCs as well as startups. He is professionally skilled in business management, business process, service delivery, performance tuning, requirements analysis, business development, fundraising, and business process design.
Apurva is a director at Tech Mahindra. In 2016, he was awarded the "Marketer of the Year" by World Leadership Forum, "Digital Marketer of the Year" by IAMAI, and "B2B Marketer of the Year" by Paul Writer. He was recently featured in Pluralsight Digi100 List Powered by Paul Writer, recognizing the top 100 Digital Marketers in India.
Amitabh is a managing director at Ericsson and an author. He has over 10 years of experience in managing operations in the areas of R&D, product development, pre-sales & sales support, services delivery, and several global shared support functions.
Manu is the vice president at Xiaomi Technology. He played a major role in bringing Xiaomi to India, considering the spike in traffic on India's e-commerce platform. Currently, Xiaomi is the No. 1 smartphone brand in India in terms of the total number of smartphone sales.
Saurabh is the founder and CEO of IndianBureaucracy. Within 5 years, the website has transformed into a one-stop service for all bureaucrats and civil services of India for their daily news.
Arjit is the founder of World Leader Summit, an organization devoted to entrepreneurs in all industries, at all stages, from incubation, throughout the entrepreneurial lifecycle. He has over two decades of experience in finance and technology. He is also an international public speaker, keynote speaker, panelist, and jury member at multiple global events.
Hansi is the founder and editor of Money Management India. With over 20 years as an investment consultant, she is a leading expert that provides financial content such as investments, personal finance, and private wealth management through her digital platforms.
Avelo is a tech entrepreneur, investor, 4 times TEDx speaker & TV Host who started his first company at the age of 19 around his patent-pending technology while still studying at the Illinois Institute of Technology. He built it to a million-dollar valuation by the age of 22.
Shashank is the Founder of Venture Capital at 100X.VC, which was India's first venture fund to invest in early-stage startups using iSAFE Notes. He brings entrepreneurial and investment understanding with more than 15 years of cross-functional expertise.
Kunal is a well-known entrepreneur, inventor, and international best-selling author. He is the founder of Kstar and dToks. He is also a prominent figure in India, appearing more than three times as a TEDx Speaker.
Anil is the managing director and CEO of Adani Transmission Ltd. He has more than 40   years of experience as a   managing director of several globally known companies.
Shradha is the founder and CEO of YourStory, a digital-media platform for startups and entrepreneurs. She founded YourStory in 2008 to champion the untold stories of entrepreneurship in India. Her company was declared as "India's biggest and definitive platform for startups and entrepreneurs-related stories, resources, news, and research reports."
Vani is the founder and managing director of Kalaari Capital, an Indian early-stage venture capital firm. She is a renowned investor and a visionary known for identifying emerging markets. Vani has become an influential voice in the country's vibrant startup ecosystem and has been listed as one of Fortune India's "Most Powerful Women in Business."
Abhijit is an Indian author, columnist, and one of India's leading management consultants. He was the former chief learning officer of Wipro and has led HR teams at Microsoft, PepsiCo, Colgate, and Tata Steel. He has been described as one of India's "Most Interesting Globalists" by Forbes magazine.
Pooja is the co-founder at Inc42 Media, a leading Indian media and information platform are known for its end-to-end coverage of the Indian startup ecosystem. She has been recognized as one of the "Top 25 Voices of LinkedIn India for 2018". She has also been a recipient of the "Indian Women Excellence and Leadership Award" in the Media category at the National Women Leadership Summit 2019.
Adhil is the CEO and co-founder of India's one of the biggest startups, BankBazaar.com, a leading online financial services website offering instant rate quotes on loans, credit cards, savings, and insurance products. He has been named the CEO of the Year for 2016 by CMO Asia.
Prabir is the founder and CEO of Prabir Jha People Advisory, an Indian people advisory firm. Prabir is leading the company with decades of expertise in strategic HR, leadership, and organizational transformation.
Alok is the co-founder and CEO of Games2win, one of the world's largest casual mobile gaming companies and Alok's fourth company. He is a serial entrepreneur who specializes in launching digital startups and making them profitable. His previous successful startup company, Mobile2win, was later acquired by The Walt Disney Company and Norwest Venture Partners.
Amit is the managing partner of Prime Venture Partners (PVP), a Bangalore-based early-stage venture fund. Before PVP, he held leadership roles for over 20 years at Makemytrip, Google, IBM Silicon Valley Labs, and IBM Almaden Research Centre. One of his products (the search-based keyword tool) won the Google founder's award.
Ronnie is the co-founder and chairperson of upGrad, India's largest online educational platform. He is a serial entrepreneur, producer, author, and key figure in India. Ronnie and his wife founded Swades Foundation, a champion for the poor, which focuses on empowering rural communities.
Kamal is the co-founder of Xpheno, a specialist staffing company in India. Kamal was the managing director of Kelly Services India and Malaysia and, previously, APAC head of Randstad based out of Kuala Lumpur. He is leading his company with over two decades of experience in the recruitment and staffing industry.
Divya is the co-founder of Byju's, India's largest educational technology company. She is an educator passionate about creating and transforming new approaches to learning. She has been recognized as one of LinkedIn's Top 25 Voices for 2019 and 2020.
Santosh is the managing director and CEO of Future Brands Ltd, India's leading brand consulting and management firm. He has a popular weekly column, "City City Bang Bang," and is a best-selling author of "Mother Pious Lady: Making Sense of Everyday India."
Sid is the co-founder of Siana Capital; an Indian venture capital firm focused on deep science and deep tech. He is a leading technology consultant who has personally led over $20 billion in complex, first-of-a-kind outsourcing transactions. He also writes a regular column for the Mint.
Aviral is an investor and A Junior VC at Venture Highway. He leads SaaS, EdTech, Social, and High Tech. He previously helped set up the India fund for Guild Capital, an early-stage fund headquartered in the US. He also runs A Junior VC as a passion project, a highly rated platform that enables deep conversations about India's startup and venture ecosystem and SEA.
Radhika is the managing director and CEO of Edelweiss Asset Management Limited, one of India's fastest-growing asset management companies across traditional mutual funds and public market alternatives. She is known as "the girl with the broken neck" who built a $4 billion asset manager.
Rekha is the chairperson and senior managing director of Accenture in India and the chairperson of NASSCOM. She has also previously co-founded two tech companies and two not-for-profits. Her appointment as the chairperson of NASSCOM made history as she became the first woman ever to become the chairperson of NASSCOM.
Harjeet is an Indian business executive, speaker, author, poet, HR leader, inventor, and influencer. He is currently working as the Vice President of HR at Reliance Jio. He is a TEDx speaker, and with his experience and expertise in human resource technology, his topics evolve around HR, leadership, technology, economics, and entrepreneurship.
Aditi is the co-founder of EngineerBabu and co-founder and COO of Supersourcing. Apart from being an entrepreneur, she is also a mentor and a social media expert. With the success of her company, she has earned many awards in her journey. She has been invited to events as a speaker, including Google events.
Vineet is the former CEO of HCL Technologies and now a founder and chairman of Sampark Foundation. He is an acknowledged management visionary, a radical thinker, and a philanthropist. He is the author of the critically acclaimed management book "Employees First, Customers Second: Turning Conventional Management Upside Down" (Harvard Business Press, June 2010).
Ajinkya is the co-founder and CEO of WintWealth (previously GrowFix). His company offers high net-worth individuals and retail investors asset-backed fixed income products that provide higher returns than fixed deposits.