The Most Impressive People to Follow on LinkedIn in Singapore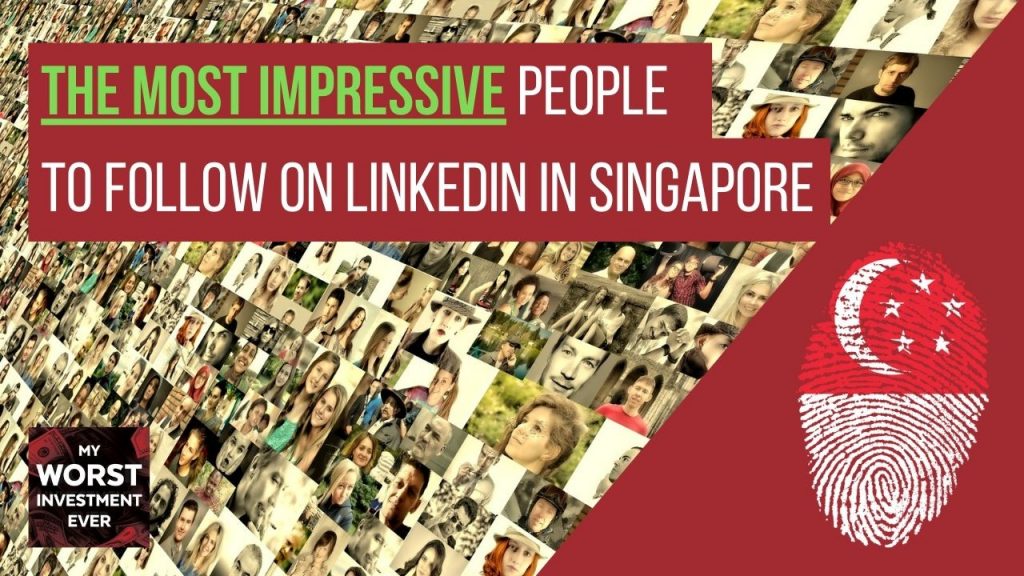 Chris is the Director at DXC Technology. Chris has been working in the technology sector for 20+ years, the past 15 years at the executive level. He enjoys working with growth companies and serving as a trusted executive to CEOs, MDs and founders focused on growth, revitalizing great companies.
Natalie is an author, writer, and speaker in innovation and leadership development and the inventor of the 6 'I's® of Innovation. She is the Founder and CEO of The Entheo Network and has consulted with some of the world's leading organizations, including LEO Pharma Asia, Kellogg's, Singapore Airlines, and CISCO Systems.
Wern-Yuen is currently the CEO of Asia Pacific, Australia, New Zealand, and China (APAC) and leads the PepsiCo business across both foods and beverages in one of the world's fastest-growing and most dynamic regions.
Mohan is the Co-Founder and CEO of e27, which was founded in 2007. It's a community by a group of passionate individuals wanting to build the startup ecosystem in Singapore. In the present, e27 has turned into a leading regional tech ecosystem platform.
Christie is the founder of Sooorya EV Pte Ltd. He is on a mission to create a positive impact in clean transportation & energy. He launched Sooorya EV – an electric vehicle startup focused on providing affordable, comfortable, and eco-friendly ridesharing in the emerging markets.
Sopnendu is responsible for creating development strategies, public infrastructure, and regulatory policies around technology innovation. Mohanty has spent over 20 years in various leadership roles globally in technology, finance, and innovation. He has co-authored several patented works in the retail distribution of the financial sector.
Eli plays a central role in developing asset allocation and thematic strategies across global asset classes for the Bank of Singapore. He is a key member of the Bank of Singapore's investment committee, which determines the Group's overall investment strategy and direction.
Michele is the co-founder at StashAway. He has ten years of experience building consumer internet companies in both the startup and the scale-up phase. His strength is helping people to manage their savings in a simple, transparent, and cost-efficient way.
Nicholas is the director at Singapore Sports Hub. His expertise lies in covering business and sports and writing columns on lifestyle and features on social trends.
Chris is the founder of Black Marketing. He is recognized for launching "Black Marketing – The Dark Art of Social Media Marketing," which has won countless industry awards, such as being the number one international bestselling book on LinkedIn.
Terilee is the founder of Terilee Harrison International. In the past 15 years, she has helped thousands of business owners in the most lucrative way through her high-impact networker 6-Week Online Boot Camp.
Geoff is the market strategist at Singapore Exchange. He has accumulated over 10 years of experience in communicating and continuing to evolve the relevance of stocks and products listed for trading on SGX.
Chris is the Chief Executive Officer at Shoppe. For six years, he served as the head of the mobile business and was responsible for operating the mobile game business for the company.
Juliana is the Chief Executive Officer at Wildtype Media Group. As a leader of the World Economic Forum and using that platform, she strongly stands for public scientific literacy, inclusion and diversity in STEM, and the science communication industry in Asia.
Dione is the Chief Executive Officer at Love, Bonito. Her vision is to build a female brand of the future that is truly thoughtful and the epitome of new retail, to achieve perfection around the community, product, and experience.
Will is the managing director at Macdonald & Company, the leading recruitment consultancy. His specialty is within the property/real estate industry, working for developers, consultancy companies, investors, and banks.
Marcus is the regional director and head of technology at WE Communications. His strength includes reputation management, integrated communications, and institutional relations across multiple sectors such as technology and public service.
Justin is the co-founder at DMCG Global. With over 10 years of work experience, his vision remains centered on connecting businesses with the brightest talent in the marketing, communications, and digital space, to enable progress for companies and individuals alike.
Adian is the founder of Career Agility International. In three years, he helped more than thousands of clients successfully achieve clarity in their careers, using a proprietary framework and a deep understanding of career dynamics.
Magnus is the founder of Antler. In three years, he has led a global team across five continents with the mission to improve the world by supporting founders who are building the defining companies. His expertise lies in building a portfolio for companies worldwide and connecting businesses with an unparalleled global network of entrepreneurial leaders and advisors.
Caspar is managing director at Accenture Interactive. He is an experienced business and team leader who has successfully led the growth and development of startups and established businesses. He is also an author, blogger, and keynote speaker.
Puja has over a decade of experience in human resources in varied sectors globally. Her clients have recognized her for her out of box thinking and result-based approach. Her coaches view her as a change agent who helps them to be the best version of themselves that they are, can be, and should be.
Syn is the head of Credit Training at DBS Bank. His main role is running advanced credit curriculum for bankers, applying analytical tools to help clients. At the same time, he coaches selected aspiring junior bankers to accelerate their experiences with live cases.
Anna is the CMO and managing director at Gourmet Food Holdings. Her focus is on technology initiatives, data analytics, ad tech, media, creative & public relations.
Lutfey is a member of the Executive Leadership team at CFA Institute. He is the Chief Account Officer for the organization's engagement, liaison, and partnership with members and stakeholders, including industry and academia.
Rena is the regional head of marketing and communications for Randstad. She is an exceptional marketing talent who is future-ready and possesses the courage to embrace changes, the acumen to identify the trends of tomorrow, and the relentless commitment to delivering an exceptional level of customer service.
Anna is the CEO and founder of Perx Technologies. During her 20-year+ career, she built five startups and three global companies in the software industry. Her expertise lies in consumer engagement, loyalty solutions, and meeting customers' rising digital expectations.
Karen is a motivational speaker, financial trainer, and author. She was ranked #1 in a Singapore nationwide Forex trading competition. She's a proven forex trader whose expertise lies in risk management and formulating investment plans.
Andrew, an individual globally known for his expertise in self-leadership. He is a C-suite advisor, an award-winning coach, and a best-selling author. He is on a mission to "wake people up" to their best possible selves, which he does through his conference keynotes, leadership team facilitation, and coaching.
Darryl is a private wealth manager at REYL Group who delivers personalized, comprehensive wealth management strategies and solutions to high-net-worth individuals. He has over seven years of experience in providing investment portfolio construction and business training and development for large multinational firms.
Eduardo is a co-founder and the first investor of Facebook Inc. After playing a part in Facebook's remarkable transition; he is now the co-founder and partner of B Capital Group – a venture capital firm transforming large traditional industries across borders and geographies. He is based in Singapore and loves to play chess in his spare time.
Anthony is the co-founder and currently the group CEO of Grab – Southeast Asia's leading mobile super app, which offers transportation, food delivery, and digital payments services. Tan, at the age of 39, is one of Singapore's 50 Richest in 2021.
Chatri is the founder, chairman, and CEO of Group ONE Holdings (ONE) – Asia's largest global sports media platform in history. He is the star of the latest 2021 edition of The Apprentice, the award-winning global reality TV show. Not only was he a self-made entrepreneur, but he was also named Asia's King of Martial Arts by the Financial Times.
Philippa is the CEO of People Collider; a company focused on improving HR's ability to create a more human future through technology. Her broad experience in Human Resources across different cultures in Asia and her curiosity about technology make her one of the best in the field.
Valentin is the founder of the multi-asset trading and tokenization platform LATOKEN. He is well-experienced in trading and blockchain technology.
Nicholas is the founder and group CEO of Verztec Consulting, the leading global content consulting services company in Asia. He has vast experience in digital media, global marketing, globalization consulting & localization project management, software engineering, and new customer acquisition & retention.
Naveen is the founder and CEO of Nityo Infotech, one of the best IT services companies around the globe. He started the company in 2006, and since then, the company has expanded to 30 offices worldwide to cater to its clients in 20 countries.
Grant is the co-founder of Weichai Singapore Pte Ltd, one of the world's largest automobile and equipment manufacturers. He has brought more than 10 years of experience in product and service management, marketing, and training to the company.
Ravi is the President & CEO of Maxima Global Executive Search, a Singapore headquartered global consulting company. With Ravi leading the company, it has grown and has partnered with companies from all over Asia, US, Europe, and Melbourne.
Varun is a global emerging markets fintech leader, author, and investor. Currently, he's a partner at Ernst & Young, bringing in his vast experience at the cross-section of digital business building and financial services in Southeast Asia and global emerging markets.
Magnus is Lazada group's co-founder and Chief Strategy Officer. With his 10 years of experience initially handling the company's operations in Indonesia, he has become one of the driving forces behind Lazada's success.
Jochen is the Vice Dean for MBA Programmes, a Professor of Marketing at the NUS Business School and National University of Singapore (NUS), and an author of over 20 books. Dr. Wirtz is a leading authority on services marketing and management. His research has been published in academic journal articles and has received recognition for his excellence in research and teaching.
Douglas heads Expara Ventures as the managing director. He brings to the company his 14 years as a corporate entrepreneur at JP Morgan in New York. He is also an experienced venture investor and educator in Singapore and Bangkok.
Damien is the founder and managing partner of YCP Solidiance, a corporate strategy consulting firm in Asia. Once founded as Solidiance Asia Pacific in 2006 and later acquired by YCP Group in 2018, Damien has been responsible for YCP Solidiance's success in innovation and competitive strategies.
Prithvi is an experienced corporate business officer with a background working in the information technology and services industry. He was the former Chief Human Resources Officer at HCL Technologies and left the company in 2017. He co-founded and is currently the Head of Talent Enablement and Workplace Design at Smarten Spaces.
Rachel is the co-founder of Love, Bonito is the leading and largest vertically integrated, omnichannel women's fashion brand in Singapore. With her own experience having started her own fashion business online at 19 years old, she continues to impact the company's growth and success, being at the forefront of the regional fashion industry.
Keith is the founder of Wonder, a global human resource and technology services provider in Asia. With his experience in the digital and technology business, he leads in helping companies build and manage software development teams.
Poon is the founder and CEO of BUTLER, Singapore's finest asset, property, and lifestyle management group. At a young age, Poon was already an entrepreneur and helped his mother manage their F&B business and started his own business at the age of 18. Cut short when he enlisted in the army, he used this time to visit over 200 luxury hotels in Asia and gain insightful knowledge on hospitality management.
Andre is a director at NYS (Singapore) Pte. Ltd. He works with CEOs, board of directors, business owners as their strategic thinker and holistic advisor. He introduces effective business strategies to attain sustainable corporate growth with organizational balance and harmony.
Justin is the CEO of BitTorrent, founder of TRON Foundation, and Peiwo app. He was named Forbes' 30 under 30 Asia in 2017 and Forbes' 30 under 30 China from 2015 to 2017. With his lead, TRON has become one of the most popular blockchains globally, and Peiwo is now one of the largest voices live streaming apps in China.
Sudhir is the CEO of Everise, a Singapore-based technology-enabled outsourcing firm with expertise in transforming healthcare and technology experiences. He leads the company to its success with his two decades of corporate leadership and management experience.
Ankiti is the co-founder and CEO of Zilingo, a Singapore-based B2B technology and commerce platform in the fashion industry. Zilingo started as a mobile-first e-commerce marketplace and has expanded into a B2B tech platform, with services spanning different offerings for players across the fashion supply chain.
Rahul is the founder of Moglix, a B2B e-commerce platform for industrial products. Now a unicorn company, Rahul has built a powerhouse that can redefine the B2B e-commerce business.
Roshni is the Group CEO and founder of theAsianparent.com. She leads the company with her 15 years of media and marketing experience across the US and Asia Pacific. The company has become Southeast Asia's largest and number one parenting platform.
Steve is the Deputy Chief Executive Officer of Integrated Health Information Systems (IHiS), Singapore's national health tech agency. Steve is responsible for implementing service strategy and overseeing service delivery to stakeholders in the Public Healthcare sector.
Abhishek, Rameez, and Adeel are the founders of Circles. Life, a digital mobile service company. The trio aimed to be a disrupting force which they have been since their launch in 2013. Now, that company has owned and partner operations throughout Asia.
Dr. CJ is a coach, consultant, entrepreneur, eBusiness builder, educator, author, and speaker. She's been awarded as one of Asia's Top 10 Women in IT. She leads a Design Thinking & Innovation Center at a Forbes Top-20 International Business School, co-founded an Advanced Technology Think Tank & Tinker Lab, and is the Chairman & Co-Founder of The Tiger Center.
Stephen is the co-founder of Dechen House Pte. Ltd. With 22 years of experience, from his career in international education to toy designing for Hasbro; to producing international television and events, he is on a mission to build and develop a group of companies with local and international entrepreneurs.
Laurianne is the executive director of Morgan Philips Executive Search for the SEA Region. Her expertise is focused on executive search & talent consultancy. She's based in Singapore, but she travels and exposes herself to diverse cultures to help develop her skills and knowledge in her field, making her initiatives more effective and her decision-making more efficient.
Shiva is the founder, chairman, and CEO of Varidus – a leading venture builder firm in Singapore. He has 20 years of executive and board-level experience across the commercial sector with experience in the telecommunications, finance, IT, technology, and software development industries. He is also an award-winning educator.
David is a member of the Council of Advisors at Avvanz, a technology-based employee lifecycle management company. He has spent 3 decades of his career in diverse organizations that include government agencies (National Productivity Board and Bank Negara's ICLIF), MNCs (GE and J&J) and conglomerates (SinarMas Group). He was co-author of Lights, Camera and Action. He has spoken at numerous conferences and delivered workshops across the world.