The Most Impressive People to Follow on LinkedIn in Singapore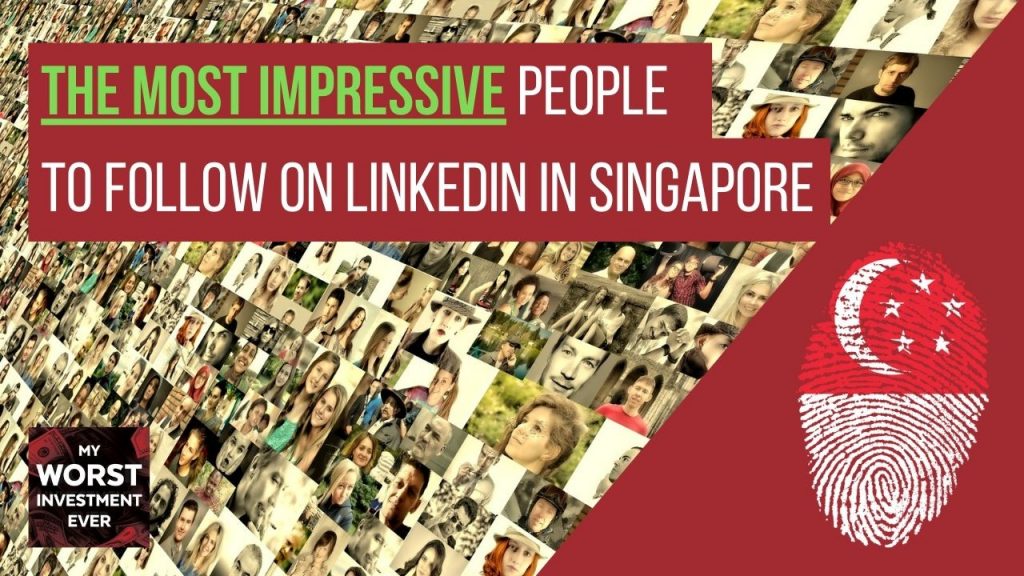 Chris is the Director at DXC Technology. Chris has been working in the technology sector for 20+ years, the past 15 years at the executive level. He enjoys working with growth companies and serving as a trusted executive to CEOs, MDs and founders focused on growth, revitalizing great companies.
Natalie is an author, writer, and speaker in innovation and leadership development and the inventor of the 6 'I's® of Innovation. She is the Founder and CEO of The Entheo Network and has consulted with some of the world's leading organizations, including LEO Pharma Asia, Kellogg's, Singapore Airlines, and CISCO Systems.
Wern-Yuen is currently the CEO of Asia Pacific, Australia, New Zealand, and China (APAC) and leads the PepsiCo business across both foods and beverages in one of the world's fastest-growing and most dynamic regions.
Mohan is the Co-Founder and CEO of e27, which was founded in 2007. It's a community by a group of passionate individuals wanting to build the startup ecosystem in Singapore. In the present, e27 has turned into a leading regional tech ecosystem platform.
Christie is the founder of Sooorya EV Pte Ltd. He is on a mission to create a positive impact in clean transportation & energy. He launched Sooorya EV – an electric vehicle startup focused on providing affordable, comfortable, and eco-friendly ridesharing in the emerging markets.
Sopnendu is responsible for creating development strategies, public infrastructure, and regulatory policies around technology innovation. Mohanty has spent over 20 years in various leadership roles globally in technology, finance, and innovation. He has co-authored several patented works in the retail distribution of the financial sector.
Eli plays a central role in developing asset allocation and thematic strategies across global asset classes for the Bank of Singapore. He is a key member of the Bank of Singapore's investment committee, which determines the Group's overall investment strategy and direction.
Michele is the co-founder at StashAway. He has ten years of experience building consumer internet companies in both the startup and the scale-up phase. His strength is helping people to manage their savings in a simple, transparent, and cost-efficient way.
Nicholas is the director at Singapore Sports Hub. His expertise lies in covering business and sports and writing columns on lifestyle and features on social trends.
Chris is the founder of Black Marketing. He is recognized for launching "Black Marketing – The Dark Art of Social Media Marketing," which has won countless industry awards, such as being the number one international bestselling book on LinkedIn.
Terilee is the founder of Terilee Harrison International. In the past 15 years, she has helped thousands of business owners in the most lucrative way through her high-impact networker 6-Week Online Boot Camp.
Geoff is the market strategist at Singapore Exchange. He has accumulated over 10 years of experience in communicating and continuing to evolve the relevance of stocks and products listed for trading on SGX.
Chris is the Chief Executive Officer at Shoppe. For six years, he served as the head of the mobile business and was responsible for operating the mobile game business for the company.
Juliana is the Chief Executive Officer at Wildtype Media Group. As a leader of the World Economic Forum and using that platform, she strongly stands for public scientific literacy, inclusion and diversity in STEM, and the science communication industry in Asia.
Dione is the Chief Executive Officer at Love, Bonito. Her vision is to build a female brand of the future that is truly thoughtful and the epitome of new retail, to achieve perfection around the community, product, and experience.
Will is the managing director at Macdonald & Company, the leading recruitment consultancy. His specialty is within the property/real estate industry, working for developers, consultancy companies, investors, and banks.
Marcus is the regional director and head of technology at WE Communications. His strength includes reputation management, integrated communications, and institutional relations across multiple sectors such as technology and public service.
Justin is the co-founder at DMCG Global. With over 10 years of work experience, his vision remains centered on connecting businesses with the brightest talent in the marketing, communications, and digital space, to enable progress for companies and individuals alike.
Adian is the founder of Career Agility International. In three years, he helped more than thousands of clients successfully achieve clarity in their careers, using a proprietary framework and a deep understanding of career dynamics.
Magnus is the founder of Antler. In three years, he has led a global team across five continents with the mission to improve the world by supporting founders who are building the defining companies. His expertise lies in building a portfolio for companies worldwide and connecting businesses with an unparalleled global network of entrepreneurial leaders and advisors.
Caspar is the managing director at Accenture. He is an experienced business and team leader who has successfully led the growth and development of startups and established businesses. He is also an author, blogger, and keynote speaker.
Puja has over a decade of experience in human resources in varied sectors globally. Her clients have recognized her for her out of box thinking and result-based approach. Her coaches view her as a change agent who helps them to be the best version of themselves that they are, can be, and should be.
Syn is the head of Credit Training at DBS Bank. His main role is running advanced credit curriculum for bankers, applying analytical tools to help clients. At the same time, he coaches selected aspiring junior bankers to accelerate their experiences with live cases.
Anna is the CMO and managing director at Gourmet Food Holdings. Her focus is on technology initiatives, data analytics, ad tech, media, creative & public relations.
Lutfey is a member of the Executive Leadership team at CFA Institute. He is the Chief Account Officer for the organization's engagement, liaison, and partnership with members and stakeholders, including industry and academia.
Rena is the regional head at Randstad. She is an exceptional marketing talent who is future-ready and possesses the courage to embrace changes, the acumen to identify the trends of tomorrow, and the relentless commitment to delivering an exceptional level of customer service.
Anna is the CEO and founder of Perx Technologies. During her 20-year+ career, she built five startups and three global companies in the software industry. Her expertise lies in consumer engagement, loyalty solutions, and meeting customers' rising digital expectations.
Karen is a motivational speaker, financial trainer, and author. She was ranked #1 in a Singapore nationwide Forex trading competition. She's a proven forex trader whose expertise lies in risk management and formulating investment plans.
Andrew, an individual globally known for his expertise in self-leadership. He is a C-suite advisor, an award-winning coach, and a best-selling author. He is on a mission to "wake people up" to their best possible selves, which he does through his conference keynotes, leadership team facilitation, and coaching.
Darryl is a private wealth manager at REYL Group who delivers personalized, comprehensive wealth management strategies and solutions to high-net-worth individuals. He has over seven years of experience in providing investment portfolio construction and business training and development for large multinational firms.