Ep98: David Siegel – Start-ups Should Start with Selling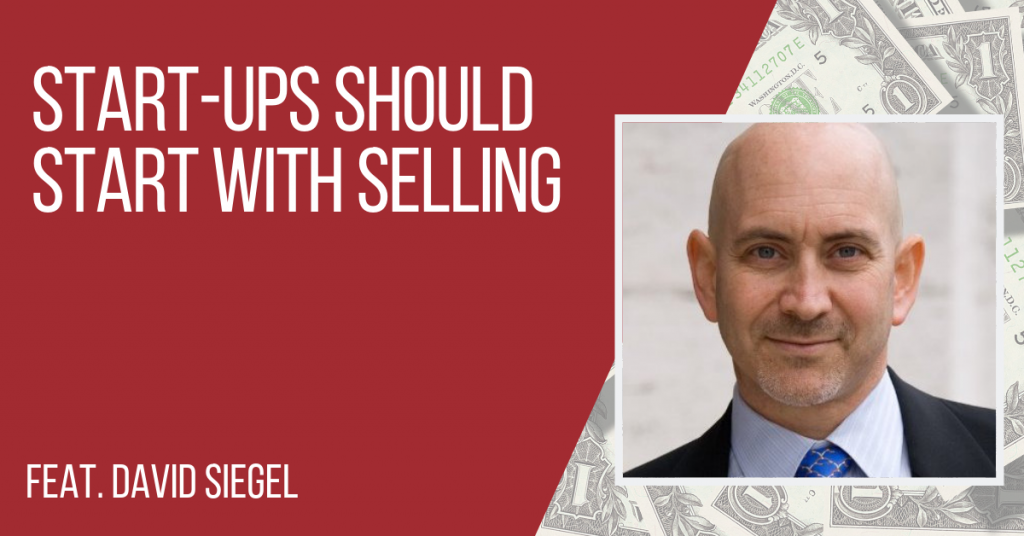 Listen on
Apple | Overcast | Stitcher | Spotify | Other
Guest profile
David Siegel is the world's first web designer and is the author of five books on the web and business. He has started 23 companies, including Studio Verso, one of the world's first digital agencies, which was later sold to KPMG. His most recent book, which is highly rated on Amazon, is called Pull, which describes the shift from powerful companies to powerful consumers. In 2016, David was a candidate for the post of dean at the Stanford Graduate School of Business. In July 2017, he led a team of volunteers to the successful ICO of the Pillar Project (tagged "the easiest crypto-currency mobile wallet to use"), which raised more than US$20 million. He's also the CEO of 20|30, a venture studio based in London.
"From a forensic point of view, the reason most start-ups fail is failure to make the sale. So people don't understand this; they think it's some kind of product-market fit or engineering or the product wasn't good enough, or it was management, or there wasn't enough money. In fact, all those things are second or later causes; the number one cause of failure is failure to make the sale."

David Siegel, who has launched 23 start-ups in his career
Worst investment ever
Number 1
The first one was a US$100 million mistake. He had an ICO, and ether (cryptocurrency) was valued at around $170, or his ICO had a $21 million valuation at the time (that's how much money he had raised). By the end of that year, he had $150 million worth of ether. In the time after the ICO, he became more conscious of money management. He knew he was at the right time to cash out, but it turned out that turning ether into cash would be difficult. He was trying to sell ether and get to dollars in any way he could, but the banks were refusing to take his ether because it was difficult to do the anti-money-laundering (AML) and KYC due-diligence compliance.
After trouble also with currency exchanges, which were saying he had to exchange back into ether again, and months of trying to find banks to accept his money (he wanted to put around $50 million into a bank account right away), he could not, because AML laws were standing in his way. While this was going on, ether was going down in value as was bitcoin. At the end of it all, ether had dropped back down to $350. David hoped it would climb again but it went down to $73. So the value of his company fell from $150 million down to $5 million.
The company is still alive and "still has the lights on", but it has slimmed considerably. As David said: "It's austerity time here", but he believes his team is going to make it work in the long run.
Numbers 2 and 3
David discussed two other business investments he was involved in – a brick factory in Cambodia, and a new kind of wholesale mortgage company, the latter which failed due to the lack of "regulatory capital".
Some lessons
Astute money management is essential. You lose money pretty much the same way you make it, through money management. Your money-management scheme determines if you are going to be a winner in the long run.
Take care with asset allocation and remember diversification. Failure in these can often result from overconfidence, which is based on being too optimistic and seeing all the potential upsides and not looking broadly or deeply enough at the downsides.
Andrew's takeaways
The potential impact of macro-economic and external factors are supremely difficult to predict and factor in. The effects of such factors, whether they are major economic upheavals in a country or region, government regulatory changes, or political power shifts, can be very hard to estimate and allow for.
Beware the error of inaction. When you find an idea you like or something you're interested in, don't make the mistake of failing to act.
If unsure about the potential of an idea, remember the smaller-position option. Try to figure out how you can take a small position in an investment, rather than blowing all your money just because you like an idea.
Actionable advice
Learn to sell and learn all about money management.
No. 1 goal for the next 12 months
The Pillar Project is David's pride and joy and he expressed hope that listeners would visit Pillarproject.io and learn about its mission to change the world. His team for the next 12 months wants build on a strong platform product, which was launched a month ago (from the time this program was recorded), and is seeking a following of at least a million people by the end of the year. He explains that the project is part of the "personal data movement", which is the idea of taking back control of personal data, that people should own their personal data and decide what to do with it. He added that people should run their own algorithms to help them, and not Amazon's or Facebook's or Google's.
Parting words
David is a self-confessed student of failure, and one of his favorite authors is child-development expert Alfie Kohn. David stated that he sees Kohn also as a business guru, because he says, if you know a lot about children, you can understand markets.
"It's not just the habit of attributing your failure to being stupid that holds you back but also the habit of attributing your success to being smart."

David Siegel, quoting Alfie Kohn
Connect with 
David Siegel
Andrew's books
Andrew's online programs
Connect with Andrew Stotz:
Further reading mentioned