Ep210: Samuel Kamugisha – Constant Frustrations Selling SMS Messages Killed The Business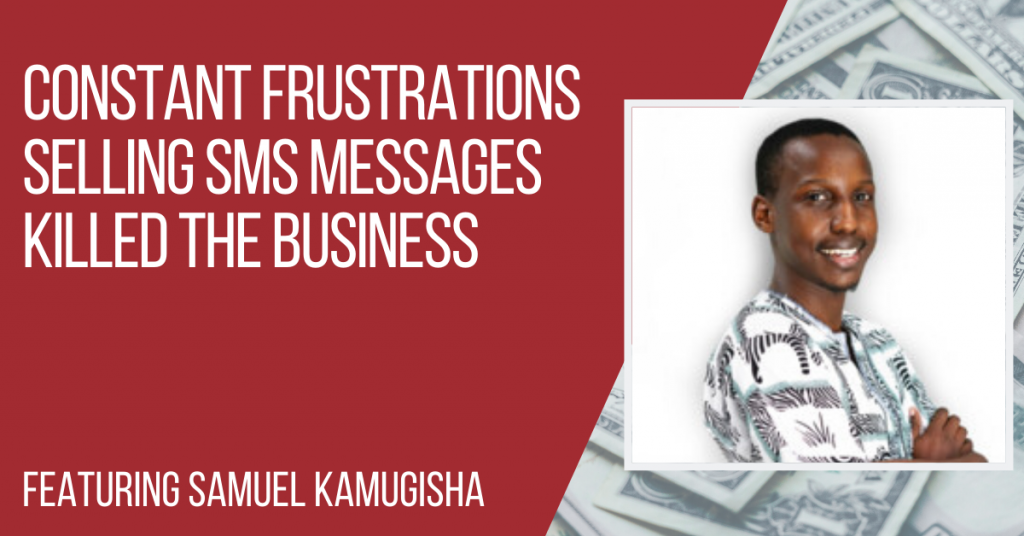 Listen on
Apple | Overcast | Stitcher | Spotify | Other
Guest profile
Samuel Kamugisha is a brand and growth strategist hailing from Uganda in East Africa but has been in Malaysia for the past five years, where he completed his Master's degree. He is skilled in marketing, creative strategy, brand development, and project management that he attained from various fields.
Samuel has over 11 years of work experience in Africa and Asia. Currently, he works in the strategy department at the prestigious iProspect Malaysia and Lemonade Agency that are Dentsu Aegis Network Companies.
Finally, he is the host of the Wow Factor Podcast.
"Loss is just an investment in knowledge."

Samuel Kamugisha
Worst investment ever
Chasing the excitement of being his own boss
After working for about six years, Samuel quit his job and decided to open a business and be his own boss. He partnered with his friend, and together they started a business in Uganda focusing on bulk SMS. The idea was to offer SMS services to people who wanted to send bulk SMS messages.
Raising capital for his business
Samuel approached his sister with his business idea and requested her for a loan to set up the business. He showed her the valuation of the business, and she agreed to loan him the money.
Excited to get started right away
Happy to finally have the capital he needed, Samuel went to his partner, and they decided to hit the ground running. They were too excited to get started that they never bothered to do any kind of research to validate their business idea.
First, they hired a developer to set up a website where they would host the SMS service. Next, they scouted for an SMS provider and found a gentleman whose rates seemed to be very good. They spent half of the seed money on buying the SMS:s.
Tragedy strikes
Things were going pretty well, and the business was starting to gain some ground. Unfortunately, the gentleman who sold the SMS:s to them suddenly died. His system went offline, and they no longer had access to the SMS:s they had bought. The gentleman operated his business alone, and so Samuel had no one to consult once the gentleman died.
Seeking a second option
Samuel and his partner decided to look for another SMS service provider. This time they chose to go with a company as opposed to an individual. They found a company in India and used the remaining half of the seed money to buy more SMS:s.
Tragedy strikes again
After about four months of successfully working with the Indian company, another crisis happened. The telcos in Uganda were blocking any SMS messages from entering into their network because they were not originating from their system. So now they had clients complaining that their SMS:s were not being delivered. Whenever they'd complain to the company in India, the company would say that there was nothing they could do as the SMS messages were being blocked from Uganda and not India.
Trying to salvage the situation
When Samual realized that there was not much the Indian company would do to help, he decided to find a way to salvage the situation to avoid losing all his investment money. The only way to do it was to sell the bulk SMS:s they had already bought to another entity. He approached a local bank pitched his idea, and they seemed to like it.
Before he could sell off the SMS:s there were minor changes that needed to be made on their website. He called the developer and told him about the changes he needed. That was the last Samuel heard of the developer. He never made the changes, and he went missing. Needless to say, Samuel missed his window of opportunity as the bank got tired of waiting for him to deliver the SMS:s.
Accepting the inevitable
At this point, there was no other way to save the business, and so Samuel accepted his fate. He made peace with the fact that his business idea turned into a failed venture, becoming one of his worst investments.
Lessons learned
Do your groundwork
Don't just jump into a business because it feels good and you're feeling excited about it. First, do some intensive research in the industry you're going into then decide if it's a viable business idea.
Work with people with a similar vision
Align yourself with people with the same mindset as yours. People who have the same vision as you. Otherwise, everything is going to go haywire.
Analyze your partners strictly
Don't go easy when picking partners. Have ongoing discussions with potential partners. Make sure that you understand their mindset about money and business. If possible, talk to the people they've worked with and get to know their experience working with these people.
Andrew's takeaways
Let your partners know if things are bad
Communicate with everyone concerned whenever things are going bad. It's easy to communicate when things are going well, but it's most important to keep talking when things are going bad.
The world doesn't care
Your success is determined sometimes by the timing, and sometimes it's about luck, good or bad.
There's no shortcut to building trust
Trust can only be built over time. There is no hack for building trust.
Actionable advice
Do your groundwork. The knowledge you get from this research will help you choose the right partnerships, understand the environment, the type of business you intend to start, and how the market is. Do people need your product? Are you building a product that you think they need? Some of the solutions that we are creating are not necessarily solutions.
No. 1 goal for the next 12 months
Samuel's goal for the next 12 months is to add a revenue model for his podcast. Right now, it's his most focused entity, and he's putting most of his energy on the podcast so he can build a revenue model around it.
Parting words
"I encourage you to look forward to your plans. Yes, you've had losses and you've had failures. It's good you've learned from them. That's the cost that you've paid for them."

Samuel Kamugisha
Connect with Samuel Kamugisha
Andrew's books
Andrew's online programs
Connect with Andrew Stotz: