Ep201: Somdutta Sarkar – Look for the Hidden Meaning in the Problems That You Face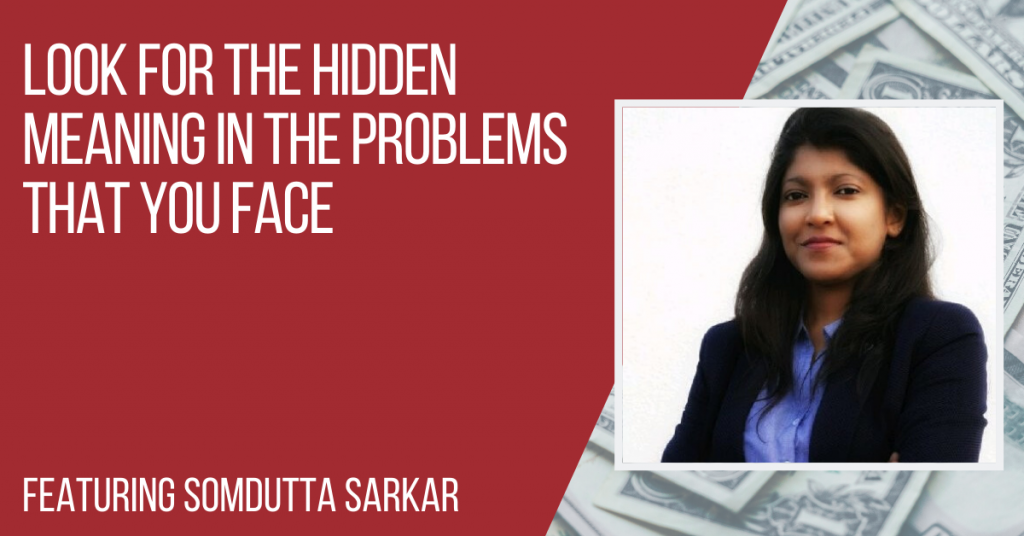 Podcast: Play in new window | Download
Listen on
Apple | Overcast | Stitcher | Spotify | Other
Guest profile
Somdutta Sarkar is the host of Intensify Humanity Podcast, a bestselling author, an NLP practitioner, a thought leader, a passionpreneur, and an Intensifier Mentor. Her book is called 7 STEPS from SHAME to being BACK IN THE GAME.
"Ignorance is not bliss; it's a disease."

Somdutta Sarkar
Worst investment ever
Living in the city of dreams
Somdutta moved to Mumbai, known as the city of dreams in India, where she got a job after finishing college. She was working a job that she loved and making a decent income. She was indeed settled in life.
A friendly soul
Somdutta is naturally a friendly person, so she made so many friends while living and working in Mumbai. She was always kind enough to help anyone who came to her in need of help, no matter what day or time they came calling. This happened over and over again.
Her kindness leaves her in debt
Somdutta's friendly nature soon enough landed her into trouble. One day a friend came to her in need of financial help, and in her true nature, she accepted to help him. She took a bank loan in her name and gave the money to her friend. When the time to pay the loan came, her friend went quiet. He blocked her, making it impossible to reach him. She tried all possible ways to get him to pay the loan, but he never did.
Somdutta's worst mistake was trusting her friend, who left her with a debt of $35,000.
Rebuilding herself
Somdutta suffered greatly mentally and emotionally. She felt enormous shame for having made what she thought was the most stupid decision of her life. During this phase of her life, she lost so many friends.
After a few months of suffering, she decided to work on herself, her mind, her awareness about society, psychology, finance, everything. She worked on her self-development, and she was able to pull herself out of that phase. Now she is helping people who are stuck in that kind of stage in life to revive and relive their life again and gain back the freedom and power they never had.
Lessons learned
Ignorance is part of our system
Ignorance is a disease in our society these days. We are taught from childhood that ignorance is bliss.
Every problem has a hidden meaning in it
Through self-development, you'll be able to find this hidden meaning, and in return, you will be able to solve the problem.
Sometimes you have to jump in the deep end
You'll never know your full potential until to jump into the waters.
Avoid the shortfall risk
If you are not taking calculated risks, you're putting yourself at risk. There is simply no way to exist without taking on risk.
Andrew's takeaways
High risk is not always equal to high return
There are certain risks that you take that you're not compensated for. These kinds of risks can be mitigated. For instance, in investing, if you only buy one stock, instead of diversifying across maybe 10 or 20 stocks, you increase your risk. Risk management is one of the essential things that that you can learn as a young person.
Get yourself out of your framework
We all have a framework, a kind of lense through which we see the world. One of the hardest things that someone can do is to get themselves out of their framework. The majority of people never do. But when you move beyond your framework, you have true freedom.
Actionable advice
Focus on self-development. If you don't invest in yourself and your mind, you are taking the most significant risk in your life.
No. 1 goal for the next 12 months
Somdutta has set a target of interviewing 200 people for her podcast Intensify Humanity. She also plans to launch her online program this year. The program will be an entirely unconventional education system, everything that is not taught in schools and colleges.
Parting words
"If you feel stuck and you do not see any kind of light at the end of the tunnel, know that there is a hidden meaning out there, and it is trying to tell you something. Start investing in self-development because all the answers are here."

Somdutta Sarkar
Connect with Somdutta Sarkar
Andrew's books
Andrew's online programs
Connect with Andrew Stotz: