Ep120: Jason Bible – You Can't Plan For a 1,000-Year Flood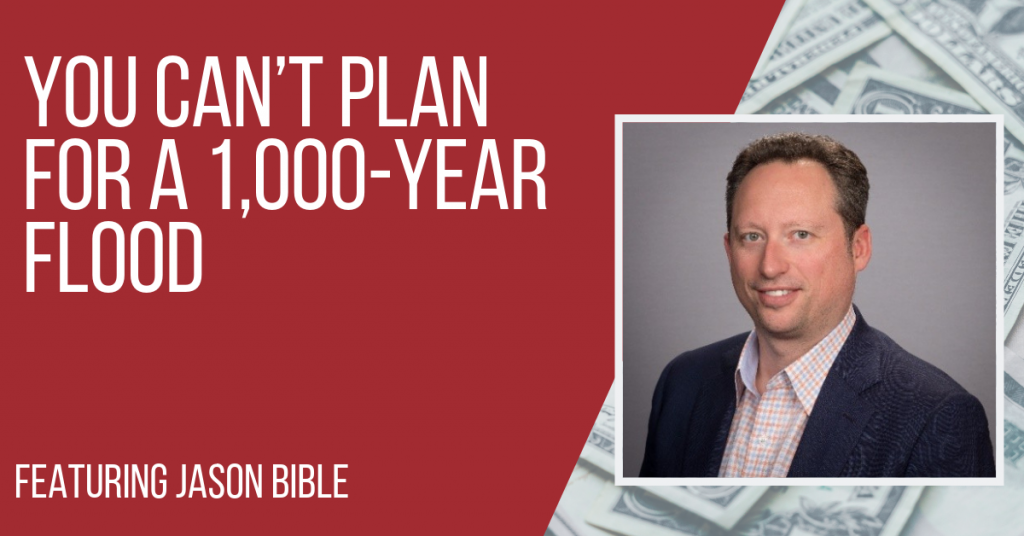 Listen on
Apple | Overcast | Stitcher | Spotify | Other
Guest profile
Jason Bible, aka Mr. Texas Real Estate, is a full-time real estate investor who is thriving after a long journey in the field working with buyers and sellers of real estate. He is the co-host of the live call-in Right Path Real Estate radio show on Houston Business 1110AM KTEK, Monday to Friday at 9am. On top of that, he is the managing partner and chief operating officer at HoustonHouseBuyers.com. His knowledge encompasses landlord investing, wholesaling, flipping, lending, banking, money and finance. In July 2013, Jason started a company that specializes in buying distressed houses directly from home owners. He has bought, sold, renovated, and leased hundreds of properties, raised capital, and borrowed nearly US$10 million in bank and private capital. Further, Jason has been an invited presenter at multiple local and national business and real estate events.
He completed his undergraduate degree in environmental science from Sam Houston State University then worked for the University of Texas Health Science Center at Houston (UT-Health), during which he completed an MBA in finance and an MS in security management. After that, he started as an environmental waste specialist and prior to leaving UT-Health to start his first company, was a risk manager. He lives in Houston, Texas with his wife and two sons, and is a craft-beer enthusiast.
"I will never forget sitting in a meeting, probably two months before, (discussing) should we get flood insurance on (a property in Memorial, Houston) or should we not. And the house … (had) just a little piece of the backyard that was in the 500-year flood plain, so we thought probably don't need flood insurance on it. Well, this was 1,000-year flood event (Hurricane Harvey)."
Jason Bible
Worst investment ever
House refurbished for flipping valued at US$1m
Jason's worst as far as amount of money lost was on a property in Memorial, Houston, one of the last houses that he and his team ever invested in during their flipping operations. It was a beautiful 3,000-square-foot 60-year-old house and it needed complete refurbishing, which they had just finished doing.
Hurricane Harvey drenches city for four days
Of around three houses in potentially flood-affected areas, only with this one had they decided against insuring for flooding. Alas, after 40 about inches of rain per 24 hours of the storm that returned to the mainland a second time and hovered over Houston for about four days, and the ensuing unprecedented flooding across almost the entire city, their $1-million rehabilitated property was devastated.
Signing away $250k was heartbreaking
So Jason and his team were discussing over and over in their sales meetings when exactly they would sell the house. And on the $1-million-dollar house, they lost about $250,000. He said writing that $250,000 check to get out of the deal was absolutely heartbreaking. But the real pain came in thinking that in six or seven years, that house would again be valued at up to $1.3 million.
Some lessons
Traits essential for investing in real estate
If you're risk averse, don't do it
Real estate is not for people who can't handle the risk. If you look at how the SEC qualifies real estate, it's called "a considerably risky venture".
Don't apply the emotion of home ownership to your investment portfolio
Jason points out to budding property investors that those are areas in which totally different rules apply.
You've got to take action
At some point, you have all the necessary information, so just go and do the deal.
"You have talked to all the experts, your wife, everybody in your team, your attorney, your appraiser, your bank, your lenders, and all of them have said this is a good deal … Don't stand at the altar, get cold feet and walk away before saying 'I do!'"
Sometimes there is nothing you can do to prevent a huge loss
You can have flood insurance. But the real loss came down to that of the reduction in value. The reality is your portfolio is just not big enough. How do you hedge for a risk the size of Hurricane Harvey, an event that had never happened on that scale in living memory? It's really tough.
"Sometimes a hurricane … blows in and it's going to rock your portfolio and there's just not a damn thing you can do about it."
Jason Bible
Andrew's takeaways
You can't plan for everything
Statistically, there are anomalous events that can happen, but if you then build your business around them happening again, you will never take the risk needed to really make money.
Don't overcompensate after tragic events
We often see tragedies and cataclysms in America and the rest of the world, and people's, businesses' or governments' responses to them are a massive over-reaction in trying to prevent damage from events that are probably not going to happen for another 500 years.
Actionable advice
Make sure you have flood insurance
'Time heals all wounds'
In real estate, much like personal relationships, time really does heal, if you're holding on to this stuff a little bit longer, it does begin to heal all wounds.
Take action, fix your flip and tenants in them
If you own rental properties and they get flooded, just go in and rehabilitate them as quickly as possible so you can put tenants back in. Jason these days is more of a buy-and-hold investor currently and avoids this kind of investing for other reasons.
No. 1 goal for next the 12 months
He really wants to be better at playing well with others.
He has taken this theme from some reading and video watching about Dr. Jordan Peterson's works.
He has extended this goal to his company and wishes for all of his team to be an organization that's fun to play with. Broadening its network, deepening relationships that are most beneficial in the industry.
Parting words
Don't stop if you take a loss. Just keep going. Just keep on trucking and it will get better.
Connect with Jason Bible
Andrew's books
Andrew's online programs
Connect with Andrew Stotz:
Further reading mentioned