Ep109: Avery Konda – If Your Intuition Sends an Alert, Listen!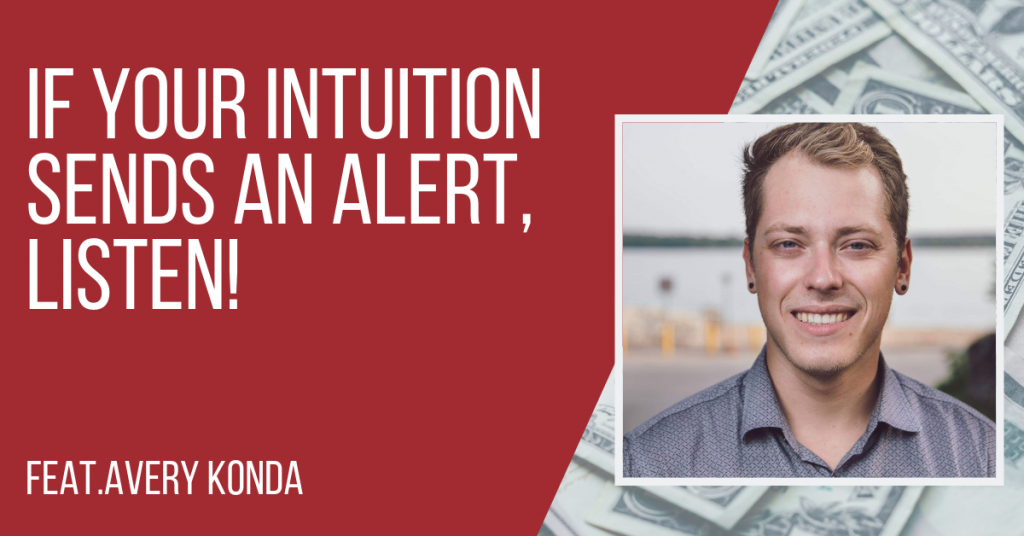 Listen on
Apple | Overcast | Stitcher | Spotify | Other
Guest profile
Avery Konda is all about positive business, impact investing, and #SocialImpactEverywhere. He is 23 years old, a podcast host, and an impact investor in 18 start-ups; all of which have a bottom line or mandate for positive impact. Avery works as the chief community engagement officer for Tandempark, an online volunteer platform, centralized volunteer portal, and volunteer management software platform that helps organizations recruit, schedule and communicate with their teams, while making it easier than ever for volunteers to discover and engage in local opportunities to strengthen and enrich their communities. The Social Impactors Podcast is all about impact. Avery works to highlight impactful individuals who are making positive social change in their communities.
"Some of the red flags of their (tech start-up founders) competitive analysis just did not make sense. Their product, although it was pretty, was really just a shell of what it could be. And so all these things were red flags that you really should look at as a private investor or just in the investment space."

Avery Konda
Worst investment ever
Avery started out in investing young and went slowly at first, putting a toe in the water, so to speak. He did not go in aggressively, but invested in low-input and low-risk investments. He would make some profit and learn, but that gave him "the investor itch", mainly not itching for more money, but he did want to learn more and he loved the idea of making money from money. It was the sporadic start of a somewhat dangerous journey.
Young investor goes through learning phase
He learned a lot about investing, losing a lot or winning big. He learned about formulas, strategies, and how some things will make money, but some things do not always work. And he learned these things the hard way, making some "pretty stupid" investments based on emotion, putting money into companies that he was attached to emotionally, which you should never do in the beginning or at any time. It should be very much an objective decision. He was around 19 years old and thought he knew the world, but he didn't. His emotionally charged investments failed, he would regain confidence and invest again, making a little money one month, and investing more the next. Not a good idea, because you should only invest about 10% of your net worth. Sometimes he would invest more than 10%, when he points out he could have "saved that or … done the smart thing and taken my girlfriend on vacation, because the ROI (return on investment) on that's a lot more attainable sometimes."
Emotion taints early foray into angel investing
Eventually he got into the private investment realm. One company he can't name was a technology company, and again, it was based somewhat on emotional attachment as well, although he was trying to remain objective. He started off asking the right questions:
What

'

s your burn rate?

H

ow much capital have you spent already from initial investors?

Who is in 

the team that you have behind it?

What is the mission

?
Intuition is no basis for investing but we should listen when it warns us
Most of the answers were good but there were a lot of red flags. Here Avery would like to highlight for young investors the idea of using intuition, not as a basis for investing, but as a protector. If your intuition tells you something isn't right then there is usually a good reason for that. With this company though, Avery didn't listen and was caught up in the "Wow" factor brought on by the "incredible product" and the "incredible team", which was doing "incredible things", and that they "couldn't fail". Some of the red flags showed as money was being spent and the founders' competitive analysis didn't make sense. Their product, meanwhile, while pretty, was really just a shell of what it could be. So as a private investor or just someone in the investment space, these were red flags to which he should have paid attention. So he lost the entire investment, and relative to his age at the time, and the level of his net worth, it was a big deal and a big investment loss.
Start-up bleeds money every month through nonsensical spending
It did not happen overnight. He had kept telling himself there could be a way for this company to do something good, that these people could be good, but it slowly fell apart. Anytime the company would do an investor update, normally monthly, but they were still losing money, and they were losing it consistently. There were no signs of turning it around. The great thing was, the founders were very open about their failings, but while the transparency was nice, their spending didn't make sense. They were in a new market that none of the founders had been in before.
Fallen angel uses loss as a learning opportunity
The good thing for Avery though was that he used it as a case study for himself. He stepped back and researched how the company failed, and studied what they had done wrong. He has used the lessons and formulated guidelines that he has applied to all of his investments since and follows them to the T. And now, if his intuition draws attention to any red flags, he takes notice very quickly.
Some lessons
Investing should be based very much on objective decision making. You should never invest on an emotional basis.
Only invest about 10% of your net worth. Never more.
Listen to your intuition, not for investment advice, but for warning signs. If your intuition about an investment or company doesn't feel right, there is usually a good reason.
The next unicorn is just around the corner and it might be worth waiting for. Avery passes on wisdom from Jason Calacanis, the angel investor from Silicon Valley who says every seven years the next unicorn business will come along.
"If an investment feels wrong, listen to your gut, listen to the intuition you have or listen to the research that you've been able to compile, and if the company doesn't make sense … don't invest in it. Eventually, you'll come across that company where everything just falls into place. And that might be the next unicorn business."

Avery Konda
To the young investor
Invest light, invest in multiple different pathways. Do simple low-risk investments, such as Tax-Free Savings Accounts (TFSAs) or the equivalent in your country, or just learn about retirement funds and how to build them. Invest in the stock markets, but if you build that up, and let it sit, and you put a little bit in over time, you could have a million dollars as a base for retirement. These are also our building blocks and starting blocks. You can then take a small chunk of your savings and investment, and learn how to invest in moderately risky and aggressive portfolios. But never touch your retirement package.
Andrew
'
s t
akeaways
Stay focused on getting the fundamentals down. Angel and venture capital investment is sexy, but they in the highest risk area of investing. It's best to own 10 or 20 companies as an angel investor, rather than betting it all on one. When young, we don't have enough money to diversify across different companies.
Develop your own guidelines. Andrew likes Avery's idea here. There are a lot of books out there you can read and get good guidelines, but the key thing is to build your own guidelines that fit what you believe.
There's only one sure way to get rich in the stock market. Leave your money in there for 30–40 years. The book about Warren Buffett titled The Snowball is all about this, and how money accumulates through the magic of compound interest. Which is also the main theme of the book Andrew wrote for his nieces: How to Start Building Your Wealth Investing in the Stock Market.
Don't make the investment mistake that a lot of people have made, and then end up wishing: "I should have started a lot earlier."
Actionable advice
Meet with a mentor, meet with someone in the industry you're looking at who can really guide you along the way.
Andrew adds: If you're not in an area where good mentors are accessible, read one of the many good books out there for beginner investors, including his (see links below).
No. 1 goal for next the 12 months
To do a lot more research, read a lot more, meet mentors more often, and get more immersed into the world or investing.
Parting words
Keep investing and invest when you can. Don't wait for it.
Connect with Avery Konda
Andrew's books
Andrew's online programs
Connect with Andrew Stotz:
Further reading 
mentioned