Ep108: Viola Llewellyn – Learn to Embrace Failure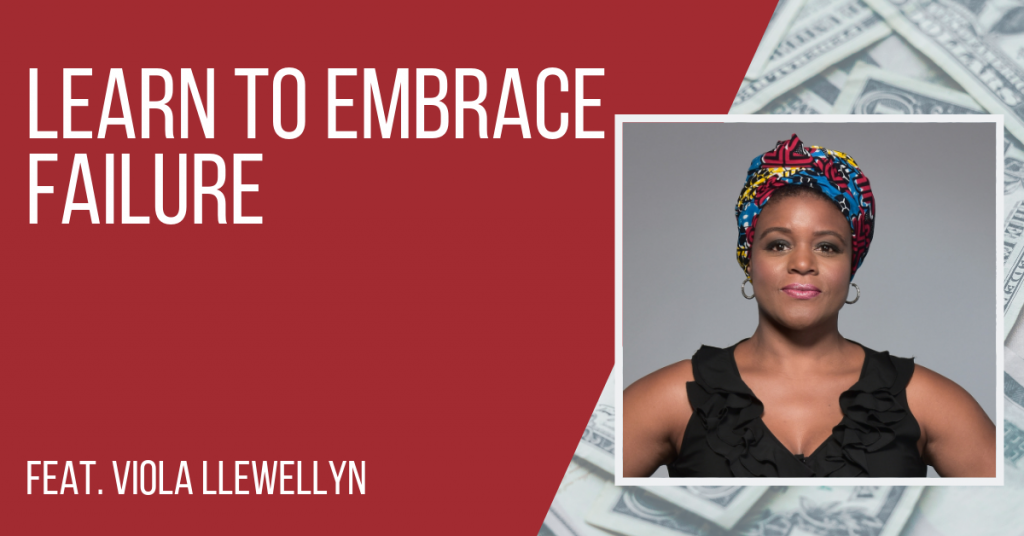 Podcast: Play in new window | Download
Listen on
Apple | Overcast | Stitcher | Spotify | Other
Guest profile
Viola Llewellyn is the co-founder and president of Ovamba Solutions, Inc. where she oversees innovation, strategic implementation, investor communications, and business development. Digitalundivided included her as one of only 34 black women in the US to have raised more than US$1 million for a technology company. She is a TED speaker and has been lauded as a Global Technology Pioneer by the World Economic Forum. Recently, she was listed in LATTICE80's Top 100 Women in Fintech 2019. Her family is from the Central African republic of Cameroon.  She was born and educated in the UK and lives between Africa and the US.
"Oh, this is a great idea. (At least) 1.1 billion human beings on the African continent, you guys are rushing in and are doing something that's not charitable; it's going to be fantastic. What could possibly go wrong?"

Viola Llewellyn, quoting friends, family and supporters
Worst investment ever
Start-up seeks to fill
African 
SME funding niche
Back in 2013, Viola and her business partner Marvin Cole decided they wanted to create a business that would help African businesses, that is, SMEs, to gain access to capital so that they could grow. Everyone knows that small businesses need capital to sustain themselves. Africa has microfinance institutions and banks. But the whole new era of peer-to-peer, marketplace lending was just beginning, and the partners hit on the idea to be the first movers in the African market to do this. Viola points out that when people start a new venture, no one thinks about failure. The partners also hadn't seen any models from which they could emulate the good and improve on the bad. They did know that they were going to create technology, be innovative, find business partners, raise capital, help businesses to grow, and they would be the heroes of the continent.
Partners revel in broad support for their finance revolution
To kick things off, they did a successful friends-and-family raising and spoke to everyone they knew all of them knew that, "Oh, this is a great idea. (At least) 1.1 billion human beings on the African continent, you guys are rushing in are doing something that's not charitable, it's going to be fantastic. What could possibly go wrong?" At first, not a lot went wrong at all. It was almost 2014 and there was a new association formed to bring all the peer-to-peer platforms together, which was what the partners thought they were. Viola asserts that is not what Ovamba does today at all. It is now a marketplace maker that funds businesses that are in the trade sector. It creates and innovates technology to do all of that. So the failure she shared with Andrew was what led to the hugely successful innovation that emerged after the end of her tale.
Dynamic duo draws strength from their diverse perspectives
In April 2014, Viola's business partner (who she says is a great deal more cautious and sensible than she is) says they were going to a conference held by the association. Here she recalled her youth and considers herself very lucky. Viola was unable to attend university because she made what she called one of worst mistakes a young woman can make: getting pregnant while not being married. At the time, her life was derailed but that upheaval put her on her own path to understanding the world from a very different perspective compared that of her business partner, who has an MBA. And because she went into sales and marketing, she loves to jump feet first into anything and figure it out later. She does not believe you need to go systematically from A to Z, as long as you can see the Z.
Marketing activities net big-fish investor at conference
Ahead of the conference, Viola started creating templates and presentations and sent them to everyone who might be attending. She had a lot of promising responses and everyone was interested to know what the partners were doing.
"A factor about the beginning of either a bubble or a new industry or a new asset class is that everyone jumps in the pool. There are sharks, piranhas, dolphins, and mermaids in the water. They're all there. Everybody's trying to find anything to jump onto."
That includes the start-up community, which is how they were involved. One company was aggressive and ended up being signed as their first institutional investor. Viola described it has the most beautiful courtship: trips to London, meetings, and all the while, other businesses were also knocking on the partners' door.
Failure to ask right questions should have been first alarm
The day came when they started to negotiate the transaction and that was when the first red flag went up. The partners thought they were being really clever by asking: "Who else has done business with you and how did it go?" And everybody said: "It went fantastically." But Viola and her partner had failed to ask: "Who went through a cycle of misunderstandings or violations of contract and how was it resolved?" All they could see was the shining end of the journey, so they signed the contract, received an equity investment and were told that they were going to get a large amount of capital to fund all of the businesses on their platform.
All set to reel in US$12m funding for clients … nothing happens
When it was time to get the US$12 million – to fund all of the businesses that they had invested marketing and time in, while promising them to underwriting these transactions, they now had a pipeline of close to $60-$70 million that they were going to fund, all the while expecting returns that were going to skyrocket them all to success – but there was silence. The expected funding had seemed to evaporate. They would ask the investors: "Hey, where's that money?" and would get the answer: "Oh, we're trying to work some things out." Again: "Hey, where's that money?" Then they started to see a) individuals leaving the investment company, b) a slowdown in documentation, c) changes in the interest rates that were previously agreed upon, and, d) new clauses that were going to put ceilings on the outlays. Suffice to say, after all the demand they had rounded up, there was literally no money to fund it.
Venture stranded and exposed in Africa, unable to keep promises
They were in the middle of Africa. They had billboards up in the streets. They had done a massive amount of press and marketing, putting themselves out there as some kind of new heroes of the fourth industrial revolution. And now they were unable to give out any of the promised funds. The partners were left to scramble, explain, create new reasons, new excuses, and redo their risk parameters. It was an absolute disaster in which they missed their growth window, and instead, had to retract and almost start the company all over again. They had to terminate partnerships and relationships, consolidate situations with the clients they knew were not going to default. It really put a dent in the relationship with their group of clients.
"We're in the middle of Africa. We've got billboards up in the streets. We've done all this press and marketing, hailing ourselves as the new heroes of the fourth industrial revolution. And now we can't give any of that money (to the SMEs they'd promised to allocate it to)."
Personal cost includes great angst and husband's pension fund
Personally, Viola's stomach was in knots every night, her pride reduced to near zero. Meanwhile, her husband, who had such great faith in her future success and who had invested from his pension fund to help her build the company, now had to work extra to ensure that as a family, they were not going to end up hungry. Viola is also grateful that she and her business partner were able to maintain a good relationship throughout the crisis.
Immense challenge to face all the let-down people
But she and her business partner had to find new ways socially to deal with the people who had relied on them; hundreds of businesses, connected to as many families, many who had complained that microfinance would not work for them. They also had to face the people who had written articles hailing the venture and its leaders as "the brand new thing". All of that came to a crashing end. They also had to negotiate the much wider narrative that says "African businesses are failures", that "black people cannot manage businesses". They had to go back and face everyone and explain what was going on.
Government, big-four accounting firm, gender issues raise more obstacles
Adding strife to injury, their asset class was completely new, and the government of the country was unable to understand what they were trying to do and thus went to war with their already embattled business. They also had to go toe-to-toe with a big-four accounting firm in the quest that their start-up venture be given the chance consolidate and stabilize. It was frightening, embarrassing and shameful. Some of those parties would also say to Viola, as a woman: "You've got no business being in business here." She had to fight all of those battles and rescue her pride at the same time. But that was 2015 to 2016. It is 2019 now and Viola reminds listeners of her bio. So she and her business partner went through that valley, which slowed them down considerably, but there was light at the end: "But the great thing out of that is it taught us how to grow organically, with very little support."
"The great thing out of that is it taught us how to grow organically, with very little support."

Viola Llewellyn
Some lessons
The strength of a future engagement relationship, or even investment, is based on how well you can recover when things go wrong.
Never put all your eggs in one basket. When it comes to investment, you have to diversify. That means also that for start–up founders, the first capital raised should be the beginning of the next capital raised. Viola has come to realize …
It is very difficult to raise money when you need it. The easiest money to raise is the funds that you don't need. This Viola says is the bizarre but very real paradox in the business of start-ups.
"People throw money at people who have money, this is insane."
Therefore, as an action item, never stop raising capital. It is far better to have the offer of funds and be in a position to say "No" than to be looking around and be unable to find funding, because the desperation makes the seeker a higher risk.
When you do equity, and if there is debt that is attached to that, the two should be close together. But if the debt on the contractual basis fails, make sure the equity comes back to you.
Sometimes the next back–up plan should be the incremental release of either the pipeline, the opportunity, or the drawdown capital. One cannot throw the entire thing up and say: "This is it. This is the whole lot." There has to be a process. So that if there is, if you have to cut a piece off, the rest of it is still in place, and you can come through and fund your market.
When you're a start-up, be aware that you can be taken over totally by the dream. And Viola has said the following in every talk she's given:
"No business plan survives contact with the enemy. And the enemy is reality and the marketplace."
Everything you thought of in your business plan; none of it is true. Investors asking start–ups for their business plan is hilarious. She wonders how a start-up is supposed to know any kind of reality and put it in their business plan, especially when they are the first to market. There are other parameters people should be considering, "and it ain't your business plan."
Andrew
'
s t
akeaways
Don't compare your insides with other people's outsides. Andrew likes this piece of wisdom that a wise friend told him a while back because it helped him realize that everyone is in some way drowning in their own cesspool of thoughts and striving to respond to all the difficulties that are besetting them and that, at times, as Viola experienced: "Life is not easy for anyone."
Beware The E-myth. When someone is involved in a start-up business, they succumb to a nearly delusional state that Michael Gerber calls "the entrepreneurial seizure". All they feel is the passion, the energy, the excitement, and that nothing is ever going to go wrong with their enterprise. Andrew suggests we have to be very careful about that, because it can blind us. We don't even look at the possibility of the many things that can go wrong in a new business.
With trust in your business partner/s, you really can get through horrendous crises. While Andrew was listening, he was sure that Viola and her partner would fall out over the situation, because it was so painful and difficult.
Whenever you are raising money
Never expect that the people you are raising money from have the same objectives as you.

Their objectives are different. Don't ever expect that they're going to feel the way you do. Once you understand their thinking about things, it will help you.

Y

ou really 

don

'

t 

know anything about

 the company or bank that may invest in you.

The amount of politics and other matters that happen at a company, or with the people that you're raising money from, is essentially a mystery. Money can be withdrawn from situations not because the company/people don't want to invest, it can just be just down to some other situation that is occurring within the fund-source company.
Whenever you
'
re doing business with anybody
Don't be afraid to go way beyond what is being given to you as far as recommendations. You never know what you will find out so get recommendations from fans of a company and enemies; check, follow up and try to understand anyone you are about to do business with.  
Actionable advice
Strive for a level of authenticity in yourself that you can call upon when things go wrong. People can tolerate a bad outcome and forgive you and support you if they see that you have a clear understanding of what is going on. Even if you don't have a game plan, if those affected can see that you sincerely wish to fix the problem and make sure that other people's interests are  protected, all will be well. The way to do that is to build trust with customers and all stakeholders and maintain transparency throughout any crisis period. Be upfront about what is facing everyone.
"That's what saved us at the end of the day."

Viola Llewellyn
No. 1 goal for next the 12 months
To raise capital from good partners and be out in front, leading that process versus having the terms dictated to her and her business partner.
Parting words
"The worst thing that will ever happen to you in life is that you will die and we're all going to die. But before that happens, you better learn to embrace failure because you are only as good as the last thing you recovered from and you get to champion and cheer yourself on. From success to success, from loss to recovery. And I love this journey. And I think what you're doing Andrew is absolutely groovy. This is one of the best podcasts I've ever been on."

Viola Llewellyn
Connect with Viola Llewellyn
Andrew's books
Andrew's online programs
Connect with Andrew Stotz:
Further reading mentioned