Ep94: Lisa Ryan – Be Grateful For Who You Are And Where You Are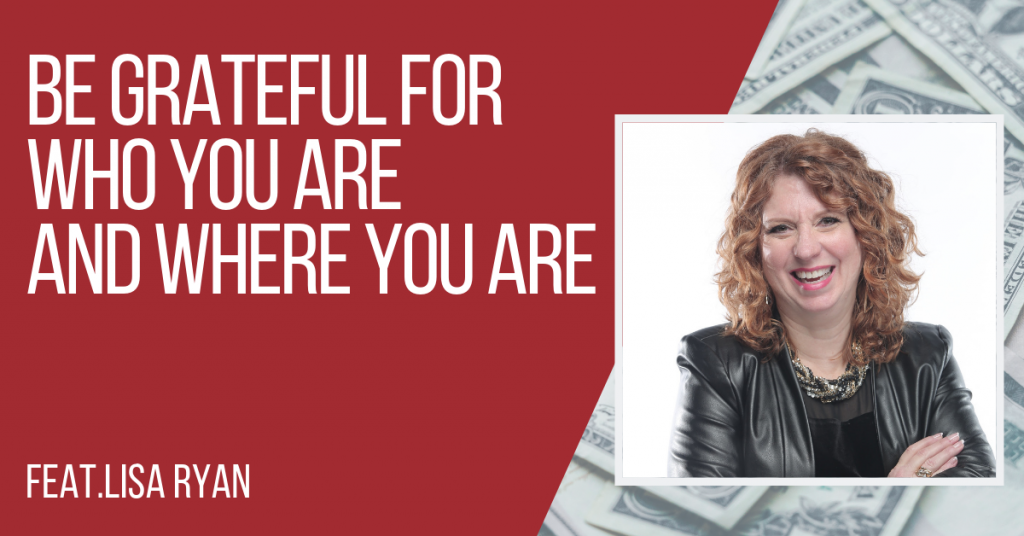 Listen on
Apple | Overcast | Stitcher | Spotify | Other
Guest profile
Lisa Ryan is the chief appreciation strategist at Grategy. She is an award-winning speaker, an author of 10 books, including Manufacturing Engagement, and a co-star in two inspirational films with other personal development experts that you may have heard of – and she's happy to name-drop when asked. When she's not on stage, you'll find Lisa traveling the world meeting relatives she has discovered on Ancestry.com, reading murder mysteries, or catering to the demands of her two very spoiled cats – Simba and Tinkerbell.  
"My goal is to really to continue having the happy, satisfied marriage that I have with my fabulous spouse, and being able to do what I love, because right now I'm pretty darn happy."

Lisa Ryan
Worst investment ever
Lisa realizes her calling
In 2009, Lisa found her calling was to spread the message of gratitude, so she started out doing some part-time speaking for free at various clubs and organizations. Then in 2010, she was compelled after being retrenched from her medical sales position to focus wholly on being a speaker. At the time, the economy was faltering badly, so despite it being far from the best time to start a business, she went ahead with her husband's blessing as he could see the quest made her very happy.
'Buying hope' through pay-to-play appearance deals
Once she had used up her bonuses and most of her 401k, Lisa started "buying hope", explaining the feeling that one thing might solve her problems; one program, if she just worked with this one coach, if she just invested in this one movie, all would be well. Through what she called pay-to-play arrangements she was in two movies, gaining a role by making a substantial investment, the benefit of which was to be seen alongside famous people, such as Jack Canfield (co-author of the Chicken Soup for the Soul series). The second movie she was in was with John Gray (who wrote the Men Are from Mars, Women Are from Venus series) and Marci Shimoff, both of whom had appeared in The Secret. The film with Gray required a smaller investment but the first one required a big outlay and included a lot of people who had also appeared in The Secret, such as behavioral specialist John Demartini, Bob Proctor, and Mary Morrissey. She thought that after the success of The Secret, that if she could be associated with these people, she would also be successful. That would be everything she needed. But it wasn't. As a symptom of that misadventure, she still has hundreds of DVD cases in her basement, because no one watches DVDs anymore.
Book deal also drains finances
She was doing a lot of those kinds of investments and was published in an anthology, a series similar to Chicken Soup for the Soul, in which she had the chance to co-author with John Demartini, which was another pay-to-play investment, but she could then at least say she was a published author. So that was another huge investment but it was just another chapter, another thing, one after another in a search for the thing that would "fix" her.
Investing in hope runs up huge credit card bill
In the journey to find the perfect "next thing", Lisa ran up US$100,000 in credit card debt. Even so, Lisa does not consider any of those horrible investments, because even thinking about the money spent, she thought: "Hey, I was in two movies, one with John Gray and one with Jack Canfield", so in her bio she could add that alongside all the coaching she had received.
Time to put her hand up for help
However, the hardest moment in all of this was the discussion she had to have with her husband, Scott. They had separate finances and until this time, he did not know how much trouble Lisa was in, because she was trying so hard to be successful, to put on the air of success and that she could afford all these investments. In reality, she was drowning in debt and spending $1,200 dollars a month in credit card fees and interest alone. She was dying and scared.
'Honey, we need to talk'
So Scott came home from work one day and they sat down, turned off the TV, and Lisa showed him the Excel spreadsheet she had compiled with her 17 maxed-out credit cards and associated debts all mapped out. She had a banker who had reached out to her and offered to get a lower rate on her credit card via a loan, but when the bank looked at her status, they backed away. What he did organize though was a consolidation program to combine her credit card debt into a pile along with their housing payments.
Saved by a man named Ghandi
And so when she talked to her husband, she had already organized this, showed him the plan designed by a banker named Ghandi, and Scott was of course shocked. However, having a plan, they worked through it and the pressure lifted. She felt relieved and released.
Working a plan back to profit
Based on that plan, and after being in business nine years, it took five years for Lisa to reach profitability. She was taking $30,000-$40,000 losses when she began because she was investing in so many projects, but nine years later, she's on the other side of it and just had her best year ever. She had references. She talked to people. She trusted them and continues to do so because she knows they are real. She also still pays for coaching, but she's now more aware because she knows what it's like to have a six-figure credit card debt and she now knows what it's like to come out on the other side.
Some lessons
Dig on for the long haul. Any business that you get into must be for the long term, because things don't happen for you automatically just because you invest in them. There are no magic pills.
Check people out. Make sure you know, like and trust people you're investing with.
Andrew's takeaways
Beware the strong feeling that one silver bullet can take you to the moon. Sometimes when we're trying to achieve success in any field, it appears that something like a show or a seminar or a course, will put us on the fast-track. The feeling is so strong that it is very natural and easy to jump in and do it because there is emotion and perhaps a little laziness involved. This emotion can also prevent us from doing sufficient research.
There are six common mistakes Andrew has identified in all the stories he has listened to and read for Myworstinvestmentever.com, and he has compiled them in order of commonality.
The No. 1 most common mistake people make is that they:
Failed to do their own research. When investing in something, whether it is a stock, or our own business, or in the future of our family, we have to do the work, as Lisa says. There is no way around it. The more that we do the work to create the presentations, to make the phone calls, to do all the things we need to do to build our wealth or grow our business properly then things will come.
Actionable advice
Do the work!
No. 1 goal for next the 12 months
"To have the same type of year that I had last year, but a little bit more."

Lisa Ryan
Lisa says she's in a really in a good place right now. She's getting her certified speaking professional designation and her businesses are doing well. She is speaking when she wants to speak and where she wants to speak, which is really nice places. But at the same time, she is avoiding speaking so much that she puts her family at risk, or lives in airports is flying on planes all the time. Her goal is to really to continue to have the happy, satisfied marriage that she has with her fabulous spouse, and being able to do what she loves because it had been making her very happy.
Parting words
Lisa recommends being grateful for who you are and where you are right now, because no matter what you are going through, as the old saying goes: "This too shall pass!"
"Remember also that if you're going through a fabulous time right now, this too shall pass. And if you're going through a really bad time right now, this too shall pass. It's all part of the story and just try to be thankful for where you are and where you're going."

Lisa Ryan
Connect with  Lisa Ryan
Andrew's books
Andrew's online programs
Connect with Andrew Stotz:

Further reading 
mentioned