Ep93: Raja Skogland – There is No Business If There are No Sales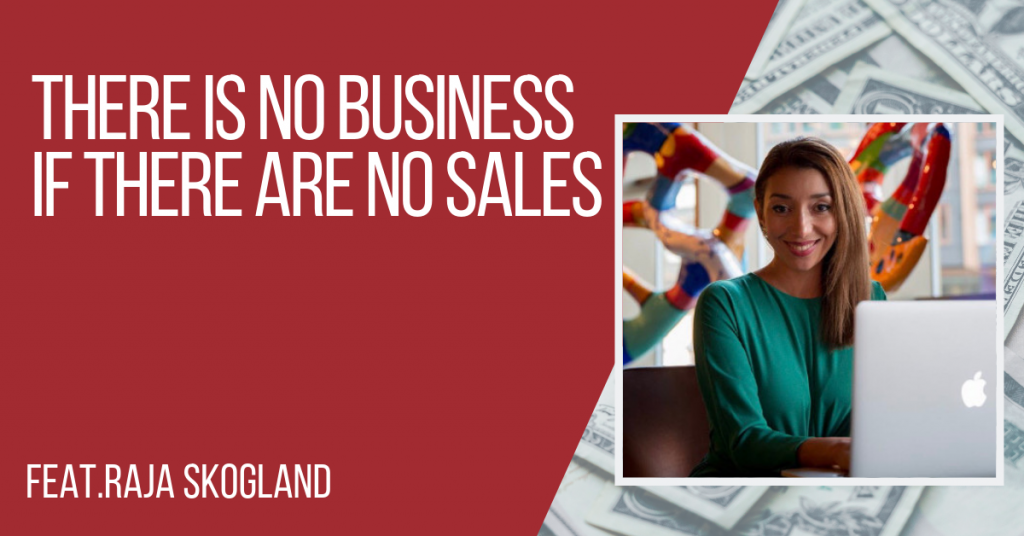 Podcast: Play in new window | Download
Listen on
Apple | Overcast | Stitcher | Spotify | Other
Guest profile
Raja Skogland is an entrepreneur who believes in limitless human potential and is dedicated to empowering her peers. Since 2015, she has been helping thousands of entrepreneurs to build their networks, gain knowledge and access capital, enabling them to start and successfully grow their businesses. From 2016 to 2018, she successfully launched and managed Hub.no, growing the online platform to more than 1,200 start-ups. She is also investing in and advising several Norwegian start-ups and entrepreneurs. In 2016, she received a Saphira Award, which honors a selection of inspiring Moroccan female entrepreneurs and leaders. In 2018, Raja was nominated in the Nordic Start-up Awards' "Ecosystem Hero of the Year" category. Her fields of expertise are: entrepreneurship, start-ups, business strategy, project management, marketing, sales, growth hacking, leadership, hiring, and networking.
"My gut feeling was telling me: 'Don't go there, you don't know them, you don't KNOW them!'" 

Raja Skogland
Worst investment ever
Nordic accelerator program supports social impact companies
Raja was attracted to investing in several start-ups that were part of one of the best accelerator programs centered on impact investing in the Nordic countries. She has a particular interest in supporting such start-ups to contribute to making the world a better place and putting her money into good causes.
Thirty investors divide three companies among them
She had originally been presented with three companies to invest in that had joined the two-month program. A total of 30 investors were eyeing the companies and they were divided in three groups. Raja was involved with two of the companies they were assigned to assess. She had little interest in the third start-up.
Investors grill start-up founders in intense meetings
The investors had two months to get to know the founders, meeting them once a week and this would take the whole evening in a very intense setting. During the sessions, around 7-10 investors face off against single founders or teams sitting in "the hot seat" and challenge them with many questions to understand their business idea, ask about market potential, watch how the team interacts and whether they work together, ask what they have achieved with their vision so far, and ask about their leadership skills. The investors try to make sure they will make a good investment and the founders earnestly try to sell their idea as they need to secure investment to finance their dreams. So it's hard on both sides.
Business practice and cultural differences pose barriers
Raja had doubts about the two start-ups she was looking at. In fact, she had doubts about all three. Firstly, because they were not based in Nordic countries, but were in the US. Raja prefers closer contact with entrepreneurs so that she can support them and reach out to her own network while doing so. Secondly, there are many differences in approach between Nordic and US companies, so it was hard to understand many of the metrics that have to be taken into account. There are cultural differences as well, in how to approach the business, the market, and the relationship with the investor.
Participating investor friend approaches
So Raja and colleagues had been doing the due diligence and getting to know the start-ups, but despite the research she remained unconvinced. Then a good friend of hers, also an investor, approached her and said he was really keen on investing in the third start-up. He had been working in the third group with them and had taken a lead-investor position.
Not all money is the same
As each investor group was separate, those in the other groups had to trust each other's expertise, insight and understanding in their reporting to the overall 30-strong investor group. And, while they were all experienced, there were varying levels of that experience. Raja says it is very important to find investors with the same fund-source profile; some money comes from family, some comes from business, and each requires a different approach, and money is dealt with in different ways. Those with family money may have personal interest in giving back more, as they are carrying the burden of having this money, so they are more willing to invest. Some people have more money to invest than others, so they're also more willing to take risk. For them, 10,000 euros is not such a big investment. Such metrics need to be taken into account.
Trusted friend urges her again to bet on third start-up
Raja trusted her good friend who was an investor from the third group working with the third start-up. He was very interested in the third start-up and was going to invest in it no matter what. So he took a position as a lead investor. He was committed and passionate about the vision of the start-up and its team and wanted to involve other investors because he wanted to get more money and move things forward. This start-up required around 100,000 euros. He made a very emotional plea to Raja telling her: "You have to invest!" As humans, Raja says, we don't always make rational choices. She hadn't done any due diligence on the third start-up so she didn't know its potential but she didn't want to invest in the other two start-ups. That said, she was drawn by the opportunity and the first two had great potential in medical technology and big data.
Never shun your instincts
So the potential was there but Raja ignored her gut and ended up investing in the third start-up. Her instincts were telling her first of all that the company being based in the US was far away, which would prevent her from contributing to support the team and affect any kind of visibility on what they're doing. There was still something bothering her about the operation even though they do visit Norway and have representatives on the ground. She was still not sold on the idea, but she went ahead and invested in the business and, now so of course, when they're in Norway, she's "the worst investor in the room".
Stuck with illiquid holding
Raja is still invested in the third of the start-ups because it is hard to get out as there is no liquidity. Around two weeks ago, she sent a message to her investor friend saying she wanted to pull out. "Are you going to buy my share?" He refused, saying that he was still very positive about the team. They are still not showing numbers, sales or any tangible results, and the only reports sent are newsletters and PR about events the company is attending. So even though her friend is positive she feels she is just carrying around this feeling that she has played herself.
Some lessons
Make your own decisions about an investment, before and during the process. Part of that is getting definite satisfactory answers to all your questions to make sure your money is put into a solid business case. Before and after investing, make sure you see traction, a sales structure, that there is real progress being made. Demand reports that mean a lot more detail than promotional material.
Demand to see tangible numbers. There is no business if there are no sales. Ensure sales are happening. Demand to see that money is coming in, not just growth percentages because they can be faked.
Respecting your own metrics. In Raja's case, her metrics were a team in the Nordic region, ideally one that she has known for years.
Trust your gut feeling. It's very important that if you don't feel something is right, or that you feel that you're being forced or pushed to get involved in an investment, even if that feeling is 1% of your total take on the investment, "just get out". Then you will not be dragging that uneasy feeling around with you.
Andrew's takeaways
No.1 most common mistake is: "Failed to do their own research". Having had more than 500 people submit stories of their worst investments, either in interviews or in writing, Andrew says the number one mistake is not doing the research.
No. 5 is "Misplaced trust". Raja put her trust in her friend, the lead investor in the third group of the accelerator program.
Not all money is the same. It depends on who is giving it. A start-up can then depend on their objectives and their motives, which can be very different to yours. Different investors think different things look good; one investment may look good to someone, but to someone else, it may look like disaster waiting to happen.
Completely agrees with Raja's "There's no business if there are no sales". It may sound brutal but this is a very necessary, cold reality to grasp that will definitely save your investing life.
Gut feeling is right. Many interviews of many people say that if you ignore your instinctual doubts about a situation, there is a big chance you are going to lose.
Actionable advice
Do you own homework!
No. 1 goal for next the 12 months
Raja is building an online course that draws upon her network of experts in the fields of investment, branding, PR, and creating an all-in-one platform for a budding entrepreneur to take their vision to a scalable business. It will be delivered in 8-10 modules, one per week, with a live session during which you can ask questions. Her team also has a Nordic-based law firm that is joining the program to give access to the kinds of contract templates needed to start and grow a company, with your team and with investors. This will include making available shareholder agreements, memoranda of understanding templates for employees, spreadsheets for any investment, term sheets. The goal is to make it simple for anyone to be able to start a business, with the right guidance and the right network to understand who's who in the ecosystem, how to pitch to an investor, and if you are ready to do such a pitch. Raja aims to crack the code of success for a start-up and make it easier for anyone to go from an idea to a profitable business.
Parting words
Keep going and never stop.
Andrew's books
Andrew's online programs
Connect with Raja Skogland
Connect with Andrew Stotz