Ep91: Elliott Zaagman – Don't Try to Do Too Much at One Time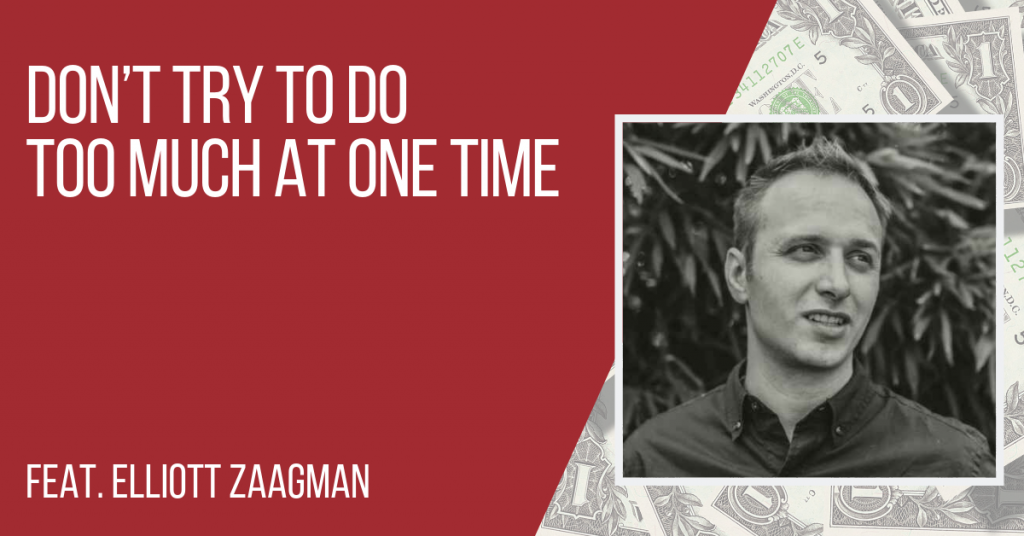 Podcast: Play in new window | Download
Listen on
Apple | Overcast | Stitcher | Spotify | Other
Guest profile
Elliott Zaagman is the co-host of the China Tech Investor podcast, and works as a PR and leadership consultant for Chinese tech founders and executives. He is a frequent commentator on issues facing China and its tech industry, and his work has been published by The Lowy Institute, Foreign Policy, SupChina, and TechNode, as well as in Chinese on Huxiu.com.
"This entire thing (LeEco) that he (Jia Yueting) had built, was created basically within a year and grew to 14,000-people offices all over the world, with all these different verticals of business, and then it all collapsed."

Elliott Zaagman
Worst investment ever
Rapid rise and fall of China's Netflix
Elliot tells the story of what he sees as the worst investment for probably many people in the rapid rise and fall of what was at the time China's Netflix, LeEco (Leshi Internet Information & Technology Corp, (300104:CH; 300104.SZ).
He had been working in China for many years when he was approached to work one of the group's companies around the beginning of 2016 to consult for LeEco. The company had been streaming video since around 2012 and were moving into making smart TVs. Elliot believed this was a rather savvy business direction – to combine the streaming video with smart TVs and create a kind of hardware and content ecosystem.
Tycoon's hopes driven by respect for Steve Jobs and Elon Musk
They had some success and founder Jia Yueting had aspirations to become the Steve Jobs or Elon Musk of China, as he had also made forays into electric vehicle production, establishing Faraday Future, a California-based start-up tech company set up to develop electric vehicles in April 2014.
Jia Yueting is described by Elliot as a futurist, very interested in the potential of technology. And China had said it wanted to have some global tech champions, so this was a chance for Jia Yueting and people like him to build their empires and raise a lot of money. So he used a very capable kind of PR and media team and went on to expand at an exponential rate. He went into smartphones, wanting to be the next Apple Inc, virtual reality, sports contracts, music, cloud services.
Reach stretches to offices around the world
The company opened a 500-employee office in Silicon Valley, a 100-employee office in India, growing from a few thousand employees in 2014 to 7,000 in 2015. And by the end of 2016, it had 14,000 employees. So the company was expanding in every direction, to the point that there was no way for it to hit its deadlines.
No one close to the emperor will say he's nude
Part of the corporate culture was that Jia Yueting had filled his C-suite with "Yes People", so when they went to present themselves to the US market, they sent someone (a person Elliot had worked with) who could barely speak a word English, to run their US office in Silicon Valley. The ambassador of the company had also rarely been to the US, didn't understand the US market and he was running their go-to-market. The entire company, not just in the US, had a chaotic atmosphere.
The beginning of the end was an enormous product launch to introduce LeEco to the US market at the Innovation Hangar (now also permanently closed) in San Francisco. It was excessive and people failed to understand why the company was holding such a large event. Three weeks later, founder Jia Yueting sent out a company-wide message that said something like: "We expanded too quickly and we're out of money. And now we need to fix it."
Magnate now lives in exile under shadow of 3 billion yuan in debts
LeEco has debts in China of around US$442.3 million (3 billion yuan), and Jia Yueting is under investigation by regulators and has remained outside China since 2017.
Some lessons
You cannot grow quickly in many areas business. Jia Yueting had built the entire empire within a year to all over the world, with different verticals of business and then it all collapsed. Too fast, too furious.
Look deep before involvement in China's tech ecosystem and economy. Chinese banks tend to lend loosely to companies that are aligned with government or Communist Party (Party) initiatives. Venture capital firms are willing to invest in areas that the Party wants to promote.
Appearances can be deceiving, especially for tech-naïve lenders in China. A lot of the people in charge of the money did not really understand technology, so they were fed excuses by people who wanted the money, such as "This is just how tech businesses operate." Jia Yueting got a lot of funding through smoke and mirrors, making good video presentations and putting forward display products without having a solid core to his business.
"Look under the hood a little bit when it comes to these companies, especially I think in China."

Elliott Zaagman
Andrew's takeaways
China doesn't have to be our enemy. There are many things that Chinese people admire about America and a lot of the transformation that happened in China was achieved because the People's Republic implemented some free market principles. It is sad to see US politicians gaining points at home by pitting Americans against China.
Be careful of over-diversifying because you'll lose focus. Don't be seduced by greatly diversified businesses such as Apple or Microsoft. They have been growing for a long time and may expand into different areas, but they have a very strong core. They might do something like Amazon Web Services, for example, but they will build up to that point slowly.
When money is available freely and at low cost, you find malinvestment. Undisciplined investment. What's happening in the world – in America and in China – is that so much money has been poured into industry that you cannot avoid the type of situation where you have faults such as lower asset utilization rates.
The problem of "yes people". One of the benefits of a developed company is that it has a board of directors to provide the kind of checks and balances system necessary to curb the visionary excesses of CEOs such as Jia Yueting.
"Having 'Yes Men', either in management or at the board level, can turn out to be a real disaster."

Andrew Stotz
That is why we see great people surrounding some of the best businesses. Such people are serious professionals who are not afraid to stand up to the CEO and say "No! This is the way we have to go." So getting such people is highly valuable.
No. 1 goal for next the 12 months
Elliot writes a lot about Chinese tech companies and companies such as Huawei, and is concerned about the decoupling that US and Chinese technology, ecosystems and expertise appear to be undergoing. He hopes in the next year to continue to add his voice to that conversation and offer clear analysis, allowing his readers and listeners to gain a clear picture of the broader situation, one that is honest and respectful and in service of the truth.
Parting words
"Seek truth from facts."
Andrew's books
Andrew's online programs
Connect with Elliott Zaagman
Connect with Andrew Stotz
Further reading