Ep87: Eelco Fiole – Be Skeptical, Not Negative, About What You're Offered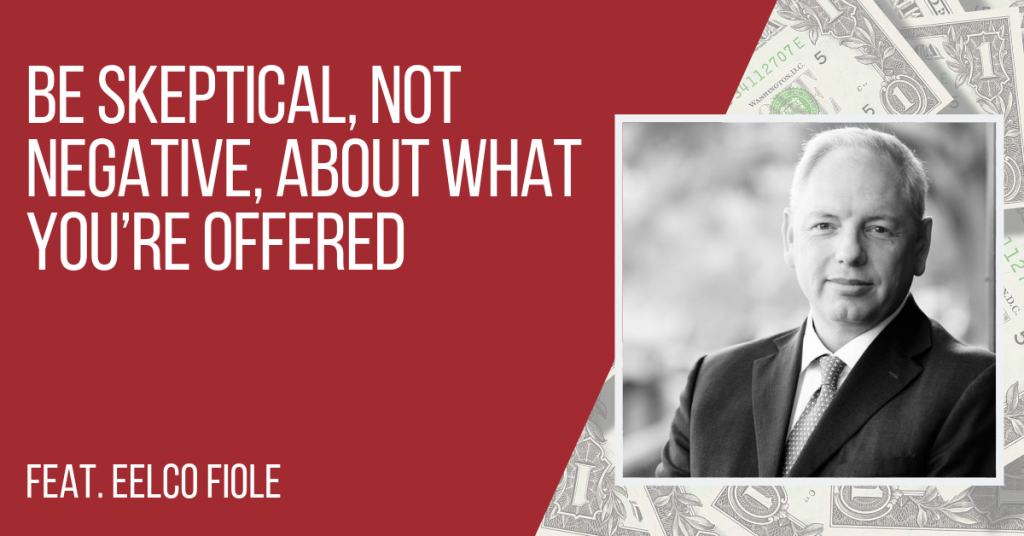 Listen on
Apple | Overcast | Stitcher | Spotify | Other
Guest profile
Dr. Eelco Fiole is co-founder and sole managing partner of Alpha Governance Partners (AGP), a risk-governance-focused fiduciary services firm with alternative assets under governance of US$15 billion across 12 jurisdictions globally. He is also CFO of the Tezos Foundation, a blockchain endeavor that has enjoyed one of the largest fundraising levels globally. Eelco is adjunct professor in finance ethics at HEC Lausanne (the faculty of business and economics of the University of Lausanne in Switzerland, 2018 winner of the global CFA Research Challenge) and chairs the Annual Conference Advisory Group for the CFA Institute. He has gained almost a decade of fiduciary COO and CFO experience in alternative investments, emerging markets, wealth management and blockchain at Credit Suisse Asset Management, with operational responsibility for US$17 billion in alternative strategies, (in Zurich, London and New York).
He was a consultant for five years at PwC in Zurich, and his work there included a focus on frontier markets. He started his career as an institutional banker with ABN AMRO in Amsterdam, after spending early working years as an engineer in the oil-and-chemical industry. Currently a master of studies in social innovation candidate at the University of Cambridge, Eelco has completed advanced degrees in economics (PhD, Basel), ethics (MAS, Zurich), positive leadership (MPLS, Madrid) laws (LLM, London), and business (MS, Rotterdam School of Management, Erasmus University). He holds a bachelor's degree in mechanical engineering from Rotterdam University of Applied Sciences). A chartered financial analyst (CFA) and a chartered director (CDir), Eelco holds various other leading finance and management designations. His global travel for business and education has included private and professional exposure to China for 20 years. He is based in Zurich and Singapore and is fluent in English, German and his native Dutch, has conversational French, and basic Spanish and Mandarin.
Worst investment ever
Background
After finishing a business degree and working with major organizations, Eelco felt he had a pretty good understanding of what was going on in the financial investment arena, but he was yet to receive his CFA designation.
Reliance on flawed research
A friend of Eelco's sent him an equity research report by a CFA charterholder who was working at a well-established, reputable investment house. The report projected that a large telecom firm's stock would go up from 17 to 20 euro (US$19-$22). Eelco thought that based on: the credibility of the research house; the compelling nature of its argument; that it was not a speculative stock; it was a large telecom firm; and the level of his own expertise to read such a treatise, he decided to buy the stock. However, soon after, instead of going up from 17 to 20 euro, it went down to 6 euro, in tandem with the inherent deception surrounding the tech bubble. What he hadn't realized what that part of the valuation performed on the stock (outside of the usual equity research carried out on any stock) was based on the psychology of the market at the time around the tech bubble, and Eelco paid the price. He has remained involved in the investing space ever since, going through the ranks of various organizations, but submits that this was one of the key experiences of his career, even though he became a CFA charterholder later. Suffice to say, the report he had relied on and the result of the reality going the other way, was a memorable shock.
"The frameworks that we get offered through the CFA or some other academic material are not enough to reflect reality in the end … you need to be able to apply your own judgment."

Dr. Eelco Fiole
Some lessons
Do your own analysis. Don't rely solely on even the most professional research. An investor needs to also invest time to clearly understand a recommendation and the analysis behind an investment. Develop your own opinion on an investment, even if you obtain information from the most credible of sources.
Think outside the box about risk. Even though Eelco felt confident about his understanding of the risk in his investment, going through the report itself and the firm's reputation, there was obvious risk outside of those considerations, which hit him hard. You cannot assume that what you are reading about is enough to do guarantee results; you need to check your assumptions, and adjust your views as well.
Educational and learning frameworks are necessary, but they are not enough. The CFA or similar programs provide a great framework on how to think about investments but investors also need to stay open to the broader regional and global picture, particularly about risk, arrive at their own conclusions, and use their own judgement in the end. Such learning frameworks are not enough to reflect the total reality in which a stock exists.
Be aware of your own assumptions and biases, and check them. Eelco realized that he had made a lot of assumptions that he was not checking, including those about his own ability, and he hadn't taken the time to judge what he was looking at.
"I learned also that we need to be humble in how we approach these things."

Dr. Eelco Fiole
Andrew's takeaways
Do your own work. If you want to be successful in any career, learning is essential. Investing is the same and we have to do the work to try to be successful. However, in the world of finance, hard work is not enough. Risk can come from anywhere. Ethics are involved in doing your own work thoroughly. It's part of investing ethics and the responsibility of an investment analyst that is learned in the CFA courses, that even if you overhear a good tip from Warren Buffet, you still have to do your own research.
Separate the research work you do on return from the research work on risk. That way, all the excitement and positive feeling you get about a great investment story is moderated by distinct and separate research on risk. If fact, tear it apart from a risk perspective. The idea of detached risk work is so critical.
Actionable advice
Be skeptical, not negative, be cautious. Be skeptical about what people are offering you and then come back to do the work for yourself, and apply your own judgment.
No. 1 goal for the next 12 months
My goal is to push better governance in the investment space so I'm actively committed to support initiatives around better governance, specifically risk governance. This will mean better risk-adjusted outcomes for investors. Risk governance takes place on boards and in all kinds of investment entities, and involves applying fiduciary duties on those involved in playing around with a lot of other people's money.
Parting words
Risk nowadays is idiosyncratic … I would wish everybody to increase their awareness and help people make sound choices, both professionally and ethically.
Connect with
 Eelco Fiole
Andrew's books
Andrew's online programs
Connect with Andrew Stotz: