Ep84: Camilita Nuttall – If It's Not Making Money, It's Not Making Sense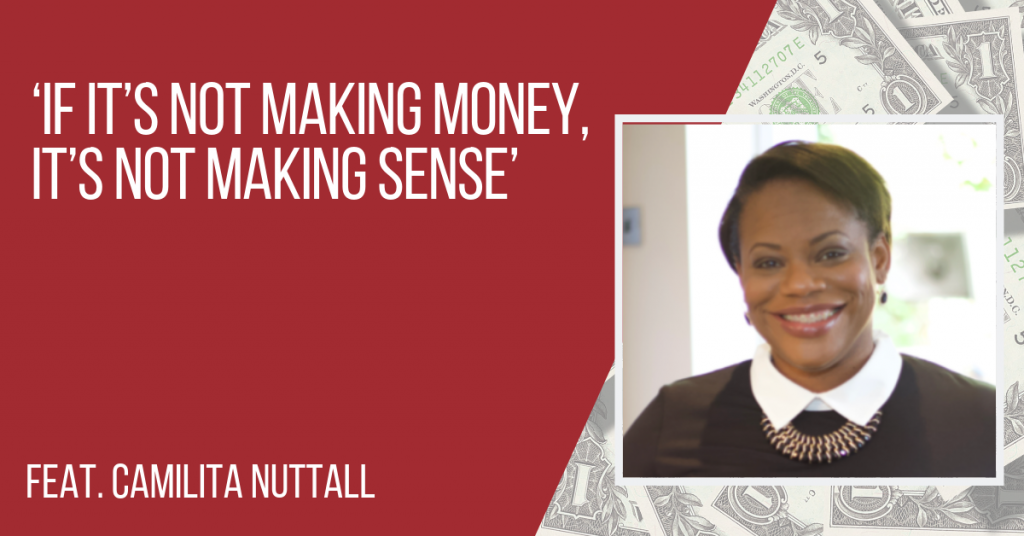 Podcast: Play in new window | Download
Listen on
Apple | Overcast | Stitcher | Spotify | Other
Guest profile
Camilita Nuttall is the world's No. 1 "Rock Star" international speaker, is the founder of Event of Champions®, a seven-time-award-winning corporate sales and business growth expert, executive business coach, entrepreneur, author and property investor. She has been featured in Forbes magazine and quoted in Think & Grow Rich for Women. Camilita has appeared on SKY TV, BBC Business News and with Dr. J. B. Hill, Napoleon Hill's grandson, in front of 20,000 people. Camilita is a top sales expert who works with companies to increase their profit and create workable systems through strategic planning. She has traveled to 50+ countries and lived in Spain, Germany, Trinidad, Netherlands, and the United Kingdom.
"So we went to see the lawyer and he told us there had been a big upheaval because the guy who sold us the land, who my brother had put us on to, had sold the land three times over to another 10 or 15 people. We just froze because we knew then that there was no way we would ever get our money's worth."

Camilita Nuttall
Worst investment ever
You trust your family, don't you?
Camilita grew up in the Caribbean, where family means trust and helping each other, especially when you grow up poor and tend to rely on your family. After moving to the UK and enjoying some success, her global businessman brother who had earlier moved to Britain thought that with Camilita's progress, she might be interested in some investment opportunities back in Trinidad.
Amazing property deal
Her brother suggested an "amazing" property deal to develop a piece of land because Camilita was already a property investor in the UK, with the idea that they could make profits touted to her as in the millions, with her brother managing the project on the ground. So he introduced Camilita to the purported landowner, who was going to inherit the land from his father, or so she thought. The landowner was quite pushy about the benefits of the deal and moving forward.
'Don't worry, he's legit'
Her bother said he knew the man, trusted him, that he was legitimate. The brother had seen the land, said it was great and that it was not far from where he lives, allowing him to watch the deal carefully. Then he asked Camilita to send US$10,000 as a deposit to hold the land and "don't worry".
'My brother won't let me down'
She thought: "This is my brother, he would not betray me. I trust him. He wouldn't let me down." Camilita's husband was very skeptical but she sent the money and then the couple went to Trinidad to do the paperwork. Her brother then suggested that they use the same lawyer that the "seller" was using.
Despite studying law, she agreed to share lawyer in land purchase
Camilita studied law, but she still agreed to this unusual arrangement. She trusted her brother because or their family connection. The lawyer assured them he could handle the whole matter and that everything was in hand, and so they felt confident. Then the lawyer asked for more money for the process, adding that there was more land available and suggested buying that as well. The suggestion was that with more land, Camilita could make more money. She and her husband and brother thought they might as well buy all the available land because of the new opportunity.
Loaded up on more land
The pitch was that on an outlay of $50,000, they could make $2-3 million in developing the land. They went ahead with it, but they were spending more and more money to pay for this added piece of property. The lawyer was supposedly doing all the transactions, and they had paid him upfront.
Return to Trinidad to find house built on 'their' land
About a year and a half later, Camalita and her husband returned to Trinidad to find there was a house on the land they had supposedly bought. They went to see the lawyer who was now saying that there was a big problem because the guy who sold the land, who her brother had connected her with, had sold the land three times over to another 10 or 15 people. They then realized there was no way they would ever see recoup their investment, let alone benefit from it.
Revelation that seller had sold the same land to many buyers
Camilita and her husband stayed in Trinidad for another two months trying to get their money back. Meanwhile, she was neglecting their existing businesses back in the UK. They never got a cent on the land deal, but the lawyer returned the money they had paid in fees as he acknowledged his lack of sufficient due diligence.
Some lessons
Do thorough due diligence.
Use independent lawyers.
Have a contract in hand before handing over any money.
Have multiple streams of income so that loss in one deal doesn't ruin your life.
Andrew's takeaways
Failed to do their own research. Andrew said that wasn't Camilita's core mistake, but her errors were more grounded in mistake No. 2:
Failed to properly assess and manage risk. That includes not just research on what return an investor is going to make but all the risks as well.
Separate the process of researching the return of a project from assessing the risk of a project.
Actionable advice
Camilita's
Trust no one.
Have a contract with a legitimate attorney for everything that you do.
Andrew's
Don't ever feel bad about having contracts, because it's normal business practice.
No.1 goal for the next 12 months
Camilita has three
To grow my inner circle to support entrepreneurs across the world, to really understand what they need to do to build, sustain and develop a global brand.
To grow my podcast so that we can have other successful entrepreneurs, people that I follow and people that follow me across the world, and to interview some more amazing people.
To grow my Event of Champions to support entrepreneurs at events so that they understand what their needs are and allow the speakers to meet their needs.
Parting words
"If it's not making money, it's not making sense. Do your due diligence."
Connect with 
Cam
ilita Nuttall
Andrew's books
Andrew's online programs
Connect with Andrew Stotz:
Further reading mentioned