Ep76: Azran Osman-Rani – From Zero to a Billion Dollar IPO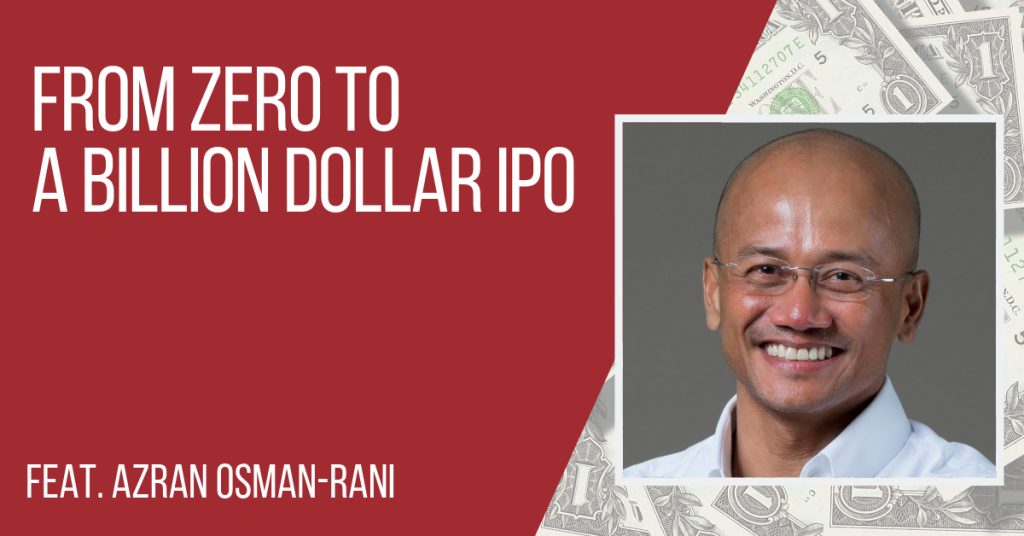 Listen on
Apple | Overcast | Stitcher | Spotify | Other
Guest profile
Azran Osman-Rani is currently the founding CEO of Naluri a digital health technology company that provides a cost-effective and accessible digital health psychology service to help users adopt healthier lifestyle behavior changes. He is active in the internet technology space is a co-founder investor and advisor to iflix, MoneyMatch, Cognifyx, and Yellow Porter. He was previously the CEO and group COO of iflix – a disruptive Internet TV-and-video-on-demand service that was launched in Kuala Lumpur, Malaysia in May 2015. It now operates across more than 30 markets in Asia, the Middle East, and Africa and has 700 employees, all in less than three years from its launch. Previously, Azran pioneered the long-haul, low-cost-airline model as the founding CEO of Air Asia X. He led the airline's growth from start-up to US$1 billion in revenue, 2,500 employees, and a public listing, all in just six years, breaking many low-cost airline industry conventions and introducing innovations along the way.
"I ended up with a seven-digit net-cash loss … and eventually had to part company with the board in that journey. So it was a very, very tough and painful, financial ending … But you know, I learned an invaluable amount from that experience, and I wouldn't have traded it for anything."

Azran Osman-Rani
Lessons learned
Be wary of what banks or investment bankers tell you or advise you to do. They are receiving their fees and commissions even if your business suffers.
Have a back-up plan. Every organization or individual should have a back-up plan or alternative way to survive or recover from loss.
Andrew's takeaway
The damage of leverage. There are really only two financial risks: debt and currency. If a business is run without debt, a huge amount of risk is reduced. In business and in life, the damage of leverage can never be understated. Obey the principle of trying to remain debt free and the principle of diversification.
Never listen to financial people. Investment bankers and analysts and other players in finance usually never run a company. They sit on the sidelines doing research and giving advice, without risking anything, without having any "skin in the game". In fact, they are making money from getting a business owner to follow their advice, which can be quite distracting.
Finance adds no value. This is something Andrew tells his finance students. Value is created through products and services. Value is created on the asset side of the balance sheet, where the assets of the business and the brains and the commitment and determination of the people go into creating better products and services. The job of a company's CFO is to use finance as a tool to support management decisions. Remember this, a CEO, young or old, who is out there trying to build their business, should avoid being lulled into thinking that financial maneuvers are going to create long-term value.
Connect with Azran Osman-Rani
Andrew's books
Andrew's online programs
Connect with Andrew Stotz: