Ep65: Dann Bibas – The Case for Passive Investing. Fewer Grey Hairs, Better Returns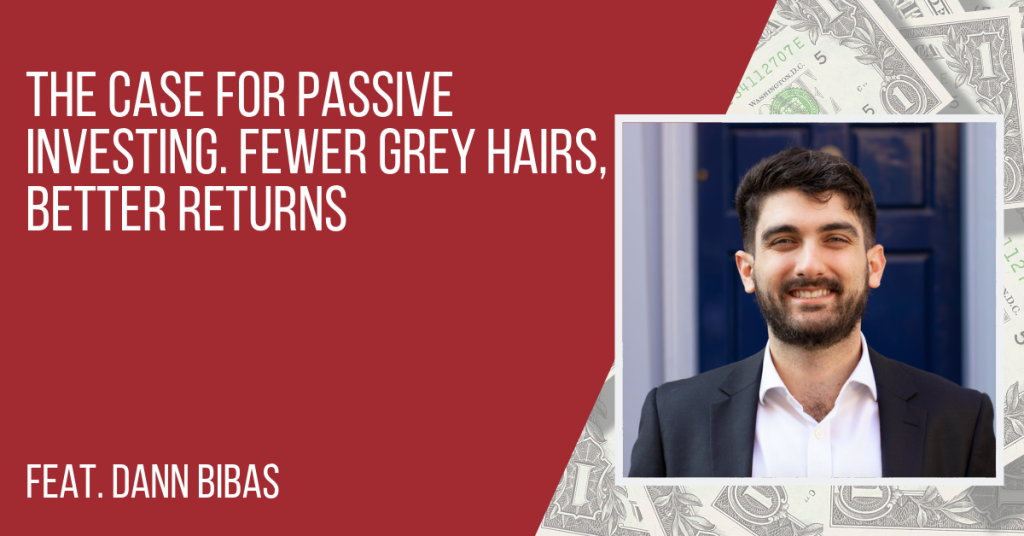 Podcast: Play in new window | Download
Listen on
Apple | Overcast | Stitcher | Spotify | Other
Guest profile
Dann Bibas is a co-founder of Fountain financial services in the United Kingdom, a digital wealth manager combining new technology with certified advisors to make personalized investing more accessible. He was an equity derivatives associate at Citigroup, working closely with some of the world's largest financial institutions on equity, cross-asset and volatility products. He is also a member of the Founders of the Future community in London, the Tech Nation Founders' Network and is a regular speaker at start-up and fintech events.
"Stock picking, for myself at least, is really difficult."

Dann Bibas 
Die-hard passive investing shares hard-won beliefs
Investment in the market for the long term

is the maker of winners

Dann

has 

felt this way most of his adult life 

since the following story of loss

He started to invest in stocks when he

 was a student 

majoring in finance at

McGill University

(Bachelor of Commerce)
Watching stock closely a nightmare of ups and downs
As he learned micro and 

macroeconomics and financial concepts, he and his friends

became 

interested in investing

as they were learning a lot about markets and

how to evaluate balance sheets

.

Early forays involved using small amounts of money earned during 

summer jobs

through a friend in his group's 

TD Am

e

rit

r

ade

 account

.

They bought 

a 

few hundred dollars of shares 

in 

Cit

i

group 

(a fact Dann used later on during his interview for entry into Citigroup's graduate program.

This was the first ever investment 

he 

actually took seriously. Perhaps too seriously, because his lingering memory

is

that 

it 

was very anxiety driven

,

because he was focused on this one company, watching everything that was happening to it.

He had a 

clean thesis 

and thought he would 

become rich quickly. 

Th

en 

the stock was hit by 

an earnings report 

that was negligible

 

below expectations.

Then some macro

economic event 

happened and the price fell further.

T

hen 

there was 

positive news and 

it bounced up.

But the stock can also be affected by other banks' 

earnings 

reports, impacting the sector.

So 

he 

went from thinking 

he had an effective 

thesis 

but that his stock was getting "hit on all sides"

both up and down. 

 

There were t

oo many variables:

How'

s the sector doing?

How'

s the broader market doing?

How are 

its 

peers doing?

Is there a specific event that 

was not factored into 

the share price that is now happening?

Also stressing him out was a Forex issue. The 

money 

he 

was earning was in Canadian dollars, 

and his band of brothers was 

investing in 

US 

dollars.

So on top of 

all the above, he was having to look at how the USD/

CAD

was

trading.
"I think it's safe to say I was very, very overwhelmed. I think we just about sold out of our positions to break even … my first one or two gray hairs came from those couple of weeks or months of investing."

Dann Bibas
Definitely since this experience, he has followed what

Warren Buffett

 preaches,

converting

his investing style

from active to passive 

investments.

And, he's very happy with it.
Lessons learned
1. Stock picking is really difficult because:
  a. Accounting for all the many variables is a lot of hard work
  b. Coping emotionally with the ups and downs of a stock and all the elements that have an impact on it is also very difficult
2. Full conversion and commitment "to the faith of passive investing"
  a. Because of the long-term benefits
  b. Passive investors do actually end up outperforming stock pickers
  c. He much prefers reading about wider economic growth than looking into the balance sheets of individual companies
3. Such lessons drive the advice he now gives clients at Fountain
Andrew's 
t
akeaways
1. Work and investing habits must suit your personality. Some people in the market just like to watch the price changes rather than beat the market "What makes you happy?"
2. It's amazing how many people put money down (investing) without knowledge of the market. It's a little bit like jumping in the car not knowing what a seat belt is or what the gas pedal is, just slamming down hard on the gas.
"The end result of that is that you're taking on risk that you don't necessarily know about for that person. And the world doesn't care."

Andrew Stotz
A
ctions
listeners should 
take to avoid such errors
Try to learn the bigger picture of economics, not just balance sheets
Learn about the effect of compound interest through long-term investment in the market, especially as outlined in the book about Warren Buffett, The Snowball
No. 1 goal for the next 12 months
Growth of Fountain in terms of subscribed users and products ranges for customized personal investment tools, not only in the UK but in other parts of the world.
To the audience: "A lot of you out there still value that human expertise, still values the human touch when thinking about your money, your financial planning, financial security, your families' … So how can we get more of you to benefit from Fountain's offering, which is all the efficiencies of a digital experience, everything going through your app, everything super smooth at an affordable price? Because we have those efficiencies in place, but also without forgetting the human touch that is so valuable when thinking about your money and your long-term planning?"
Final words from 
Dann
Happy New Year to your audience!
Final words from Andrew
Keep that wealth growing!
Connect with 
Dann
Bibas
Andrew's books
Andrew's online programs
Connect with Andrew Stotz:
Further reading mentioned: