Ep254: Paul M. Neuberger – Sales Passion Does Not Always Overcome the Burden of High Costs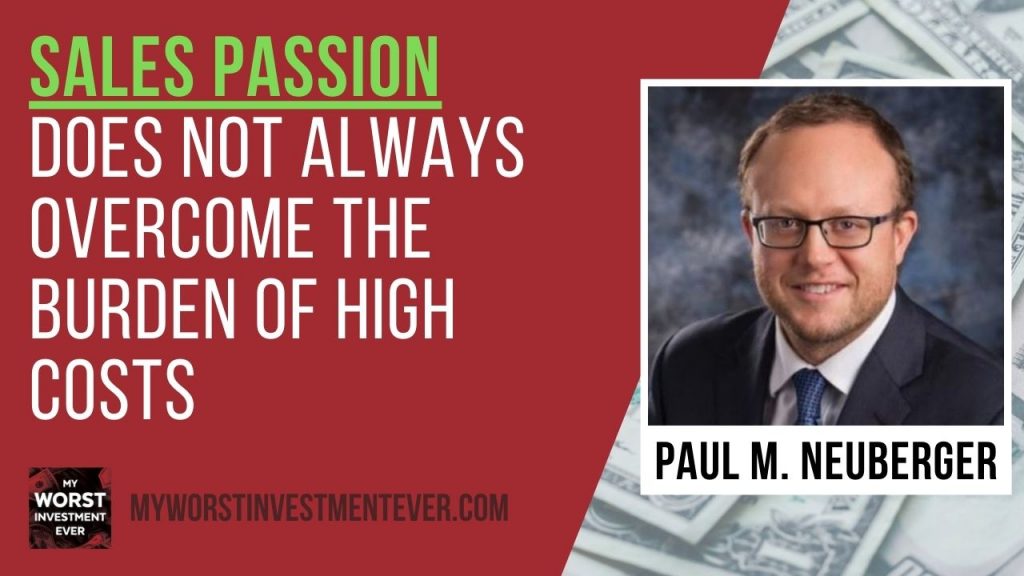 Listen on
Apple | Overcast | Stitcher | Spotify | YouTube | Other
Guest profile
Paul M. Neuberger is also known as The Cold Call Coach, and he believes in making the impossible possible. A masterful speaker and trainer, he challenges people to dig deep and discover talents they never knew they had. Whether it's working hands-on with small teams or presenting in front of hundreds of people, Paul is adept at genuinely connecting with his audience and getting to the heart of important issues.
He has worked with leading organizations around the world to help improve effectiveness, performance, and cultivate a stronger sense of passion in the workplace. He has taught thousands of students in more than a hundred countries through his Cold Call University program, helping sales professionals in a range of industries close more business in less time than ever before.
"I believe in life; nothing happens to you. Everything happens for you."

Paul M. Neuberger
Worst investment ever
Switching careers on a whim
Paul was a 30-year-old vice president of a major university in the state of Wisconsin when his father-in-law died suddenly. His mother-in-law's financial life became complicated after her husband's death. Paul wished he'd been able to save his mother-in-law from her financial problems. He was so devastated to be helpless that he decided to become a financial advisor.
Going in big
Paul became successful quite fast, and so he got over his head that starting a business in the finance industry was going to be easy. He'd always been a good salesperson, and his passion was over the roof, so being a financial advisor came easy for him.
When Paul saw how quickly he was growing, he decided to take it up a notch. He wanted to look a little bit more prestigious, to look more successful. He believed that this would land him big clients. Paul signed a 30-year lease for a huge office space and hired four people. He invested heavily in technology and marketing and was hemorrhaging cash faster than he was making it.
The high costs nightmare
Soon enough, the bills started piling up. Paul had to pay rent and make payroll. Within no time, he was missing payroll and having to ask for rent extensions. After a couple of missed payrolls and rent extensions, Paul realized he was in over his head, so he decided this wasn't the path for him.
Lessons learned
Be aware of who you are
It's good to have self-confidence. But you also need an awareness of self. Don't let your self-confidence cloud your self-awareness.
Surround yourself with smart people
Surround yourself with people whose advice you can rely on, people who can be your sounding board when you need help in making business decisions.
Have a strategic plan
You can't just sell your way out of a problem. You need to be strategic. You need to figure out what's the end game. Think about where you want to be in the next couple of months, what you need to do to get there, and what success looks like. Also, think about the risks of what you're trying to do.
Have healthy outlets
As an entrepreneur and business owner, there's only so much you can do. You need healthy outlets. You need that one person that you can talk to, vent with, and seek both personal and professional advice from.
Andrew's takeaways
Costs are the only thing we can truly control
When starting a business, or if your business is in trouble, the one thing you can do quickly is cut costs. Don't burden yourself with unnecessary expenses. Take pride in the fact that you've got your costs down to a minimum. A business with low startup costs will be profitable from day one.
Don't be a one-hit-wonder
Don't just think about that next shot, think about the next three to five shots, and therefore you won't be a one-hit-wonder.
Actionable advice
Identify what your passions are. A lot of us know what we like, what we're good at, our strengths and skillsets, but never take time to think about how to make good use of these things. Identify your strong points, then think about how you can build careers from these things, how you can monetize them, or how you can add them to what you're already doing, or make them a central pillar and focal point of your success.
No. 1 goal for the next 12 months
Paul's number one goal for the next 12 months is to be on Amazon's top 1,000 books list. Paul published his first-ever book The Secrets to Cold Call Success in June. This book is the Bible of all sales teams. He wants this book to be in every organization in the next 12 months.
Parting words
"Fear is always going to be there, but you have a choice when it comes to fear. You can use fear as a barrier or fuel to your success. The choice is yours."

Paul M. Neuberger
Connect with Paul M. Neuberger
Andrew's books
Andrew's online programs
Connect with Andrew Stotz: