Ep251: Mike Ciorrocco – Use Your Setbacks As Rocket Fuel For Your Success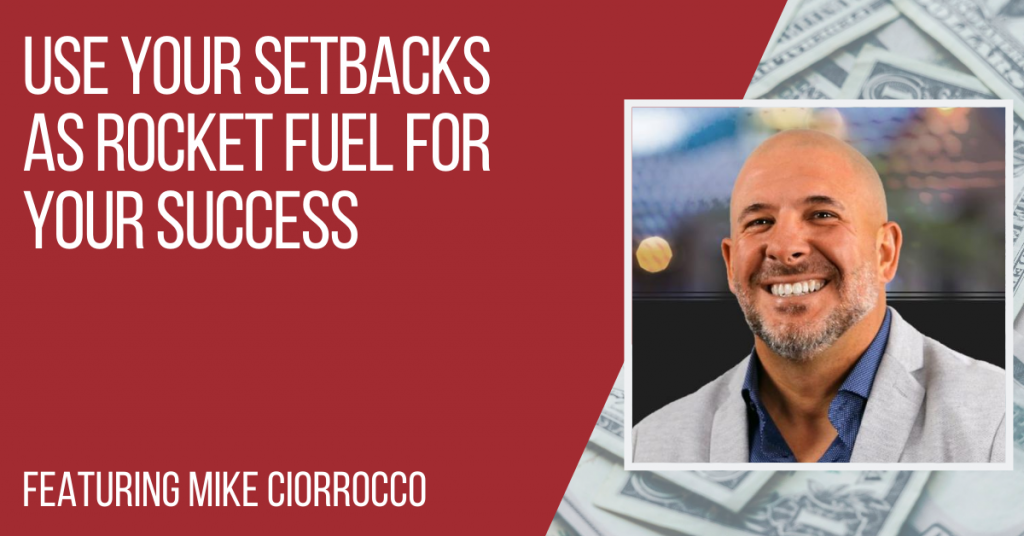 Podcast: Play in new window | Download
Listen on
Apple | Overcast | Stitcher | Spotify | Other
Guest profile
Mike Ciorrocco, aka Mike C-Roc, is the CEO of People Building, Inc. He is a performance coach, author, dynamic public speaker, visionary, and thought leader. He has been featured by Yahoo! Finance as one of the Top Business Leaders to Follow in 2020 and is on a mission to build people.
At his core, he's obsessed with success and helping others achieve greatness. C-Roc is a guy who had a fire lit in him at an early age. That fire has led him to inspire others to see the greatness inside of themselves using past life events to fuel their fire.
"Accept and acknowledge the setback as soon as possible, so that you can prepare and launch for your next takeoff."

Mike Ciorrocco
Worst investment ever
Mike and his partner run a profit and loss company. A few years ago, when the P&L company was still new, it started to have some success and money was coming in. Mike and his partner planned to keep the money in the business to help scale it. So they kept the money in a company account.
Not so much their money
There was a catch, though. The company where Mike's money was kept was not his company. The two partners weren't the owners of the company. The owner of the company was Mike's buddy's uncle-in-law. So even though the money was theirs, officially, it belonged to the owner of the company account. All along, Mike assumed that their money was safe. The assumption got Mike in big trouble.
Money goes missing
Mike and his partner had built the company for 12 years and had about one million dollars in the account. The money was to be used to scale the business. The two partners had big plans. After a while, they found out that their money was missing.
At the time, the company had 22 employees. Mike felt responsible for those 22 employees and their families. These employees had bought into Mike's vision and were working hard every single day to achieve this vision. He had to make sure that they were taken care of and not affected by the mess.
Getting out of the entanglement
Mike had to create an exit strategy that was not going to get him in trouble, which would protect their investment and take care of the employees that were relying on him. So this happened over a few months. Luckily, they still had contracts and deals that they had to get paid.
Mike and his partner founded another company, and the transition happened. During the transition, the two partners lived off minimum wage to sure everybody was getting paid so that the business could keep running.
Unfortunately, they lost all the money they had previously made and saved. However, with the new strategy, they were able to recover and get the company back to its feet.
Lessons learned
Don't mix business with friends and family
Don't trust family and friends as far as business goes, and just leave it to that. Make sure you have an ironclad contract or any written agreement that shows that the money is yours.
Work on your company culture
When you have a great company culture, individuals will look out for the greater good first, and then themselves. Build a culture in your business to give it a firm foundation. If you can start a big company with a great culture from the start, you'll be unstoppable.
Employee goals need to align with company goals
Your employees' individual goals need to align with the company goals. If they don't, you're going to have conflict, and it's not going to work, no matter how much they produce. They may be good employees, but as long as their goals don't align with the company goals, they'll end up causing problems that are going to cost more than the revenue they're bringing into the company.
Your employees are your greatest investment
Very many business owners think of their employees as just workers. In a business sense, you're investing in these people, and they should give you a return on your investment. So build your employees by treating them well so that they can provide you the most return on investment. Think of having employees like having a real estate investment and taking care of that real estate. You would never let your property go to waste. Likewise, don't let your employees go to waste, take care of them.
Andrew's takeaways
You can recover from any setbacks
There will be many setbacks in life. Some will bring you down to zero. To survive, understand that this is normal, accept and acknowledge your setbacks immediately so that you can recover quickly.
Take care of your employees
Take care of your employees because they are your greatest asset.
Actionable advice
Wake up in the morning with gratitude. It may sound like a cliche, but one thing that's going to change your life is counting your blessings every day, no matter how insignificant you think they are. This will create a situation where you have nothing to complain about. It's a magic trick, and if you try it, and you get consistent with it, it will change your life.
No. 1 goal for the next 12 months
Mike's number one goal for the next 12 months is to finish writing his forthcoming book, Rocket Fuel. He is fired up to get the book out towards the end of this year.
Connect with Mike Ciorrocco
Andrew's books
Andrew's online programs
Connect with Andrew Stotz: