Ep240: Libby Gill – A Business Vision without Hope is Lost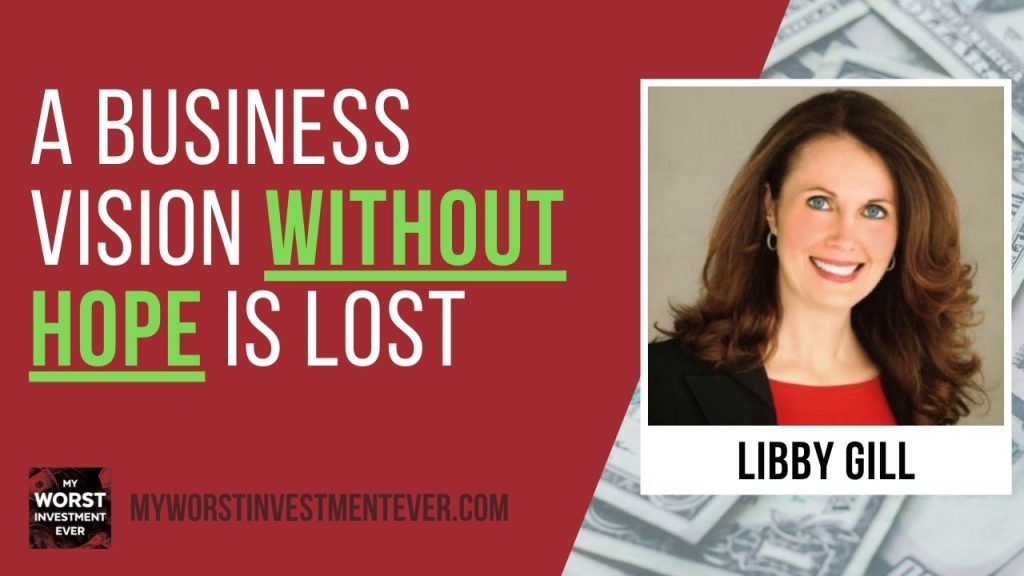 Listen on
Apple | Overcast | Stitcher | Spotify | YouTube | Other
Guest profile
Libby Gill is an executive coach, leadership expert, and best-selling author. She guides emerging and established leaders to inspire purpose and drive performance. She is the former head of communications for Sony, Universal, and Turner Broadcasting, and her clients include Bank of America, Capital One, Disney, Ernst & Young, Intel, Microsoft, and many more.
She has been featured on the CBS Early Show, CNN, NPR, the Today Show and in the New York Times, Time Magazine, and The Wall Street Journal. She's the author of six books, including the award-winning You Unstuck. Libby's latest book is The Hope-Driven Leader: Harness the Power of Positivity.
"Leaders ask questions that propel them into new opportunities. Managers answer questions and get the job done for those who have the vision."

Libby Gill
We're going to change the format a little bit today because Libby has gained a lot of experience as a leadership expert through coaching, working with teams, and writing books about it. Since we're at a critical time for every leader out there to figure out how to survive and thrive, we'll jump straight to the lessons and nuggets of wisdom that Libby has collected along her career path.
Libby started her career in communications working for various entertainment studios. In the process, she grew up the rank to become a young leader. After a while, Libby realized what she wanted to do was to continue to grow teams, which she had done a lot as a leader. She read an article in Newsweek about executive coaching and took great interest in it. Libby then started working with people in executive coaching, then she went on to writing books and speaking in big forums. Her career in executive coaching just continued to grow. It'll be 20 years this fall since Libby started.
Lessons learned
A business needs both leaders and managers to succeed
You need people at different levels in your business. Leaders and managers play different roles in the success of a business. Leaders ask the questions that get the business new opportunities, while managers answer the questions. Leaders provide the business vision, and managers get the job done.
Business vision, passion, and drive will get you to success
You can win a battle even when you are outnumbered as long as you have a vision, the drive, and the passion for winning. As a business leader, beat your competitors by looking for gaps where you might have slipped off the market and create your competitive edge.
If you're just starting, figure out the most important thing and focus on that. But remember not to spread yourself too thin.
The curse of the visionary
Most leaders tend to have a hard time focusing on one area, so they find themselves with too many ideas and too little time. Try and focus on one area. Before you think of implementing more than one idea, first ask yourself if you have a financial base under you. Then, how long can you play this out and how long can you get away with trying out your many ideas without your business collapsing or depleting your funds.
The hope theory
Hope theory is all about having a vision of the future that may be wildly ambitious but is attainable. So to achieve this vision first, have clarity around it. Second, simplify the path to getting there. Consider what you must get out of the way, such as false hope or wrong ideas, bad habits, the wrong people. Third, execute the plan. We can all have our visionary ideas all day long, but it comes down to who's going to get it done.
Effective leadership is, therefore, about having a clear vision, perseverance, correcting the course, and continuing to move towards your vision as long as it stays true to what's in your heart, your mind, and your gut.
Have a fundamental belief that change is possible
Not everybody believes that change is possible. There are plenty of people who are always justifying their defense of the status quo, and they're going to stay exactly where they are forever. But as we move to an age that's beyond the information age that's about ideas and imagination, we need to be able to carry out those visions. It all becomes possible by having a fundamental belief that change is possible.
Link belief to behavior
When you link belief to behavior, that's where the magic happens. If you link belief to behavior and the vision, then you're going to act your way to achieving your vision.
Actionable advice
As a business leader, reach out for support. Some people perceive asking for support as a weakness, but it's a tough time, and we got to open up ourselves to receiving help and support.
No. 1 goal for the next 12 months
Libby had been moving much of her business online before the lockdown started. Her number one goal for the next 12 months is, therefore, to build online coaching programs and to move to the virtual world, which allows her to touch people in all kinds of countries and places. Libby just started a writing group for people that need accountability and support while they write. They get together on a video platform to touch base and help each other stay focused.
Parting words
"In the immortal words of Robert Louis Stevenson, 'It is better to travel hopefully than it is to arrive.'"

Libby Gill
Connect with Libby Gill
Andrew's books
Andrew's online programs
Connect with Andrew Stotz:
Further reading mentioned