Ep238: Laura Cho – Do Your Research Before Buying Online Courses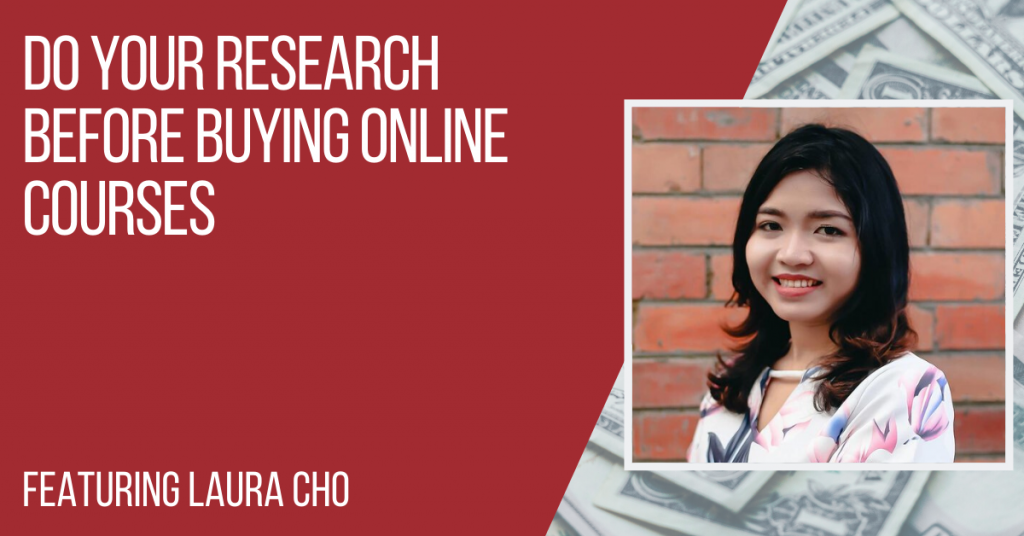 Podcast: Play in new window | Download
Listen on
Apple | Overcast | Stitcher | Spotify | Other
Guest profile
Laura Cho is an International Certified Coach and Founder at Laura Cho Intl. coaching millennial talents to build a successful career by unleashing their full potential with her HR expertise. She is a public speaker sharing HR and career topics on various stages in Hong Kong, Singapore, Cambodia, and Myanmar at universities, radio shows, online platforms, journals, and public seminars. She has been featured in Stories of Asia, The Myanmar Times, Human Resources Magazine (Hong Kong), and 7Day TV.
"The best investment you can make is investing in yourself in the right way."

Laura Cho
Worst investment ever
A hunger to be good at what she does
Three and a half years ago, Laura started a side hustle as a career coach. To do it successfully, she had to pick up several skills. She was eager to learn anything that would help her.
Buying her first online course
Laura came across a Facebook ad by a lady living in Hong Kong. The online coach was offering a free business plan. Laura was impressed by the lady's copywriting in the ad and by what she was promising.
Being from Myanmar, Laura believed that the lady from Hong Kong had more knowledge and, therefore, the right person to learn from. So without taking some time to think about it, she invested in the lady's course.
The credit card privilege
The course was quite expensive, especially since she had to pay in USD. But because she had a credit card, she spent anyway.
All talk no action
After Laura started the online course, she soon realized that the coach was just full of air and wasn't walking the talk. The course offered Laura zero value. She did not learn a single new thing in that class. Whenever she tried to ask questions, the coach would dismiss them as stupid questions. Laura was devasted. And to imagine all the money she had paid!
Freeing herself from the guilt
Laura couldn't help but feel angry for allowing herself to make the worst investment ever. She was mad at herself for not taking the time to research the course. Or at the very least see what other people were saying about the course and the trainer.
She carried this anger for a while, and it prevented her from trying out any other courses. She realized that she was shortchanging herself and so she forgave herself and moved on from the terrible experience.
Lessons learned
Get to know the trainer before buying an online course
There are very many coaches and trainers today. So, before you invest in someone, take some time to learn about that person. Follow the trainer for some time and interact with any free content they share and read reviews from their past clients. This will let you know if you can trust the trainer or not.
Calculate the return on investment
Before you invest in an online course, ask yourself what will be the return on investment. How will the course benefit your career or your side hustle?
Not all 'good' trainers are good for you
People have different levels of experience. Just because an advanced student says a trainer is good doesn't mean the trainer will help you too.
Understand your needs first
Why do you want to buy an online course? What do you hope to achieve from taking an online course? You have to know your needs first before you invest in your personal development.
Andrew's takeaways
Do your research
The number one mistake people make when investing, whether in business or themselves, is failing to do their research. Don't buy online courses blindly, research them first to make sure you invest in the right ones only.
Build trust
You've got to build trust first before buying that online course. You can do so by engaging in the trainer's free content first and see if they offer you any value. If yes, then go ahead and buy the course.
Get the money-back guarantee
Only buy courses that have a no questions asked 100% money-back guarantee. Make sure that guarantee is clearly stated. This gives you a chance to get your money back should you not be satisfied with the course.
Ensure the online course is the right level for you
If you're a beginner, take a beginner's course. If you buy an advanced course, it is not going to work, and it will be a bad investment.
Be ready to implement what you learn
Don't waste your money if you are not ready to implement what you're going to learn.
Actionable advice
Take time before you press that buy button. Think about why you want to buy that course and ask yourself if you have the time to put what you learn into action.
No. 1 goal for the next 12 months
Laura's number one goal for the next 12 months is to upgrade and equip herself with more business knowledge. Laura wants to flip her side hustle around into a fulltime business and to do so; she needs to pick up a lot of business skills.
Parting words
"Keep investing in yourself, and it will pay off over time. But make the right investment."

Laura Cho
Connect with Laura Cho
Andrew's books
Andrew's online programs
Connect with Andrew Stotz: