Ep190: Adam Dollner – Don't Be Afraid to Cancel a Project If It's Not Going to Plan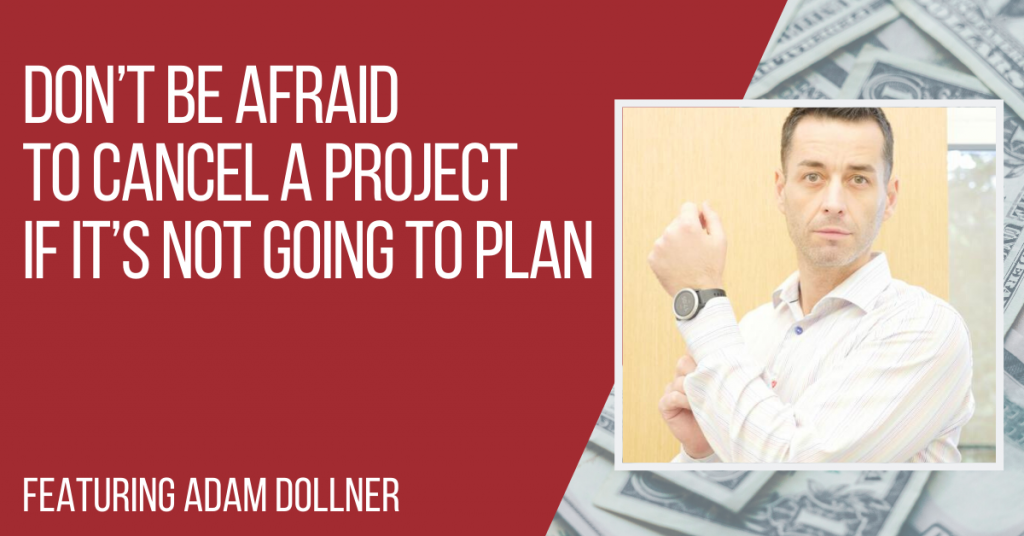 Podcast: Play in new window | Download
Listen on
Apple | Overcast | Stitcher | Spotify | Other
Guest profile
Adam Dollner is a skillful international tech & travel/tourism specialist, speaker, and possibility creator with an entrepreneurial mindset. He has visited more than 70 countries and contributed his tech skills to more than 850 small or medium-sized businesses worldwide. His passion is to create opportunities, moving people and improving lives around the world by leveraging the latest technology.
He is also the CEO/Founder of HubLearn. He is passionate about using innovation and the technology of tomorrow to make people's lives easier. Before leaving his corporate job and starting HubLearn, Adam had a lead role in building streaming services such as HBO Nordic, Blockbuster, and others in Denmark's biggest telco company the TDC Group.
Adam has spent the last two years in Thailand & East Africa, sharing knowledge on the use of technology in various industries. Now he is based in Bangkok.
"Don't listen to too many people. You're the one who lives with the consequences of your actions. So believe in yourself."

Adam Dollner
Worst investment ever
Giving up the corporate world to be an entrepreneur
After many years of working in the corporate world, Adam decided to quit and start his current company LearnHub. HubLearn was an idea that came up to him while in Africa. His goal was to create a hub that would guide people towards learning possibilities such as online education and help them step into the future of social learning.
So he started doing some research and went further to contact some developers. He got in touch with a couple of them, and there was this one consultancy that caught his eye. It was a team of 16 developers with a point of contact who said all the magical words. Adam was blown away and decided to work with them.
Getting the idea off the ground
Adam was careful to make sure that the new team of developers clearly understood his idea, so they had back and forth discussions about the project. They discussed the idea of having a platform that allowed online, offline, and in-person development. A platform that could also allow someone to sponsor a learner while being able to track their funding. Where they can see the person, they're sponsoring and be fully aware of what they would do with the funding received. So together, they developed all that on the paper.
After about half a year of finetuning the project requirements, the point man told him that the team was ready to get started. However, they needed some money upfront. Because he had confidence in his idea and the team, he transferred US$10,000 to the consultancy. Adam couldn't help but envision all the people whose lives he was going to change.
His BS radar wasn't so strong after all
Adam's earlier position in the corporate job was that of the Bulldog that usually challenges salespeople and calls them out on their BS. So he could easily filter out rogue salespeople, or so he believed. Somehow this one consultancy passed right through his filter.
As soon as the money hit their bank account, they went quiet. Eventually, they got back to him with the shoddiest work he'd ever seen. All they presented him was a one-page website. Their excuse; they didn't understand the project as he envisioned it and, therefore, couldn't do it in that way. They claimed that he'd said something different at certain times.
Adam was confused because all the drawings were there and they'd spoken about it for a year. He decided to give them the benefit of the doubt and waited for them to give them another go. They asked for more money which he sent. One and a half years later, he still had nothing.
Eventually, he cut them off and nearly had to close HubLearn and go bankrupt. And so his worst investment was not to cut them off straight away as well as transferring money before seeing a product which saw him over US$10,000.
He had options all along
After he let the developers go and in a desperate need to save his idea, he did more research, and to his surprise, he had other cheaper options.
He found out there was a lot of learning management systems (LMS) off the shelf. He learned that he could build his whole LMS system with all the plugins and features he wanted for less than US$500. He used YouTube online courses and did more research and within one week, he'd built the whole platform by himself.
Lessons learned
Product first money second
Do not transfer money before you have seen a little bit of the product that the outsourced team develops.
If something is not working, cancel it
Cancel a project if it's not working out. If the people you hire to do something don't deliver, get rid of them, cut your losses and move on.
First look for off-the-shelf solutions before hiring someone to do it
There are so many bright heads out there and intelligent people who are developing an app or a feature or something which you can pick off the shelf and work with it instead of paying someone to develop it.
Build as you go
When you hire someone to build a product for you, do it the agile way and build as you go. You can have an end goal like here's where I want us to go, but let's start from the start and do the milestones and evaluate how it works. So it's not all just on the paper.
Andrew's takeaways
Always have written proof
It can be hard to be clear when working with developers. Make your idea clear by writing it down. Continue to discuss it with them and make sure that any changes get flagged as changes. You've got to stay on top of your project because if you don't, you can end up at a different place than what both parties probably thought you were going to be.
Start with a minimum viable product
Start with a product that you can market and then play with it. Let people test it and try to see if it works, rather than trying to build the whole product.
Actionable advice
Take action, then believe in yourself. Don't doubt yourself. Believe that the universe somehow will guide you if you do what is right and believe in yourself.
No. 1 goal for the next 12 months
Adam's goal for the next 12 months is to get one of HubLearn's main project, ShopbyLocals, up and running. It's about selling skills, physical products, and services. Like if you have a bike you want to rent in a local city or a room you want to share, you can do it on Airbnb, but also on ShopbyLocals.
Connect with Adam Dollner
Andrew's books
Andrew's online programs
Connect with Andrew Stotz: