Ep188: Ryan Roghaar – Develop an Onboarding Process and Follow up to Avoid Losses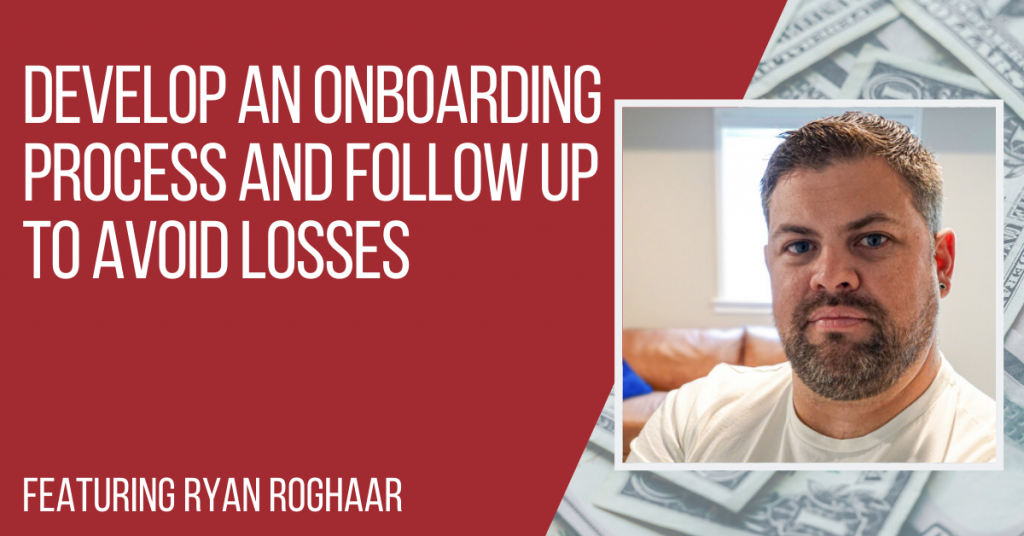 Podcast: Play in new window | Download
Listen on
Apple | Overcast | Stitcher | Spotify | Other
Guest profile
Ryan Roghaar (Ro gar) is a serial entrepreneur, award-winning creative director, podcaster, author, and a business owner committed to building authentic end-to-end relationships for his clients—top management to the top consumer. His unique philosophy puts specific importance on human relationships and their inherent value in both business and in life. He believes that as a society, we are reaching a kind of technological saturation point which is leaving consumers anxious and yearning for tactile human experiences, and it is that core ethic that fuels his purpose—to bring people together.
‍From his office in Salt Lake City, Utah, or occasionally from his office-away-from-home in Barcelona, Spain, Ryan will offer enlightening insights on a huge range of topics in his humorous and engaging style. Relationships, business, design, art, creativity, marketing, podcasting, remote work, coworking, the music business, travel and the life of a digital nomad—Ryan has lived and studied them all—and he is happy to share his insights and experiences to help others explore fresh perspectives on business, lifestyle and new ways of working.
"As a contractor, not having the safety of contracts, agreements, a client onboarding process, you are wide open for abuse, and there's very little you can do about it."

Ryan Roghaar
Worst investment ever
Delving into a new space
Ryan's marketing and advertising company deals with different clients in different industries. Finding new work is the norm for the company. So when a friend referred a client to them in need of their services, it was nothing new.
The client, however, was in Cannabidiol (CBD) and medical marijuana, a market the company had never dealt with. Nevertheless, they were quite excited to try this market.
Going against his intuition and better judgment
Ryan did a couple of sales interviews with stakeholders in the company, and it was all going well until, eventually, he met the CEO. He immediately had a bad gut feeling about the guy's character. His intuition made him doubt the CEO but he looked the other way. Ryan went against what nature was telling him and pursued the relationship anyway.
Blinded by desperation
At the time, Ryan's company was in great need of a win so they were a little bit blinded by some desperation. They had bills to pay, people to pay, and other business operating costs that had to be taken care of. So, this one time Ryan decided to overlook his intuition because the company needed the money.
Unlike with other clients, they jumped right into work without dealing with the legal nitty-gritty first. They didn't follow their client onboarding process and had no agreements or contracts in place. So even though they had rules when signing up a new client, they didn't follow them, they just quickly jumped on their projects and went right to work.
But, everything seemed to be working out fine. The client didn't complain about their rates and was paying on time.
Changing the project midway
At some point, they decided to make a big packaging change. They were up against a deadline, as the client was going to pitch some large pharmacies and other pharmaceutical companies to try and get their new CBD products out on the market. They had just a few days until this pitch and had to get everything done.
At this point, they had a great relationship with the client. So they threw everything at it. They hired copywriters, designers, web developers, and marketers to try and build up this whole campaign and be prepared for this multi-million dollar sale. They used all the resources they had to run this project, running up the bill while at it.
A job well done
After significant investment and throwing many hands at it, they got the job done on time. The client went ahead to do the pitch as planned, and it went well, they won the business.
Here come the crickets
After getting the work done, which was significantly more than they had done for the client before, they sent the invoice. Then the client went quiet. The bill was more than what the client expected and therefore, they ghosted Ryan and never paid.
Ryan's firm was left with a loss of about $25,000 to $35,000, which was a pretty significant loss in manpower and resources.
Lessons learned
Contracts and agreements will save your business
Have some service agreement in place. Make signing it a process included in your client onboarding process. Everything such as deposits, needs to be figured out in advance. Having contracts and agreements in place dictate the rules and explain what happens with the projects.
Risk management is a must when dealing with clients
Mitigate risks by way of deposits, or other modalities, such as IP ownership. Defining how such things will be handled could act as your security should a client bail on you.
Trust your intuition
Trust your gut and listen to your conscience. Based on your risk tolerance, you may be able to make a judgment call whether to disregard or how much credence you're going to give to your internal monologue. It would be a real error just outright to ignore your intuition or your gut.
Andrew's takeaways
Have an onboarding process
Don't skip the process
Pay extra attention to desperation, rush jobs, or dangerous jobs.
Actionable advice
Trust your intuition and avoid the blindness that might come from making a stupid choice for short term gain.
No. 1 goal for the next 12 months
Ryan recently started to pivot into remote work advocacy and is helping people develop relationships and maintain healthy lifestyles as remote workers. His goal for the next year is to help as many people as possible to hopefully find their way out of rough living situations around the world.
Connect with Ryan Roghaar
Andrew's books
Andrew's online programs
Connect with Andrew Stotz