Ep179: Peter Sainsbury – Use a Journal to Stay Self-aware When Making a Contrarian Investment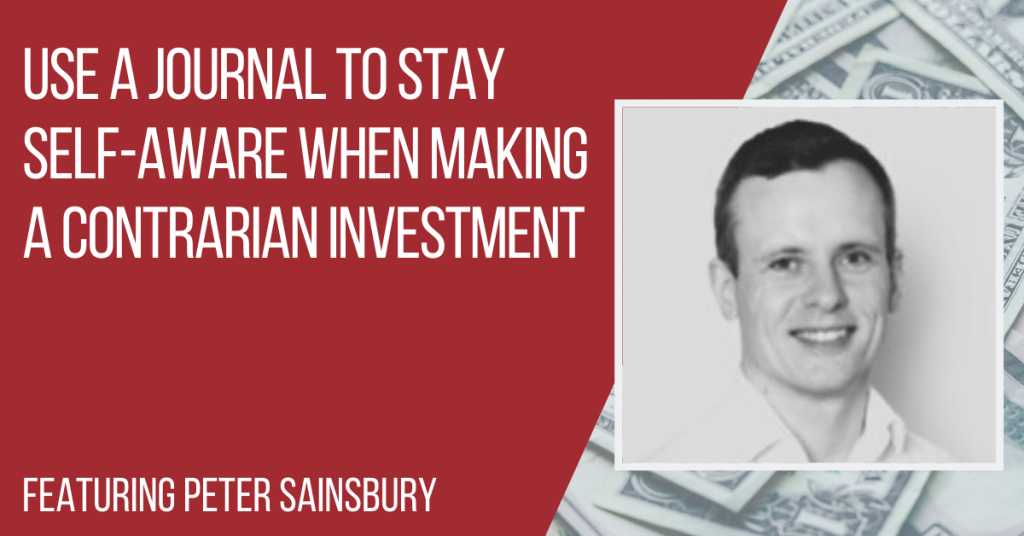 Listen on
Apple | Overcast | Stitcher | Spotify | Other
Guest profile
Peter Sainsbury is an investor in resource stocks and is also a commodity futures trader. In an attempt to help others, he wrote two books aimed at investors – Commodities: 50 Things You Really Need To Know and Crude Forecasts: Predictions, Pundits & Profits In The Commodity Casino. At Materials Risk, he writes about what he observes in the world of markets, economics, and investing.
"I thought I was clever, but in many ways, I was making it much more complicated than it than it needed to be."

Peter Sainsbury
Worst investment ever
Making a contrarian investment is exciting
Peter always had an interest in gold and after his previous success, in early 2014, he bought shares in a mining company. He was very excited to have potentially found something that was being underappreciated by the broader market.
During that time, he thought it would be interesting to make a contrarian investment. He took a position that went against the trend of the market, hopeful of gaining a comfortable leveraged exposure to gold and providing limited downside as well.
Going for the kill
With that play in mind, Peter was searching around different ways to apply it. While reading through various articles, one company kept on coming up and was making a buzz in social media.
After making enough research of this company – looking at how it performed in the past years and the different gold price environments in the past, Peter decided to make a contrarian investment.
Getting out of a position is harder than getting in
However, the excitement didn't last long because one problem after another started to pile up. First of all, the gold price kept on falling. Second, the company was based in a country where a change in political regime meant that the attitude towards mining became increasingly negative.
In effect, the share price of the company was down around about 70%. Even with all these issues, it still took Peter quite a while to realize that he just made his worst investment ever. He admitted that getting out of a bad position and moving on was really hard.
Lesson learned
Do not put all your eggs in one basket
Investing without diversification is like throwing money away. Diversification is beneficial as it reduces the risk and probably will bring you greater results.
Avoid being pushed into action by the noise in the marketplace
Learn how to be more critical of the articles and influences you get from social media and just financial media in general. Do your own research.
Finding a simple way is the clever thing to do
In the financial world, investors tend to make it complicated. However, keeping it simple may sometimes be a greater strategy.
Andrew's takeaways
Always keep in mind liquidity because it is a major risk
Don't forget that sometimes, something may be liquid, and then when you need to sell it, it is not as liquid as it was in the past.
Do not resist diversification
Diversification is a better position than concentration. It is the simplest way to preserve and build wealth.
When you feel like there is something wrong, get out immediately
Knowing when there is something wrong and getting out of that bad position will save you from heartaches in the future.
Actionable advice
Make your own decisions, and don't be swayed by what you read or see on financial TV. Do your own research and do it well. Make sure that what you're investing in is aligned to what you expect to see happen.
Lastly, Peter suggests trying the tool he's been using which is to keep a decision-making journal to track the actual process over time and keeps you aware when you deviate from the process.
No. 1 goal for the next 12 months
Peter hopes to finish writing his new book, which will help one to be a critical media consumer and understanding those narratives that affect one's decision making.
Parting words
"It's never too late to try new things. Mistakes are inevitable but make them relatively small ones and learn from that and move on."

Peter Sainsbury
Connect with Peter Sainsbury
Andrew's books
Andrew's online programs
  Connect with Andrew Stotz