Ep160: Gabriel Abed – Think Long-term and Do Research to Overcome FOMO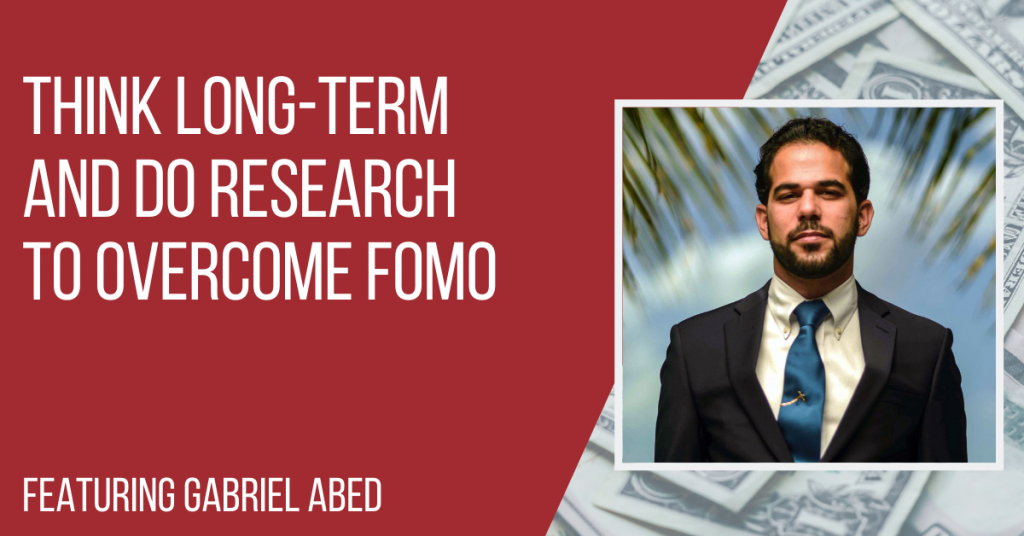 Podcast: Play in new window | Download
Listen on
Apple | Overcast | Stitcher | Spotify | Other
Guest profile
Gabriel Abed is the founder of bitt.com. A FinTech enterprise established to offer financial solutions to the world's unbanked communities. He is also the founder of the Digital Asset Fund, the first regulated digital asset mutual fund in the Caribbean region.
The Barbados-based entrepreneur is internationally acknowledged as a pioneer in the digital currency evolution having initiated the first global movement to encourage the use of central bank digital currencies to stop these politicians from printing money.
"I knew better and I knew that the price would stabilize once the sufficient supply hit the market but I bought into the FOMO. And it was that FOMO buying that I got burnt on. So, the lesson learned is to avoid FOMO, don't be an emotional trader and stick to the fundamentals."

Gabriel Abed
Worst investment ever
A new privacy coin that gets everyone excited
Back in 2016, Gabriel heard a rumor about a new privacy coin coming to the market called Zcash. The need for privacy in the cryptocurrency sector got everyone excited, thinking it would be a lucrative investment.
Rumors had it that the team behind it was great and that the legendary tennis player Roger Federer was one of the big backers of the project. Gabriel, just like many others, was at the front row ready to see this thing unravel.
It went down as fast as it went up
When Zcash hit the exchange and the buy orders were climbing into the thousands. Gabriel was in one of their staff houses in Barbados, opening up his trading engine and buying himself some Zcash.
When he saw how it skyrocketed, he thought this was going to be a special one. And just as fast it went up, Gabriel saw the price of Zcash crash. He continued to buy on the way down. He was still hopeful and kept buying to increase his position. Unfortunately, it never recovered.
Lessons learned
Never get too excited and abandon the fundamentals
If you don't want to crash and burn, stick to the fundamentals of a good and prudent investor. They are there for a reason and that is to guide investors not to make mistakes especially in high-risk investments.
You are not missing anything if you overcome FOMO
Just because, everyone is buying it, doesn't mean you have to. A good investor knows the right thing to do is to research and examine the information gathered in order to come up with an investment decision, not base it on FOMO.
Always go for the long-term play
Short-term investments rarely pay off. If it's a good investment, it's not going to go away in one day. You just need to be patient.
Andrew's takeaways
Don't try to catch a falling knife
Don't jump into an investment when the price is falling sharply. Wait until the price has bottomed out.
Do your research
When you forget the basic principle to always do your research, then something bad is usually going to happen sooner or later. Gather sufficient information so you can justify your decision.
Do not make decisions when you are excited
When you get excited about something, there is a thin line separating good decisions from bad ones. Try to break them apart once everything clears out.
Actionable advice
Educate oneself before investing. Don't allow the upfront FOMO to get you and pull you into the fold. Take your time when investing.
No. 1 goal for the next 12 months
Gabriel wants to recalibrate his life and look for the next big thing on where the market is going to go. He wants to discover, explore and get excited again about a new subject.
Parting words
"Invest wisely and only invest what you can afford to lose."

Gabriel Abed
Connect with Gabriel Abed
Andrew's books
Andrew's online programs
Connect with Andrew Stotz: