Ep155: Joe Saul-Sehy – Financial Risk Management Lies in Diversification across Industries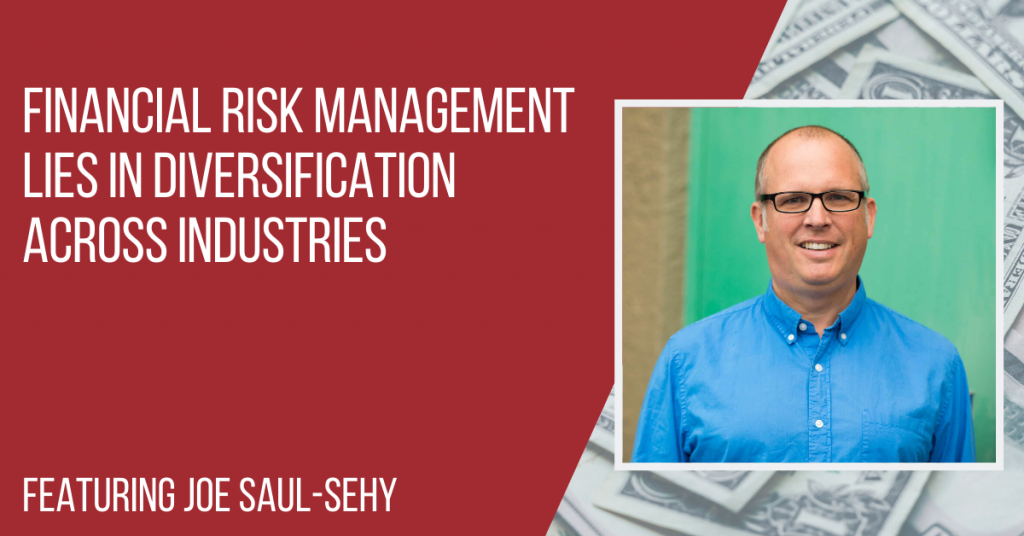 Listen on
Apple | Overcast | Stitcher | Spotify | Other
Guest profile
Joe Saul-Sehy is the co-host of the award-winning Stacking Benjamins podcast, which focuses on earning, saving, and spending with a plan. Joe is a former financial advisor (16 years) and represented American Express and Ameriprise in the media.
He was the "Money Man" at Detroit television WXYZ-TV, appearing twice weekly. He's appeared in Bride, Best Life, and Child magazines, the Los Angeles Times, Chicago Sun-Times, Detroit News and Baltimore Sun newspapers. He's also appeared online in more than 200 different places, including CNBC.com and WSJ.com.
"If you think you're smart enough to know where the market is, you don't understand the risk of investing."

Joe Saul-Sehy
Worst investment ever
A walk into Best Buy leads to buying a stock
Joe has always been the guy who loves experimenting with different investment philosophies and investment strategies. He has also been a forward thinker in technology, and that's what led him to his worst investment ever.
One day he walked into a Best Buy and saw this miracle called XM Radio and thought it was the coolest thing he'd ever seen. This satellite radio had hundreds of channels, and he could now listen to all his favorite sports, business news, comedy, and much more, all in one place. That was phenomenal!
He thought to himself that this was the future, and it was going to be amazing. But, being the financial risk guru he is, he didn't buy the satellite radio that day. It took him a good nine or ten months of research as he considered if he needed it and if a subscription for his radio was necessary.
Buying the company because you love the product
So he did all kinds of research. He finally bought one, and he loved it. He loved the radio so much that he bought 1,000 XM stocks for $2.85 each. That's how much he loved the product!
XM satellite radio was indeed a great product, and the shares rose up to $30 a share. XM was doing phenomenally well, and Joe couldn't help pat himself on the back for being such a smart investor.
Investing in the competition is a BAD idea
He decided it was time to diversify his portfolio, so he sold half of his XM shares at $30.25 making some pretty good profit.
He found XM's competitor Sirius Satellite Radio and invested in it with the money that he took out of XM. He figured that since XM was doing so well, the competition would perform as well.
While he knew the product inside and out, his love for the product blinded him to buy the stock without researching the company itself. He had no idea how XM and Sirius do business, what was their structure or any other fundamental analysis. He just went and bought the stocks.
So now he had two companies doing the same thing with pretty much the same product. Sirius was in this war for dominance and also struggling with debt. When XM went up, Sirius went up. When XM went down, Sirius would go down too. Not only that, the fact was that one of them was going to fail. The logical thing for the other one to do was to merge the two companies. So he ended up with a single stock, that was Sirius XM Satellite Radio.
Performance after the merge continued on a downhill. Joe rode the shares back down to his original buying price, so he lost what his second half had gained as well as the investment he had bought in Sirius.
Lessons learned
Diversify your portfolio the right way
To truly diversify your portfolio, you need to get into different industries. It's a financial risk to invest in two stocks within the same industry. Competitors will often have similar results. When one wins, the other one wins too, and if one loses, the other one loses too.
The time to buy is now
If you've done your homework, and you like a position, you have to like it at the price it's at, because that price may never go down as you expect.
The best risk mitigation strategy is to get out when you can
Pay close attention to your stocks and observe the volatility of the market. If it gets too volatile, get out when the deal is still good.
Andrew's takeaways
Financial professionals are the worst investors
Financial professionals many times tend to be the worst investors because they're often right there on the roller coaster ride of the market going up and down, doing all these trades, and in the end, they probably lose more for themselves.
Buy into what you know
When buying stocks, find an industry or company that you already understand, and you're passionate about. Don't stop there; you still need to research the industry or company to make sure that it's stable and the right investment for you.
Actionable advice
The first step when looking for the best stocks to invest in right now is checking out what you already know and love. The next step is to make sure that you understand the fundamentals of the company. Know how much debt they are in and what's the profit margin.
No. 1 goal for next the 12 months
Joe's number one goal is to develop a team behind his podcast. The podcast has won all kinds of awards. Kiplinger called it the best podcast, while Art of Manliness put it on the list of the top podcasts men need to listen to. Joe is, therefore, working on taking this passion project of Stacking Benjamins and make it a business.
Connect with Joe Saul-Sehy
Andrew's books
Andrew's online programs
Connect with Andrew Stotz:
Further reading mentioned