Ep143: Max Weissberg – To Avoid Losing it All on Bitcoin, Sleep on It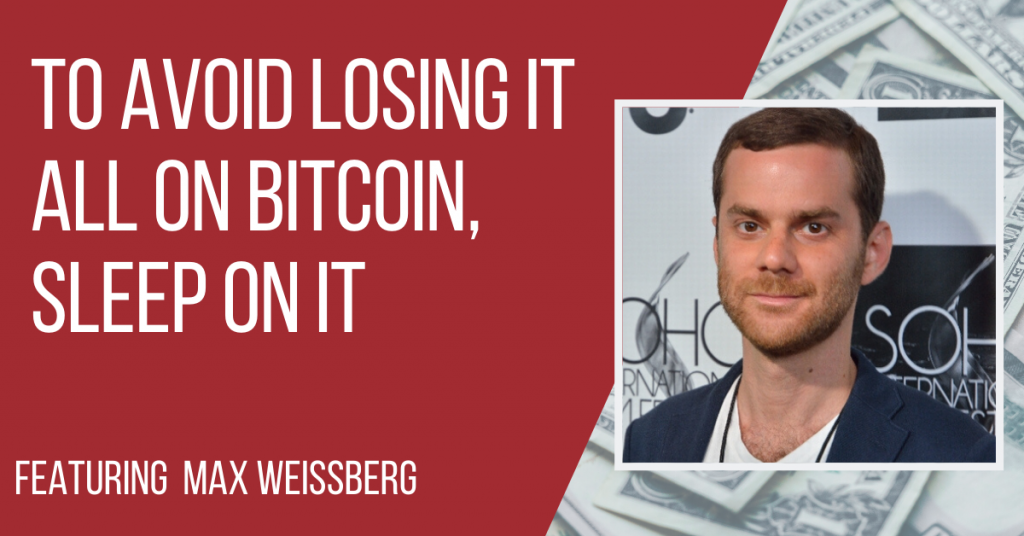 Listen on
Apple | Overcast | Stitcher | Spotify | Other
Guest profile
A graduate of the American Film Institute's directing program, Max Weissberg co-produced and appeared in the feature documentary film, Hotel Gramercy Park, which included cameos by Ben Stiller, Winona Ryder, Karl Lagerfeld, and Kanye West. The film earned a jury citation at the 2008 Tribeca Film Festival and screened on the Sundance Channel for several years.
Max's micro-budget feature film, Summertime, screened at festivals including SXSW and won best screenplay at First Time Fest. The film is now available on over a dozen VOD outlets worldwide. In 2013, Max's AFI thesis film, Karaganda, set in a Soviet prison camp, was "top 5" jury-selected for the 2014 AFI DGA showcase and won 5 festival awards in 26 film festivals.
Max is currently in the midst of a crowd-equity campaign for the feature version of Karaganda and has so far raised over $130,000 from 155 investors on Startengine.com/Karaganda. Max's day job is at Viacom, where he works as a producer/editor. His work there has appeared on MTV, VH1, Comedy Central, TV Land, and Paramount networks.
"Well, I think if you cannot explain what the need is for something, then there probably is no need for it."

Max Weissberg
Worst investment ever
Jumping onto the cryptocurrency market bandwagon
Two years ago, Max was probably the only one among his peers who thought that the cryptocurrency market was a total scam. The Bitcoin investment mania had taken off at this point, and there were millionaires left, right, and center. However, his instincts told him that the coin would fall.
However, he went against his instincts and decided to join the crypto bandwagon after attending an event at the National Arts club about cryptocurrency. The hype about cryptocurrency was so big, with everyone in attendance talking about how Bitcoin was the future.
When they asked the room, who owned a digital currency, most of the room raised their hands. So Max was sold, and he figured that he didn't want to be the last one on this gravy train. Kind of the same feeling I had when I went one to become one of the thousands who followed the herd to big losses in the dot com era.
Without a second thought, he went ahead and took $800 and put it in cryptocurrency.
Theory of a bigger fool than the digital currency investor
In December 2017, Bitcoin's value stood at about $19,000. This price went up and down a little bit. And then the prices collapsed. Max was a little bit surprised, but admittedly, he had seen it coming. He had ignored his own advice.
So why would he make such an investment mistake when his instinct told him not to? Well, Max went along with the theory of a bigger fool than him, which most people who invested in Bitcoin believed in. The theory poses that there has to be a bigger fool out there. Someone who would believe in the craze and buy his Bitcoin, and he'd make a profit.
The idea of intelligent people espousing this philosophy won him over, and he hoped that there was just a huge amount of people who had an interest in crypto trading.
He assumed that there were hundreds of billions of dollars of money in the cryptocurrency market. He believed there had to be an institutional investor or somebody out there putting this money.
Unfortunately, that was not to be. Max sold his Bitcoins for a fraction of what he had paid. All his Litecoins were almost worth nothing by the time he sold it. Luckily, he knew going in that he did not want to put more money into it than he could afford to lose.
It pays to 'sleep on it'
The number one mistake that Max made was to rush into making the worst investment without giving it as much as a second thought. He fell immediately for the hype that he should have 1% of his assets in digital currencies.
Immediately after the event, he went on Coinbase, opened an account, and transferred money the next day. He bought three cryptocurrencies, but mainly Bitcoin. He was excited by the volatility of Bitcoin. One day it would go up 10%, the next day, it would go down. Until it went completely down, and he lost his investment.
Lessons learned
If you can't pin down the benefit, there may not be one
If you cannot explain what the need is for something, chances are that it's not something necessary and will, therefore, not bring you any benefit.
Intelligent people do dumb things
Just because you hold someone in high esteem don't take up their investment advice blindly. You also have to cut through the clutter and not follow mass hysteria. Try to stick to your investing principles.
Andrew's takeaways
Do your research
Don't jump the gun on any investment before doing thorough research. Find out just how solid the investment plan is. Had Max taken time to research the cryptocurrency market, he'd have found out that the excitement about Bitcoin was just a hype that would fade out quickly. He'd probably have been able to save himself from making the worst investment decision.
Don't be driven by emotion or flawed thinking
It's very common for people who are selling their idea about investing in something to be so convincing and confident in their arguments, that it puts a level of confidence in you. Put your emotions aside when making any investment decisions.
Don't be overconfident
Be careful about being overconfident about an idea. Remember that the person selling the idea to you has been telling this story 1,000 times, they've figured out the hot buttons of the audience. They know what they're doing.
No matter how smart you are, if you're not careful, you can make mistakes with your money. Because smart people have feelings, just like everybody else.
Actionable advice
Don't make hasty decisions
Before you make an investment decision, take some time out to yourself and sleep on it. Take a few days and let the emotion pass then see if that investment makes sense without the emotion.
"If you don't do things quickly, I think you'll always have a slow and less emotional approach to things and how you invest and probably do better off in the long run."

Max Weissberg
No. 1 goal for next the 12 months
Max's number one goal is to make the Karaganda film and have it in theaters. And also make a profit from it. This film tells the story of Vladimir, a prisoner in a Soviet prison camp on a mission to rescue his wife, a journey that will transform him into a powerful crime boss in Brighton Beach, Brooklyn.
Max's greatest desire is to prove that the crowd-equity model can work in the feature film industry too. So go on and support his crowd-equity campaign on Bitcoin was just a hype that would fade out quickly.
Parting words
"Be wise and get a good night's rest before you invest."

Max Weissberg
Connect with Max Weissberg
Andrew's books
Andrew's online programs
Connect with Andrew Stotz: