Ep138: Kirk Chisholm – Staying In Your Comfort Zone Is Not Bad At All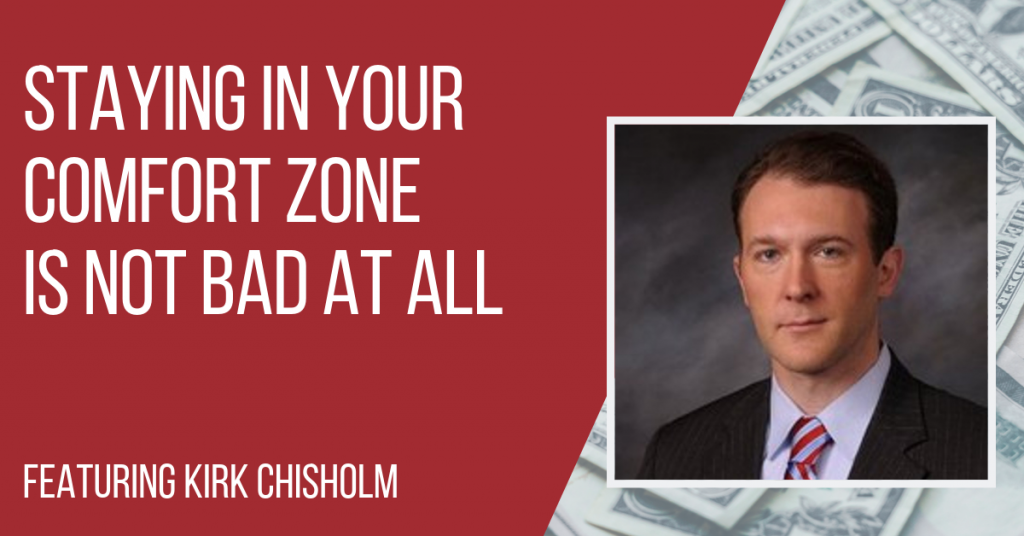 Listen on
Apple | Overcast | Stitcher | Spotify | Other
Guest profile
Kirk Chisholm is a known risk taker when it comes to investing and alternative investments. Being a person of full will and perseverance to know the ups and downs of the market, he has learned a lot through experience – good and bad. Currently, he is a principal and wealth manager at Innovative Advisory Group, an independent registered investment advisor (RIA) in Lexington, Massachusetts, in the United States.  Since 1999, he has used his influence to promote change in different aspects of the wealth management industry, manage risks and provide options for investors.
Kirk has been acknowledged by different investment sectors for his passion for learning and imparting them to others. His ideas are frequently sought out by the media. In fact, Kirk made it to Investopedia's top 100 – at number 7 – as the most influential financial advisor. Moreover, Investment News recognized him as one of the top 10 social media all-stars in the financial services industry. He also is the host of The Money Tree investing podcasts, which aim to teach listeners how to have their money work for them.
"The best investors will acknowledge that [truth] and they'll tell you: 'I'm wrong a lot. I'm just quick to make a change when I'm wrong'."

Kirk Chisholm
Worst investment ever
Analyst perspective and promising reports
Kirk can has had numerous bad investments, but just like any of us, one will always stand out. Considering its pertinence to the present global economic situation, he shares his story of investing internationally, in a Chinese coal company.
Ten years ago, a friend of Kirk's, who happens to be a financial analyst, visited a coal company in China. His friend and his team saw directly how operations were carried out. They talked to people, did extensive research, and finally drew the conclusion that this investment had a potential for growth once it was regulated and operated by more astute parties.
Having read the reports and in the belief that it is always best to have a reliable team of analysts, Kirk was attracted to investing in the company. For him, researching is one of those tasks that must include a lot of due diligence and should be done by more than one person so it can produce thorough and accurate information.
Analyst reports on China investment hide painful truth
While every box was checked and all operations had been carefully looked into, a short-seller's report came out of the blue. At first, Kirk did not take this as a serious warning to reconsider his decision about the investment. Based on his experience, short-sellers are not always reliable. He was also looking for a yield potential of 36% on selling. However, at a certain point, the company halted trading and he tried to limit his losses but to no avail.
He found out that the reports presented to him were dishonest. The company had failed to disclose that the company's shares were used as collateral in order to secure a loan from a private equity firm. Technically, the shares on the US exchange were worthless, and a great deal of money was lost.
Poor research and cultural differences
This was the point of no return. Kirk had already invested and his money was nowhere to be found. He could have chosen to report the matter to the authorities and file a lawsuit, but the company was on the other side of the Pacific, which made that option extremely difficult and cost prohibitive.
Moreover, he believes that cultural differences played a major part in his failure. A property right is treated with as much respect in China as it is fundamental in the US (and most of the developed world).
Lessons learned
Risks are inevitable
As an investor, Kirk is aware that no matter how prepared a person is in a new venture, risks are always there. Likewise, with investing internationally, the risks are greater and mostly beyond research. Risk management is essential in order to plan for, avoid and guard against loss.
He has learned to acknowledge these risks and turn them into a beneficial lesson. In some cases, he encourages people to use other options and explore them before sealing a deal. Alternative investments are good, but the risks involved should be considered in advance.
Home-country bias must be considered well
Investing internationally made Kirk realize that everyone places more importance in areas they are familiar with – their home turf.  The cultural differences between investors and companies should be assessed first since what is significant for you may not be as precious to members of another culture. Statistics show that investors are much more likely to pour their money into businesses in their own country. So, for you to manage your risk, look for investment opportunities in your country first before exploring other lands.
Invest in what you know
Kirk quotes Former Fidelity fund manager Peter Lynch, who wrote phenomenal books in the 1980's and 1990s, such as Learn to Earn, reiterating the lesson of staying within your comfort zone (your home country) and investing in industries in which you have extensive knowledge.
Andrew's takeaways
The risks that really matter are the ones we can't see
The more dangerous risks are those that are not visible at first glance. Corporate governance is a great example. In such instances, the scorecard may shift on how good or bad a company is, but not everyone can notice it. Financial analysts don't reveal everything at events or company visits, which makes it hard to predict the true situation of a company.
Actionable advice
Take a look at the contrarian view
Kirk does not deny the fact that we are not 100% right all the time. He admits that even the smartest people make mistakes; but the best ones look at how they're wrong and how to improve on it always make a difference.
Assess, assess and reassess
Kirk emphasizes the critical need for constant reassessment, no matter where you are in the investment process. Logical decisions should be based on facts and not on emotions. Furthermore, once a deal becomes potentially damaging, one has to look for closure and not to be emotionally tied into it.
No. 1 goal for the next 12 months
To become a better leader, mentor and coach to his followers. He is very passionate about imparting his own lessons to others.
Parting words
Kirk says there is no growth without struggle. He believes that people learn not only from their wins, but more from their losses, or the losers that they meet along the way. He added that Andrew's podcast is something that is in line his passion because provides options for listeners to gain knowledge from real-life situations.
Also, as a parting gift, he offers here a free report about his top-75 alternative investments.
"There is no growth without struggle."

Kirk Chisholm
Connect with Kirk Chisholm
Andrew's books
Andrew's online programs
Connect with Andrew Stotz:
Further reading mentioned