Ep133: Andrew Sherman – Mistakes to Avoid When Selling Your Business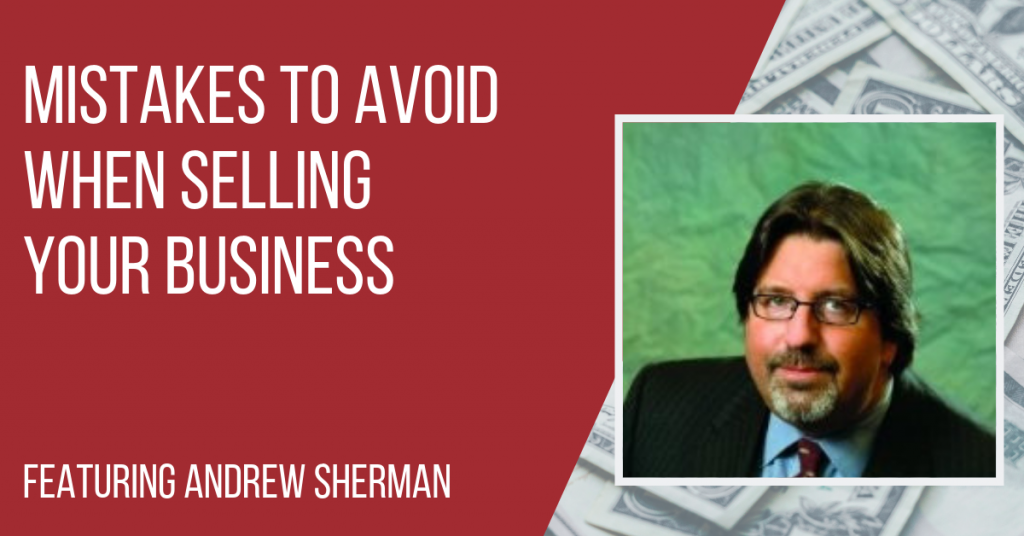 Podcast: Play in new window | Download
Listen on
Apple | Overcast | Stitcher | Spotify | Other
Guest profile
Andrew Sherman is a partner in the corporate department of Seyfarth Shaw LLP, and serves as the corporate office chair for the Washington DC team. He focuses his practice on issues affecting business growth for companies at all stages, including developing strategies for licensing and leveraging intellectual property and technology assets, intellectual asset management and harvesting, and international corporate transactional and franchising matters.
He has served as a legal and strategic advisor to dozens of Fortune 500 companies and hundreds of emerging growth companies. He has represented US and inter-national clients from early stage, rapidly growing start-ups, to closely held franchisors and middle-market companies, to multibillion-dollar international conglomerates. He also counsels on issues such as franchising, licensing, joint ventures, strategic alliances, capital formation, distribution channels, technology development, and mergers and acquisitions.
Andrew has written nearly 30 books on the legal and strategic aspects of business growth, franchising, capital formation, and the leveraging of intellectual property, most of which can be found via his author page at Amazon. He also has published many articles on similar topics and is a frequent keynote speaker at business conferences, seminars, and webinars. He has appeared as a guest commentator on CNN, NPR, and CBS News Radio, among others, and has been interviewed on legal topics by The Wall Street Journal, USA Today, Forbes, US News & World Report, and other publications.
Andrew serves as an adjunct professor in the MBA programs at the University of Maryland and Georgetown University law school and is a multiple recipient of the University of Maryland at College Park's Allen J. Krowe Award for Teaching Excellence.
"Things happen when people sell their business, closely held companies, entrepreneurial companies – they run around and make a series of business decisions. Some of those decisions are actually diminutive of value … But because you have chosen to surround yourself only with people that are like the Emperor's village, and no one's telling you, 'Hey! This is a bad decision' or 'Hey! This decision could really affect the enterprise value if you were to go sell' then you are the Emperor."

Andrew Sherman
Support our sponsor

Today's episode is sponsored by the Women Building Wealth membership group, the complete proven step-by-step course to guide women from novice to competent investor. To learn more, visit: WomenBuildingWealth.net.
Worst investment ever
This episode features a slightly different format 
As Andrew Sherman has so much experience in the space of businesses, selling businesses and intellectual property and other types of property rights, our host thought it would be a great opportunity for his guest to go through some of the mistakes people have made in this arena that he has seen over the years. Enjoy!
'Don't call my baby ugly!' or 'DCMBU'
Andrew Sherman compares being in the park and seeing a mother with a baby in stroller and the social necessity of always having to say "Oh my God, what a beautiful baby", with being the owner of a business and trying to sell it. Perhaps your "baby" is not attractive. Which doesn't mean it may not be attractive in future or in the buyer's arms but the first big mistake a seller can make is to be overly defensive about their business. For many sellers, their business is their child, and they can have put more time into building that business than they have into raising their own family.
Be ready for Spanish-inquisition-type scrutiny
So if people are going to be selling their business, failing to be ready for the exposure and criticism that comes with putting it up for sale is a huge mistake. He urges sellers to remember that due diligence in the post-Madoff, post-World Com era means that the depth and breadth of questioning the seller must endure about all aspects the business for sale is extensive. Andrew says it slows down transactions and makes them more expensive.
Have checklists and humility about your 'baby's' value
Such scrutiny though can have a considerable psychological impact on sellers and the response can be defensiveness when people are questioning every business decision that they have made on every customer, channel, relationship, and intellectual property action. He says: Be ready for this process. Have a data room, checklists and the right advisors, but also try to attain a mental state that admits not every buyer will think you have the most beautiful business in the world.
"In fact, most buyers and buyers counsel and their advisors are trained and are paid to find the flaws in your business."

Andrew Sherman
ENC syndrome
Andrew spoke here about an issue similar to DMCBU, but one that is slightly different as it speaks to leadership, governance and culture. ENC stands for The Emperor's New Clothes, from the Hans Christian Andersen children's story of the same name. He likens the Emperor's tailors (who make the invisible suit) to consultants. The scariest part of the story is that no one in the village points out that the Emperor is not wearing anything until a child tugs on their father's jacket coat and says loudly: "Daddy, why is the Emperor walking around with no clothes".
Business sellers need team members to be honest
Things happen and people sell their business, closely held companies, entrepreneurial companies, and they run around and make a series of business decisions. Some of those decisions actually diminish or dilute the company's value, and do not create or add value. But some business owners, because they have chosen to surround them-selves with "yes" men and no one's telling them that a decision is bad and could affect their enterprise's value, this is a big problem. Some owners only want to be told good news about their business and how well everybody's doing. This tendency will haunt a seller, as buyers, their lawyers, accountants, investment bankers, and consultants are like the child, who will state loudly something is a problem.
Advisory boards can be a great form of due diligence
ENC will go on to affect enterprise value and the price and the terms paid. One thing a lot of companies do not do is set up advisory boards to help prepare a seller, and play the part of tugging on your jacket. When do you want to know you have a problem? When you're in the middle of a sale process, which could be very embarrassing and derail the transaction? Or six months before the sale process, when you still have time to fix it? Andrew himself uses a process he calls "mock due diligence"; like a dry run in which he plays the part of a nit-picking buyer, fault-finding wherever possible.
If sellers are negligent, they can waste a life of effort
If an entrepreneur who starts with nothing, spends a lifetime building their company and sells one day for US$100 million, that's enough money for many generations to live on if it's properly invested and protected. Andrew gets very sad when he sees people work their entire lives to build a business and then get a disappointing result because of things they could have avoided. So due diligence is very important.
"If during the mock due diligence process I can help find pockets of improvement and I can identify problems that I know a buyer's counsel will identify, then we're turning it from the worst investment ever into the best investment ever."

Andrew Sherman
Build your business with the eyes of the buyer in mind
Come in every day and say: "Is this business for sale? Could it be for sale? Why would somebody actually want to buy my business?"
Numbers follow, they don't lead
In the context of mergers and acquisitions (M&A), Andrew says numbers don't just happen, they appear as the result of attitudes, and the culture of leadership, of governance, of goal-setting and of motivating people. Here Andrew talks about one of his recent books, The Crisis of Disengagement, which documents how high employee disengagement has become, not only in the United States, but around the world. If someone was going to buy a company and they found its level of disengagement among the workforce was at the norm, which right now is 51% (if we're talking about the US workforce), they would run away. Another 20% on top of the 51% is ranked "highly disengaged". So that means seven out of 10 workers describe themselves as either disengaged or highly disengaged. A business owner can't get much financial performance out of a workforce that is that disengaged to such degrees.
"Imagine how much more productivity, profitability, creativity, innovation, collaboration, teamwork you would get, if you could figure out a way to improve that national engagement average."

Andrew Sherman
Engagement is becoming a key due diligence question. Business buyers and sellers must be ready for it or they will be blindsided and "it will sneak up on them like a bad pair of underpants".
Disengagement defined
It means that workers or managers are not up at three in the morning tossing and turning about ways to innovate and improve her business' products or services. If they are, it's because they are online looking for a new job. Andrew said that the most disengaged workers never even leave their jobs, but merely stay in their cubicle and take paychecks from the owner while updating their Facebook accounts all day. They're not doing any work. But they don't want to leave because they fear they'll be even more disengaged across the street. About 4% of the workforce are highly engaged. Twenty-five percent describe themselves as simply engaged.
That's where your delta is as a business owner, if can you bring some of the 25% up to the 4% of high performers, without having them fall into the larger bucket of the 51%. One of the things that leaders of entrepreneurial and closely held companies need to do is really pay attention. At some point, there's going to be onsite due diligence. And buyers are going to want to look at your culture and interact with your people. If what they see is people just shuffling their feet or taking 90-minute coffee breaks and other such things, they're not just going to walk away, they're going to run. So pay attention to your disengagement levels. Pay attention to your culture. If you really want the numbers to lead, make sure that your culture, governance and leadership is in place.
Negotiate until you're done negotiating, then let go
Negotiate all the way to the end, but once you have closed the deal, have no regrets. You can beat yourself up over an extra dollar you might have won, but it's not worth it. If you're that smart, start another company. And by the time you've hit 50 years old, you will have built a significant treasure chest. But…
"This is really the important part, you've (also) empowered a lot of other people. A lot more entrepreneurs today are not just interested in building wealth for themselves, but they want to build wealth for the people around them. And you know, that's, that's been a really refreshing evolution of this next generation of entrepreneurs coming up.

Andrew Sherman
Andrew's takeaways
Getting ready to sell is not all just about the numbers
Andrew Sherman spoke a lot but not so much about the numbers. When people go into thinking about selling their business, it's usually all about the numbers. But Andrew was talking about emotional preparedness, a very important lesson.
KPI use is no savior for management
Followers of Western-style management often think that if they just measure everything about a person, they can get the most out of them. That is nonsense. If you took all the people out there who have created amazing things, and we tell them to measure every single thing they do, we destroy pride of workmanship in people. So I challenge listeners to think about that.
To the buyer: 'You gonna have to do better than that
As sellers, just like buyers, we have every right to do our due diligence work and look into why the buyer is buying. The seller has every right to go to the buyer and asking to speak to people in the buyer company to understand more about it and what it is doing, and that way, with that small amount of work, you can figure out what they see in the company, and through that, even if you don't find out what they see in the company you are selling, you'll have a better understanding of where they're coming from.
Actionable advice
Build the right advisory team
He's not saying that just because he's an M&A lawyer and that's how he makes his living. He's saying that because many times people – particularly sellers of entrepreneurial, closely-held or family-owned business sellers – get all the wrong advisors. They use a guy that did their estate planning or handled a piece of commercial litigation for them. They put the fate of their entire business and future generations' wealth in the hands of an inexperienced person. Andrew says hopefully a seller will sell their business once. A lot of quantitative and qualitative wealth will come from this transaction, so a good team of transactional advisors should include:
Lawyers
Accountants
Valuation experts
Specialist consultants
These should be people who that really know what they're doing, particularly if it's going to be a cross-border transaction, which adds complications, both cultural and legal with which to the deal.
Walk a mile in the buyer's shoes, ask what the buyer is really buying
The biggest mistake a company seller can make is to fail to understand what they are selling. A seller may have a couple of patents that some patent lawyer a couple years ago said were not valuable and to which the seller has never paid much attention. But perhaps because the seller never paid them much attention, they may be very important to the buyer. Andrew suggests thinking of the buyer as building this enterprise and that maybe the seller is the missing piece that will drive value. So the buyer comes along and offers US$10 million and the seller thinks: "Oh my God, so much money, I can live so comfortably with that."
"The truth is, to the buyer, you're worth 100 or 200 million. Now, that doesn't mean they're ever going to tell you that. It doesn't mean they're ever going to pay that. But if you can figure out why this company interested in you, what is that they're really truly buying, that's great. Even if they won't disclose their reasons to you, which they rarely do, you can take the time to understand them."

Andrew Sherman
Great advice for buyers, sellers: 'Transact to transform'
Andrew heard a quote on the radio on the way back to his office from a meeting. It was the advice to buyers: "Transact to transform". There are people everywhere on radio shows and podcasts telling buyers that if you really want to affect change in your business companies, buying companies has always been a faster path than building things organically. But Andrew says, where sellers make the biggest mistake is not understanding why the buyers are really buying their business and then they sell at a much lower price than they really should.
No. 1 goal for next the 12 months
Andrew will be 58 years old in a few weeks. His No. 1 goal is to stay healthy. By staying above ground, he can continue to be a good father and husband and provider, a good mentor to the younger lawyers that are working with him, someone who is shaping their career.
Parting words
"Stay strong, stay focused and build the business every day as if it's for sale, because one day it will be."

Andrew Sherman
Connect with Andrew Sherman
Andrew's books
Andrew's online programs
Connect with Andrew Stotz:
Further reading mentioned