Ep126: Mario Nawfal – Persistence Helps You Recover From Disasters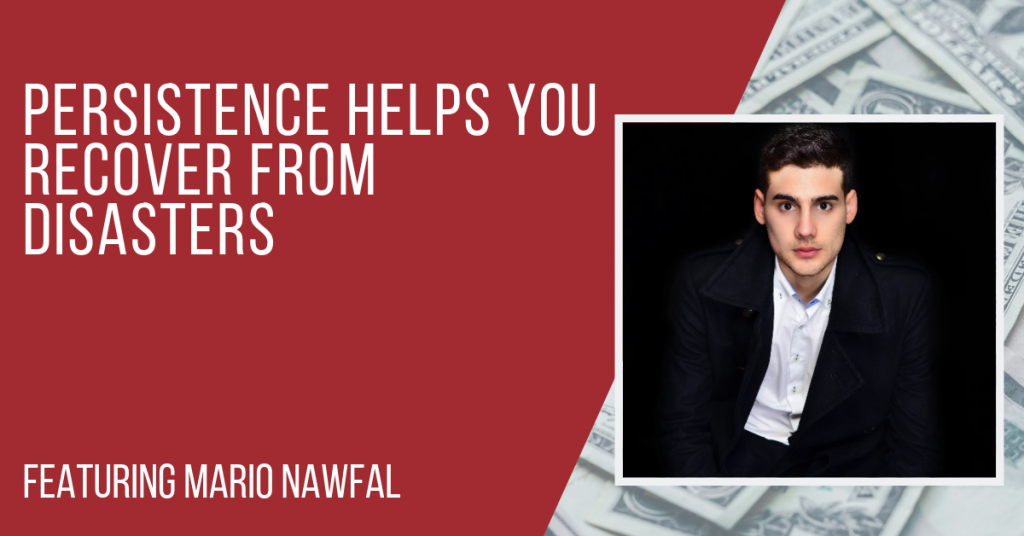 Podcast: Play in new window | Download
Listen on
Apple | Overcast | Stitcher | Spotify | Other
Guest profile
Mario Nawfal is the founder of the Athena Group of Companies, a conglomerate that operates in more than 40 countries. He started in 2012 with $300 in the bank selling blenders door to door and built that into a business (Froothie) that generated $10m in its second year. Next he built global brand status with Optimum Appliances, a brand he created from scratch. Next, he established a range of brands in niches such as personal mobility, fitness, and e-cigarettes. In 2016, he started GoGlobal, an incubator that helps businesses to scale their product or e-commerce operations to more than 30 countries rapidly and efficiently.
In 2017, he established International Blockchain Consulting (IBC), a network of experts in more than 40 countries that rose in less than a year to become an established industry authority in the rapidly growing blockchain and crypto space. After the success of IBC, Mario launched IBI Ventures (a venture capital fund), IBA (blockchain accounting), and IGC (cannabis and hemp business consulting). In 2019, he launched a new company, Zense, to provide entrepreneurs with insight on how to launch a successful business with a limited budget. Currently, he has created the 7Figure Launchpad, the world's first and only full-access business program.
"That's when I realized that the person I had trusted to build my business and I was actually in discussion with to become the CEO, because I didn't want to get too involved in my VC (venture capital) had just walked away and taken clients with him."

Mario Nawfal
Support our sponsor

Today's episode is sponsored by the Women Building Wealth membership group, the complete proven step-by-step course to guide women from novice to competent investor. To learn more, visit: WomenBuildingWealth.net.
Worst investment ever
After e-commerce success, Mario looks at blockchain
Back in 2017, Mario's main enterprise was Froothie, an e-commerce business, the area in which he had expertise. But he was very interested in blockchain technology and had been looking at it for a while. He had free time, was travelling around Europe and started learning about the industry, mainly by reading to learn as much as he could and building contacts, calling people. With an assistant scheduling calls from morning until night, that's what he would do day in, day out. One of the people he talked to was a guy Mario chose to call "M", with whom Mario started working and who along with another gentleman, helped him start IBC. Mario knew how to start, build and scale businesses, but had no knowledge about blockchain, was not a developer nor could he write code, so he needed some experts around him.
IBC starts well and grows to seven figures in six months
While his businesses were doing OK, Froothie took a hit with a legal challenge over a supplier mishap. IBC was his next venture but he had to be careful as he was unable to put in a lot of money. So he had brought on people to build the business. It started out well and the experts he had brought in built the company as Mario was learning and pivoting when hurdles appeared and testing different tactics to ensure they worked. He started doubling down and all this worked well to that point that IBC had scaled to seven figures in less than six months. While everything seemed to be running smoothly, he had forgotten one of his main weaknesses – due diligence. Mario trusted people too easily.
Trusted colleague earmarked to be CEO disappears
The company was going well and scaling up despite a few issues over delivery, but at the end of 2018, suddenly M vanished. Initially, Mario was told he was in hospital for a week and Mario was very worried, and sent messages to him and got everyone to join in and send wishes for a speedy recovery. But after that, M just disappeared and Mario had no idea what was happening. Then a high-six-figure payment failed to come through from IBC's biggest client, and they were unresponsive also. Though alarm bells were ringing in Mario's mind, he felt there was no way anything was wrong.
Extent of betrayal sinks in
But then when M was uncontactable, the reality of betrayal started to sink in. Mario even sent him forgiving messages: "Don't worry about what you did. I don't know what you did. I'll forgive you, it doesn't matter man. You know, everyone makes mistakes chasing money. It's a game." But the WhatsApp messages were being read but ignored. The biggest client was still not responding and other clients M was close to were also concerned. M had been screwing Mario and IBC for longer than they had initially thought. Mario learned that M had also bad-mouthed about him to everyone M had spoken to, including clients, staff and partners. That's when he realized that the person he had trusted to build his business and with whom he was in discussions to appoint as CEO had walked away and taken many clients with him.
Hits keep on coming as industry also collapses
But the story grew even darker. He turned to his team to start taking drastic measures to rebuild after the loss. So they had to cut the company down rapidly. The industry was also going through a rough period and collapsed in the same month. Other businesses had laid off more than 90% of their teams, and Mario and his team were ready for that. But they were not ready for a scam that went deeper.
While rebuilding, staff discover second snake
So there they were: seven figures in the red, key team members had disappeared, and they didn't know how much damage had been done. So they started rebuilding. He got his team going again, riling them up, making inquiries as to who they could trust before they started calling customers again. One of his team, a confidante in the process who had been there since the beginning and who was responsible for scheduling calls to key clients ("Bob"), had been very supportive. He would say: "We'll do this Mario, forget about the pain you've gone through. Forget about M. He's a snake. Now we're family. We're close to each other." Mario recalled the day he started saying those things. "I'll be there for you until we get through this. We'll do it together." And then Mario started filming himself and started blogging as a response to the scam that was by this time about two months or three months old.
'Nice guy' was stealing data with GoPro video
The same day Bob was saying nice things, Mario found out that Bob was funneling data out of the company to M, and that M and Bob had been childhood friends. They were unable to steal in a normal way, because Mario had put protections in place, such as screen recorders and users couldn't take screenshots nor could they export data via a drive because the company would know. So Bob was wearing a GoPro and was filming while he was working, and as IBC were about to close clients none of them ended up closing and in what had been a big mystery. All the clients that they knew IBC had spoken to and were about to close, Bob was talking to and funneling them to M's other company. While Mario and his team were trying to recover, they were actually losing more clients. So Mario sacked Bob as more stories emerged about how deep the damage had been and how the company had been misled.
Brain tumor discovered as legal battle continues
In the same month, Mario was diagnosed with a brain tumor, while non-cancerous and not serious, it was in the head and initially he thought he would need immediate surgery because of associated bleeding. His other company meanwhile was dealing with the legal crisis in which one of the suppliers had breached its agreement due to patent concerns and that was pretty serious also. It was a very tough period but Mario managed to bounce back. IBC is now stronger than ever but it took a very stoic mindset to get through it all. Once the last rotten apple in the company had been removed, and all leaks patched, IBC started to make money again.
Some lessons
The people you hire will make or break you
Thorough due diligence must also be applied to hiring people, because people are the heart of any business, whether an investment bank or a restaurant that needs waiters and chefs. The more due diligence, the more likely it is that luck won't play a big role because you've done the work to make sure you have the right people.
All investors ask about your team
They look at the team more carefully than the idea every time, so again, due diligence in hiring is crucially important.
Andrew's takeaways
When it rains it pours
As Mario had so many struggles going on at the same time, with two team members' betrayals, fighting a lawsuit, and serious health issues, one thing Andrew likes to highlight is that most young people going into the business of being an entrepreneur do not realize that having a business takes over your whole life. Having a serious physical issue on top of that can throw all plans out the window. So to be an entrepreneur, you've got to have endurance and the energy to relentlessly pursue your goals. This is critical especially when unpredictable things happen.
"When it rains, it pours and you've got to push through it."
Trust can only be built with time
There is no way to accelerate the trust between two people. Only time works with building trust.
Six common mistakes
Collated from the My Worst Investment Ever series, the six main categories of mistakes made by Andrew's interviewees, starting from the most common, are:
Failed to do their own research
Failed to properly assess and manage risk
Were driven by emotion or flawed thinking
Misplaced trust
Failed to monitor their investment
Invested in a start-up company
Mistakes No.2 and No.4 identified in Mario's story
No. 2 Failed to properly assess and manage risk
Ultimately, it was the risk that affected Mario's business, not the success. The story of the return actually sounded very good.
Mario is not the only one struggling with this. When an investor or a business person is in a situation where they really need a person, and they go ahead and work with them, the trust part is the most difficult.
Actionable advice
Keep in mind when there is a lot of money at stake, when you get to that level, if you're an investor or you've got successful companies, be very careful about the people that are making the decisions with that money, because their incentives may not be aligned with yours.
Greed is very powerful and people will come up with stories to justify doing the wrong thing when it comes to money – Greed is a very strong bias.
No. 1 goal for next the 12 months
Mario wants to find people to run his various companies, "but the right people" this time. His response to this story is not to retreat, be a hermit and do everything himself to avoid being scammed again because such things will often happen anyway; they are part of business. Instead, he wants to look logically and find partners through doing proper due diligence and continue to build companies. Right now his focus is on IBC, which is helping businesses to raise capital.
Parting words
"Anyone listening to this, you will lose (sooner or later). The way you respond to that loss will determine what happens next."

Mario Nawfal
Andrew
'
s 
b
ooks
Andrew's online programs
Connect with Mario Nawfal
Connect with Andrew Stotz