Ep119: Scott Carson – Double Check the Worst Case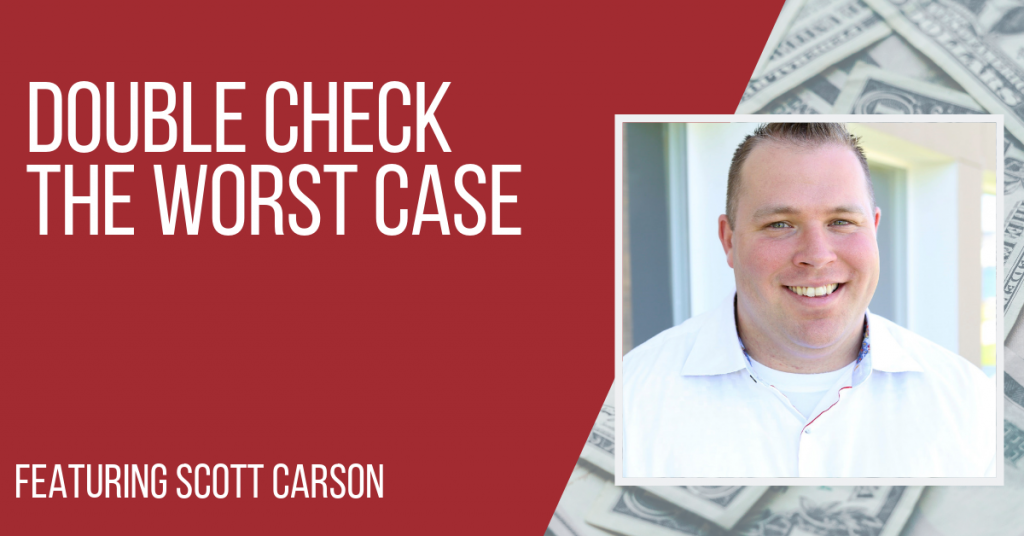 Podcast: Play in new window | Download
This podcast was recorded on 25 April 2019, and is dedicated to the birthday of Andrew's mother, Kathryn Stotz, 81, who was born on that day in 1938. Mrs. Stotz is alive and well and a daily listener of her son's podcast
Listen on
Apple | Overcast | Stitcher | Spotify | Other
Guest profile
Scott Carson (aka "The Note Guy") has been an active real estate investor since 2002, solely focused on the distressed mortgage and note industry since 2008, in which he buys and sells non-performing mortgages directly from banks and hedge funds on properties across the United States. Scott is the CEO of WeCloseNotes.com, an Austin, Texas-based real estate firm. He has purchased more than half a billion dollars in distressed debt for his own portfolio and purchases assets in more than 30 states across the US, while also helping thousands of real estate investors make money along the way. He is a highly sought after speaker on distressed debt, marketing and raising private capital. He has also been featured in Investor's Business Daily, The Wall Street Journal and Inc.com. Scott is also the host of the popular podcast, The Note Closers Show, and provides regular content across his YouTube, Facebook, and other social media channels. An avid sports fan and reader, he spends his free time attending sporting events, concerts, and traveling to new places.
"I felt depressed, I was sick. I even kind of burrowed myself in … when I should have probably reached out for help a little bit sooner from some outside sources. I think we all kind of get our heads down, and don't let anybody know about the deal. But then I said: 'I've got to take responsibility, I got to step up'."
Scott Carson, on how he felt about losing US$250,000 in a property deal
Worst investment ever
Scott invested in distressed home loans in Chicago with a group of investors. The deal went south, legal proceedings took much longer than he expected, especially for out-of-state buyers of the distressed debt. Eventually, he bought out his investors and worked to close the deal, but in the end he lost about US$250,000.
Some lessons
Always double-check legal proceedings
Scott talked with his attorney often, but never asked the attorney realistically what the worst-case scenario would be.
Plan for the worst-case scenario
Reach out for help sooner
Take it easy
Often escalating a situation is not the best way out.
Andrew's takeaways
It's so important to reach out for help when times are tough
'Stress is a killer'
Andrew removed stress from his life when he stopped saying the word "stress".
You don't need to draw a confrontation, stay calm
Separate research on return from research on risk
Collated from Andrew's My Worst Investment Ever series, the six main categories of mistakes made by interviewees, starting from the most common, are:
1. Failed to do their own research
2. Failed to properly assess and manage risk
3. Were driven by emotion or flawed thinking
4. Misplaced trust
5. Failed to monitor their investment
6. Invested in a start-up company
If you can separate the work that you're doing on the return (which is very exciting) – the money you're going to make from it – from the work you do on the risks involved with an investment, then you have segregated that work and then you can look clearly at all the things that could go wrong, and potentially prevent them.
Actionable advice
If it's too good to be true it probably is
Seek counsel rather than seeking advice
Listen carefully when that counsel is delivered.
No. 1 goal for next the 12 months
Remove stress from work life.
Parting words
Take action!
Connect with Scott Carson
Andrew's books
Andrew's online programs
Connect with Andrew Stotz:
Further reading
 mentioned