Ep118: Shaun Rein – You Can't Win Unless You Know How to Lose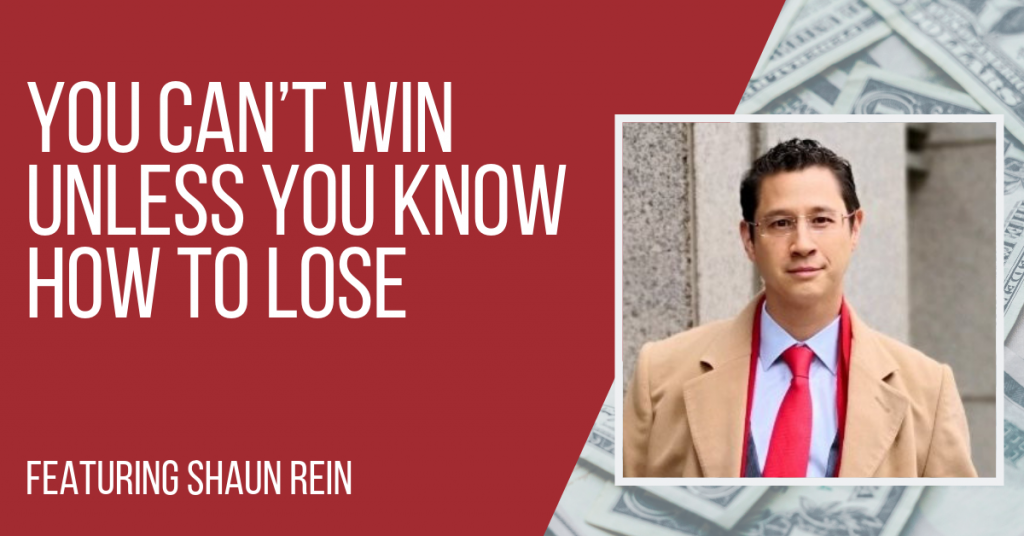 Podcast: Play in new window | Download
Listen on
Apple | Overcast | Stitcher | Spotify | Other
Guest profile
Shaun Rein is the founder and managing director of the China Market Research Group (CMR), a globally prominent strategic market intelligence firm focused on China. He works with boards, billionaires, heads of state, CEOs and senior executives of Fortune 500 and leading Chinese companies, private equity firms, SMEs and hedge funds, to develop their China growth, political and investment strategies. Rein wrote international best-sellers The War for China's Wallet: Profiting from the New World Order, The End of Cheap China and The End of Copycat China.
Rein is regularly featured in The Wall Street Journal and the Financial Times. His op-eds have appeared in The New York Times. He frequently appears on CNN, BBC, MarketPlace, CNBC, Bloomberg, PBS and MSNBC. Rein formerly taught executive education classes for London Business School and was a weekly columnist for CNBC and Forbes. He also wrote a column for Bloomberg BusinessWeek.
Rein is one of the world's most sought after keynote speakers for his focus on innovation, consumer trends and the economy in China. His speaking engagement clients have included: Estée Lauder, Adidas, HSBC, AXA, Credit Suisse, Baker McKenzie, Blackrock, Baillie Gifford, KPMG, Macquarie Bank, Nomura, Baird, Deloitte, CLSA, Solvay, Sodexo, and Nestle. Apart from China and Hong Kong, he has spoken in countries such as South Africa, Australia, the US, the UK, Canada, Singapore, Thailand, Mexico, Vietnam, Japan, and South Korea.
"I had the students but it was very difficult for me to actually turn a profit. The difficulty in human resources in China has become a central theme of my business and most businesses that we've worked with over the past two decades. Mine started with the difficulty of hiring foreign talent, but actually the lack of top Chinese talent and the inability to retain good talent has been a major problem for me in my company China Market Research Group ever since we started in 2005."
Shaun Rein
Support our sponsor

Today's episode is sponsored by the Women Building Wealth membership group, the complete proven step-by-step course to guide women from novice to competent investor. To learn more, visit: WomenBuildingWealth.net.
Worst investment ever
In around 2001, while Shaun was a 23-year-old a graduate student at Harvard University, he was putting some thought to the big question: "What am I going to do with my career?" What he did know was he never wanted to go the corporate route and work somewhere like McKinsey or Goldman Sachs, even though most of his classmates were headed in that direction. Instead, he had been interested in entrepreneurship ever since he had run an event-organizing company in Canada while he was a student at McGill University. The company managed 3,000-head dance parties, populated mostly by pre-legal-drinking-age (21) Americans that he bussed up to Montreal, where the legal drinking age is 18. At the time, he was living in Tianjin, China, going to and from there and Cambridge, Massachusetts. He realized there was a great opportunity for teaching English because "Chinese love America", and they wanted to learn English.
Budding idea to start English learning center in China
So he decided to set up an English language learning center for 5-15 years old and older teens in China. The center's focus was on speaking, because a lot of local children could already read and write well, but he and his team wanted them to learn correct American-accented English. So he returned to Tianjin, found Chinese partners, and set up the company, employing the unique selling point that every teacher would be a current or former Harvard student or teacher.
Center opens with a bang but various snags emerge
He opened the company and to big celebration. Classes started and people were very excited to have Harvard students or graduates coming to Tianjin. Within day one, the center had registered more than 300 students. It was an exciting time but quite soon the enterprise was to experience unexpected hurdles. There were small problems and big ones. On opening day, the police came in and said: "We'll protect you. We want protection money." Shaun declined so the police rapidly closed down the center.
Hard to entice Harvard types to Tianjin
On opening day, they had to find new office space, which they did on the campus of Tianjin Normal University. They made a deal to use classrooms and the police could not bother them. So that was one of the "small" problems, the "regulatory" issues with the police. Then they had the bigger problems. Even though the Chinese students wanted to learn from Harvard graduates, such graduates were not too fussed about living in Tianjin. At the turn of the millennium, the enormous port city was very polluted and lacked the cosmopolitan feel that it has now.
Expensive to set up and maintain
Rental costs, even for the time, were quite high in China, especially to fit out a learning center than met the style demands of the parents of the "little emperors and "empresses". They really wanted to have the nicest classrooms, the best teachers, and the best of everything, which added to the already climbing costs. Suffice to say, Shaun made a profit of around 50,000 RMB (less than US$10,000 over the three years that the center was operating. He was living in a US$150-dollar-a-month apartment, and could not even pay for his plane ticket to return home. It was a very difficult time.
Key test is to fund and retain foreign or Chinese talent
He had the students but it was very difficult for him to turn a profit, and the difficulty with human resources in China became a central theme for Shaun. Most businesses he has worked with over the past 20 years started with problems surrounding the difficulty of hiring foreign talent. Now the lack of top Chinese talent and the inability to retain them has been a painful concern for Shaun and China Market Research Group ever he started the company it in 2005.
"But you're definitely going to find as a foreign company a very uneven an unfair playing field. So I think the issues I had in my failure two decades ago, are going to be the same issues that companies face today."
Shaun Rein
Some lessons
Supply chain is a key issue
Many people underestimate the importance of getting raw materials or inputs that go into their product or service. In his case, it was Harvard graduates.
Infrastructure too is underestimated
China has continued to dominate the global economy in the past decade and will continue that due to its incredible infrastructure.
China protectionism – true for local and US companies
Many people criticize China for being protectionist and unfair to foreign companies, but that is only a part of the story. But there's also too much protectionism for state-owned enterprises, such as the Bank of China or China Telecom. So it is an uneven playing field for foreign and private Chinese companies. It's very difficult to be a private Chinese company if you are small or medium or you lack good connections, because the government will over-regulate, which stifles innovation. If your company is successful, the government or a state-owned enterprise will take it away.
Actionable advice
Get a good team together
They can be Chinese or foreign people. What matters is that they are loyal, knowledge-able, and know how to conduct business in China, how to navigate the local market.
"You can't parachute a Chinese-born citizen who has been living in the US for 20 years in to China to run an operation."
China 20 years ago is very different from China today
President Xi is trying to change the culture of business and politics in China and he is doing so but it will be difficult. Even so, businesses will not be asked for bribes now in China as you would have been 20 years ago.
No. 1 goal for next the 12 months
To be a billionaire
To make US$250,000 for a single keynote speech. He's at about US$50,000 now, but he really wants to match Bill Clinton's rate
To get another book or documentary released
To produce a five-episode series on Netflix or a similar channel to help Western businessmen and visitors to better understand China
Parting words
You cannot win unless you know how to lose. So losing is not losing long term if you take the right attitude, as failures are the stepping stones to success.
Connect with Shaun Rein
Andrew's books
Andrew's online programs
Connect with Andrew Stotz:
Further reading mentioned