Ep21: Asif Khan – Value Traps: Bargain Hunters Beware!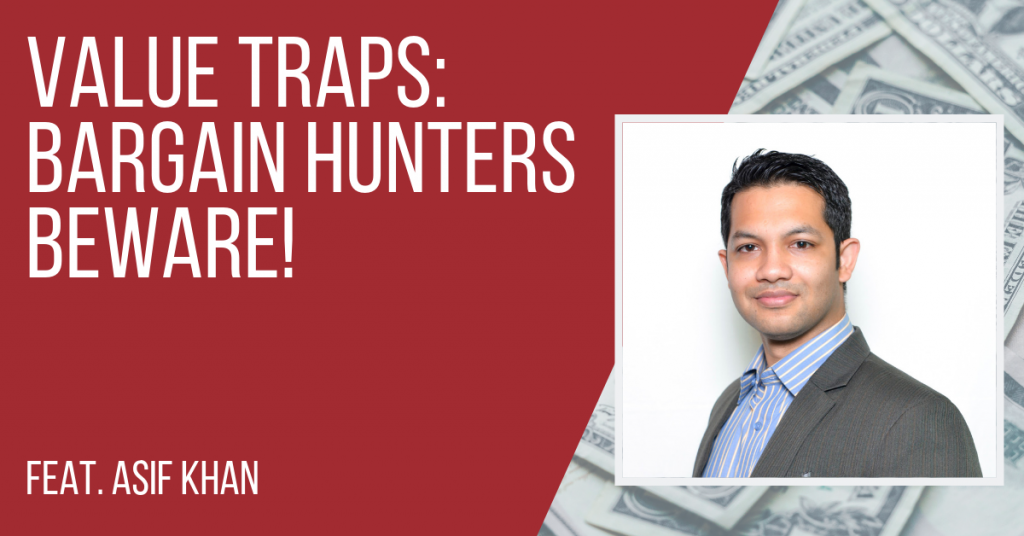 Podcast: Play in new window | Download
Asif Khan is the Managing Partner at EDGE Research & Consulting Limited, an independent equity research provider based out of Bangladesh which caters to foreign institutional investors.
Prior to starting EDGE in early 2018, Asif had worked in both buy and sell side roles for around 9 years. Around 4.5 years were spent with an Emerging Markets fund called Caravel Management LLC where he looked at South Asian equities. Later he made a career switch to sell side where among other roles he worked for Exotix Capital, a frontier market focused investment bank based in London
In this episode, Asif shares his worst investment ever story, buying cheap value traps when he tried growing his portfolio, and not building up a diversified portfolio of good quality companies.
"Any stock that is not cheap looked expensive in my model. And I ended up buying value traps. Whereas, I could have bought the best stocks out there."

– Asif Khan
What do you want to hear from the My Worst Investment Ever Podcast?
Resources: 
Topics Covered: 
01:46 – Asif Khan's professional and investment background, actively engaged with CFA Institute in Bangladesh
03:56 – His worst investment story: falling prey to value traps, hunting for a bargain
06:05 – Being aware that it is not sustainable when you raise interest rates to solve inflation or currency problems.
08:14 – Summary of the lessons Asif learned from the experience
09:29 – Andrew's takeaways from Asif Khan's story lost
13:01 – Asif's actionable advice: Build your proper valuation model.
Main Takeaways
Lesson 1: "Human being feel more paid when things come down."- Asif Khan
Lesson 2: "Really understand how to form a proper Discounted Cash Flow (DCF) model."- Asif Khan
Lesson 3: "Keep in mind that a lot of things are cyclical – interest rates, inflation, even economic activity like GDP growth, those indicators as well…just being aware can help one avoid the mistakes. "- Asif Khan
Lesson 4: "When we're doing a calculation were the inputs that we're putting into that calculation for the valuing of a stock using any DCF or Discounted Cash Flow model is ultimate to infinity. I think one of the mistakes that people make is that when interest rates are low, they tend to input very low discount rate and when it rates your high, they intend to input a very high discount rate and therefore they're missing the point that that discount rate needs to be applied to those cash flows over the next let's say 20 years." – Andrew Stotz
Lesson 5: "Always make sure that we are keeping ourselves up to date and making sure our calculations and assumptions are structured right." – Andrew Stotz
Lesson 6: "Build a diversified portfolio of good quality companies." – Andrew Stotz
You can also check out Andrew's books
Connect with Asif Khan:
Connect with Andrew Stotz: